Northern Utah, a world full of natures wonderful splendor. Pristine lakes, looming snow blanketed mountains, and jutting rock formations, but also home to False Witness. False Witness is an absolute Heavy Metal barrage. Groovy, and melodic, with chuggy head bang inducing riffage, diverse vocals and emotionally charged lyrics displayed neat and tight by 4 members, 3 of which apparently throw their vocals in the ring. With a home base in Logan, Utah the members of this cunning machine are Mckae Nielsen – guitar/vocals, Tyler Thurston – guitar/ vocals, Connor Werling – drums/ vocals, Ryan Hall – bass. The way False Witness employs a slew of different styles vocally and musically is truly a work of musical master craftsmanship that had me hooked from beginning to end, quite a few times… In fact, I found myself personally lost in the album so many times that it's taken me a number of weeks to get this review written, let's hope the guys can forgive my lack of due diligence and trade it for the heartwarming knowledge that I became so enraptured by this absolute monstrosity of an album that I just couldn't stop beating my fists on my desk or banging my head long enough to write a coherent thought. Now that I've made associations and glossed up your eye balls, let's jump into my thoughts on False Witness "In The Company Of Snakes". Be sure to check out the music video for 'Out Of Ruin' or the album in its entirety with the links provided afterwards!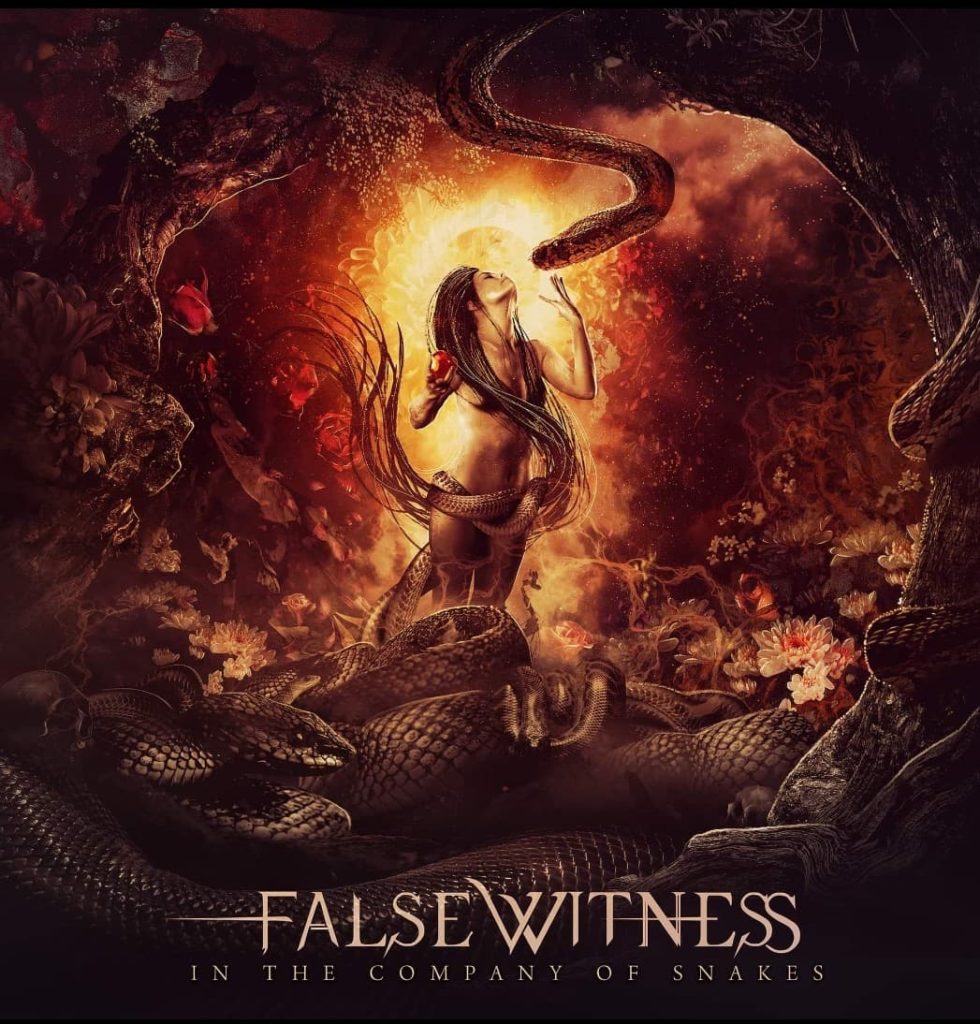 "In The Company Of Snakes" starts with one of the strongest album openers I've had the pleasure of hearing in recent years, a groovy yet aggressive ode to some poor soul who apparently needs to be reminded that pissing off a talented artist isn't the greatest idea, because now everyone knows what a callous jackass you are through some harsh words and stabs at some pretty specific character flaws, but at the same time it's catchy so now strangers are singing about you and I think that's one of life's greatest joys. 'Out Of Ruin' starts with an obligatory "oh!" and swinging into instantaneous head swinger of a riff False Witness wastes no time at all letting the listener know they're in for one hell of a ride as the assaulting first verse transcends into the chorus with the surprisingly, and expertly executed angelic vocals of McKae Nielsen. The second verse is full of that same emotion and agressive demeanor as the last but falls into a neat little segment of "chugs and doodles" as I like to call them (you know exactly what I mean) into an epic solo that captures the entire emotion and narrative of the track. The instrumental segments of this track are extremely well written, and as stated before, the track is brimming with raw emotion and accentuated with skilled musicianship, and triple vocals throughout its entirety. Let's be honest with ourselves, vocalists playing guitar is always great. Guitarists also adding their vocals to the mix makes things even better, but when you take all of that and add a drummer to the mix things get really good in the best way possible. 'Out Of Ruin' also sports it's very own music video that you can find a little bit later on when you make it to the end of this review.
'Eating Dirt' hits me in such a way I find it hard to put it into words. I would go as far to say this is probably my personal favorite track on the album. I cant get over how it just has a feel so reminiscent of the music I listened to in my high school days back in the early 2000's. I definitely would not say its like any band or song in particular, but more that its just like so many of the great bands from back then rolled into one, almost like if they had a time machine and went back to that era of music they would fit absolutely seamlessly. Not overly complex, or fast, but not dull or meandering, but a nice mid tempo jam with a little fast picking, some power chords, deep chest shaking vocals, and well placed transitions that just keep your head bouncing involuntarily until you travel into deeper waters, but as you should know traveling to the deeper regions doesn't come without its troubles. 'Black Masts' is powerful and deep on multiple levels. Starting with some double bass and cymbal crashes into an aggressive first verse the complimenting vocals of drummer Conner Werling through the verses and McKae Nielsen's gutturals in the chorus mixed with melodic guitars, cannoning drums and metaphoric lyrical content give this track immense depth in both sound and content.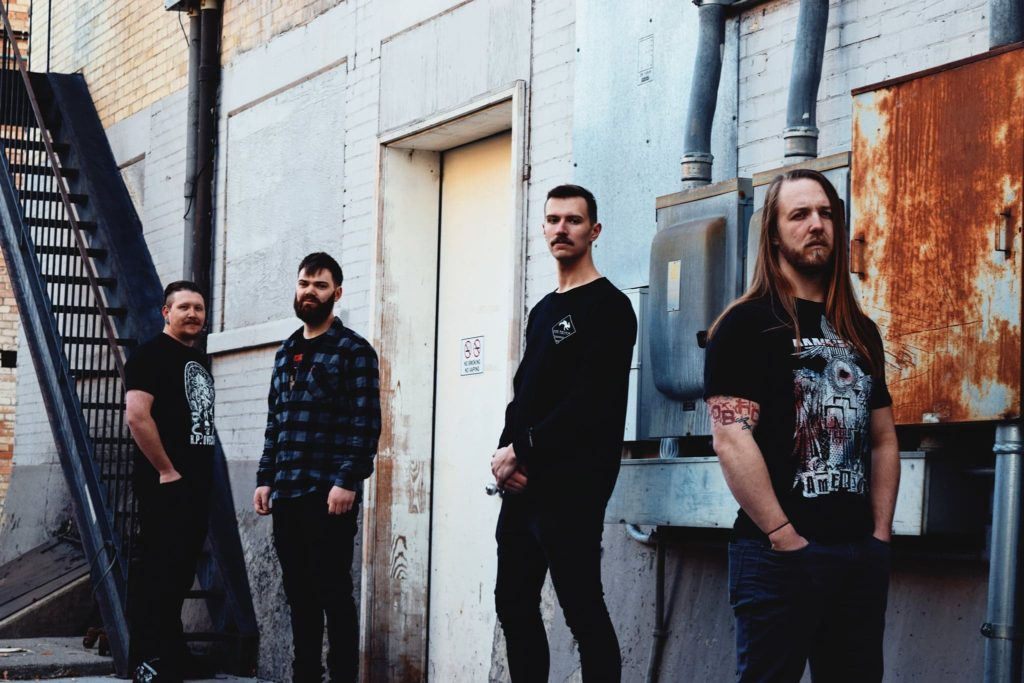 Charging in with an immense stature and slow daunting drive is the albums title track 'In The Company Of Snakes'. The power of groove keeps plugging away through this album and I just cant get enough. Once again I find myself with my eyes closed and my head down soaking in every ounce of music that I can while the verse and chorus keep me marching along with droning and drawn riffs like a looming army of the damned on the road to conquering the world of the living. I find this track to be a perfect example of how deadly simplicity can be. Simple doesn't mean bad, they've successfully figured out how to grab your interest and keep it there by employing undeniably powerful tones and raw anger, its like a beast of its own, beckoning you to come closer so it can eat you alive through intimidation alone. Demise is already implied and all you're going to do by running is prolong the suffering. 'Vulturous' and 'Truth Dies With A Severed Tongue' both keep that same cruel cunning going as with the rest of the album. Unrelenting barrages of heavy riffs, blazing drum segments and trembling bass set effective backdrops for the consistently earth shaking vocals and literarily delicious lyrical prowess I have come to expect from False Witness thus far. The surprising dashes of clean vocals and technical guitar ability blended with moments of ambient dissonance in 'Beneath The Skin' left me a little dumbstruck and in wonder of what other little surprises the rest of the album would have in store.
'State Of Decay' brings the groove back, or did the groove ever even go away? The answer is simple, it didn't ever leave, I just figured you would grow weary of me sounding like a teenager from the 1960's. Easy to digest, never a dull moment, and even a few brief tempo changes make this another absolute banger of track that leads into the most drastic change in feel I've experienced on this journey. "Cosmic Maw" starts with a cleanish guitar tone and angry vocals before evolving into an almost cinematic affair. An accenting choir, and spoken word dictation compliment an orchestral composition in the background to create an atmospheric and imaginative wonderland as we descend into the closing track 'Glass Eyes (Forever in Formaldehyde)'. Again employing dramatic orchestral composition and a begrudging, zombie like drone this track uses powerful guitars and drums with an epic background complimenting emotional vocals once again placing the listener in an entirely new world. At some point throughout the album I found myself almost unable to explain the experience in any other terms than how the music made me feel, the album just keeps evolving, becoming simple, but more complex. The more I listened the more connected I became, the music became more than just music but an extension of my consciousness itself, unable to separate my own inner monologue from what was being projected into my ears. This album will go on the list as one of the best albums I've had the pleasure of listening to, and I hope you take the time to give it a listen. False Witness "In The Company Of Snakes" is out now, head over to their Facebook page below and buy the album, head on over to YouTube and check out the official video for 'Out Of Ruin' with the link provided, or find it wherever you stream music!
https://linktr.ee/falsewitnessofficial?fbclid=IwAR2A1bU5aT5wQLV6ZL_vgmgqqJQTkpIRDpovVUM5yZ4AyJ1z-OwhZNS_1R8