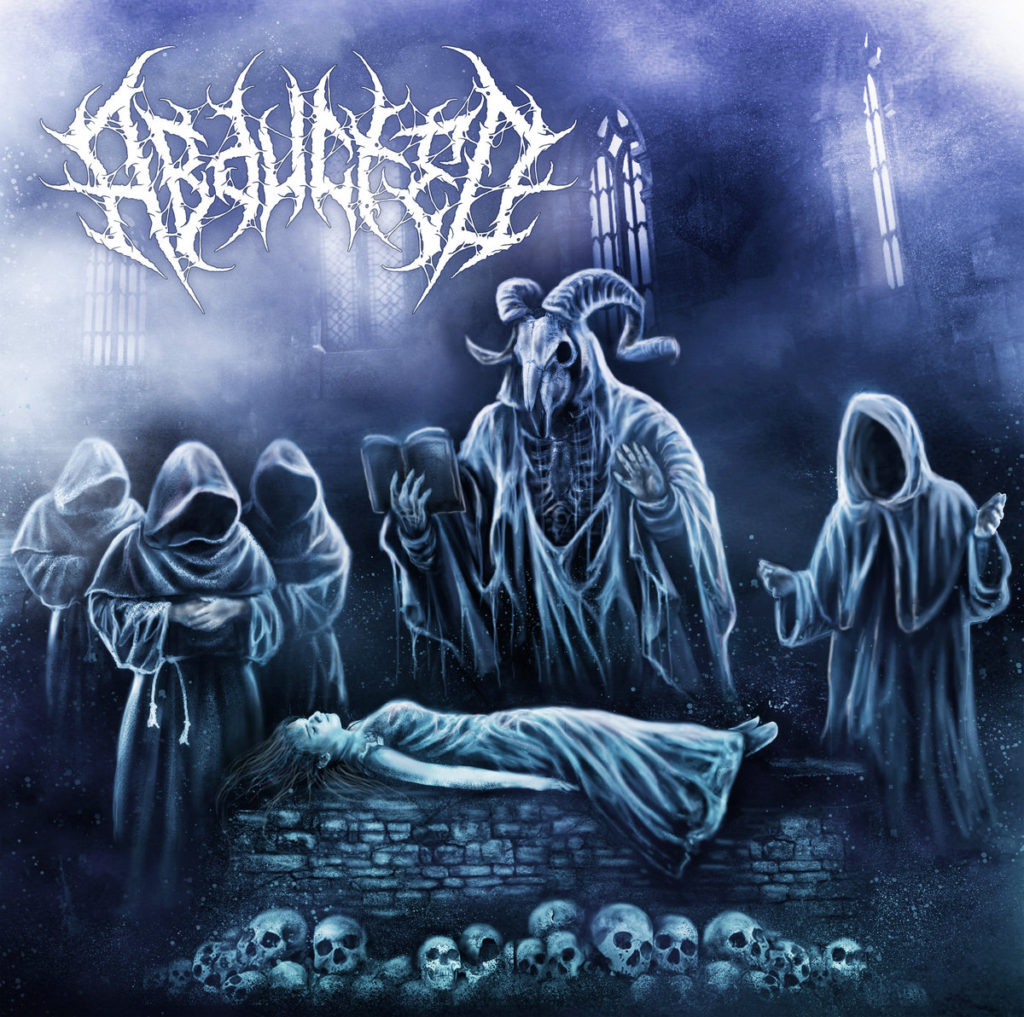 What is up boys and girls and everyone on the gender spectrum? I hope the fall is treating you good. But if not, let me take care of that. And I shall do that today by throwing your way some bone crushing and ear shattering death metal from up north, Fairbanks, Alaska. Today, we bring to you the debut, full length record by ABDUCTED. There is some real deep connection with the icy cold north and death metal, isn't it? Be it Swedish death metal, melodic death metal from Finland or the notorious first wave of black metal from Norway, an offshoot born out of death metal itself. No matter where they all fall on the wide array of the dissonant side of metal, they are exclusively special to itself and can kick abundant posers off the deck any day. And that is exactly what ABDUCTED successfully does on their debut offering, that is, mercilessly annihilate your petty ear drums. Let's not beat around the bush and dissect this wonderful album.
Right off the hook, the band throws at you a massive, heavy and head-banging breakdown riff. Something in the range of slow tempo, that is perfect for building up the adrenaline as a prelude to the next songs. It is an absolute banger, it gets your feet stomping, and neck swaying in unison. Although, groovy, chugging or breakdowns get flak sometimes, they do get your head banging. I would say ABDUCTED perfectly nails the kick-off to this album. It sets the mood for a perfect incoming onslaught.
Second song titled, 'Aberration' makes no excuses, no time for bull shitting around, and it just goes 'BAM'! It's like a charged up bull unleashed from its barn satiating its soaring adrenaline levels. You can immediately hear those double bass kicks going in hard, complimented by the hard crashing cymbals and not to mention the savory and grinding riff. Apart from the band's vocalist doing a tremendous job on this one, we have our own homeboy Tyler Byrum laying down some sick, thick and morbid growls featuring as the first guest vocalist on the album. And he has done a great job filling that guest vocals spot, I think he has melded his vocals pretty well into the song. At about 2:54, everything just comes to a standstill for a second, and you know there's something wicked the band had been brewing up for this next groove fest. And oh boy, what a juicy riff! You know I have a penchant for them grooves, the huge chuggs and breakdowns. And its not even halfway into the second song and ABDUCTED throws in my favorite gnarly, nasty and filthiest riff on the album. Drop tuned earth shattering guitars, that crash cymbal, coupled with the double bass and hard snare, each woven perfectly into each other, with the perfect timing results in a mouth watering section, that I would call my favourite in the album. The track then progresses into a frenzy fiesta and then fades into this another fist pumping breakdown.
There's one really good trait that this album holds is that it is a very well balanced concoction of groove along the modern metal lines, some fierce and fast paced riffing as seen in songs like 'Kerrigan', 'Deadite' and 'The Twin Princes' to name a few. A few guitar solos are also thrown in songs like 'Indoctrination'. The riff transitions in the album are also very well curated, they are swift, crisp and they all fit into the song perfectly, without any part in the song left out feeling like it doesn't belong in the puzzle. And that, is what makes this album interesting. I believe more often that not, what modern/deathcore/djent bands end up doing is fail to meticulously cook the perfect broth. It is either too much of riff based chugs, or too much of just palm muted djent, or just enough of groove, and that's what makes me yawn by the end of the album. Art in whatever form, I feel, should be well balanced, just like a diet. Like, I don't wanna feed my ears 40 minutes of palm muted riffs, you know what I am saying.
ABDUCTED features some very thick growls, spawned directly from the crypts of hell. And as stated before, the vocalist manages to balance it out. Its not always the thick and dense growls but also the high pitched borderline screeching as well. Major props to second guest on vocals featured in 'The Twin Princes', as he manages to not sway so much in vocal range and depth of his growls in the album from the band's vocalist, so as to feel that the song doesn't belong in the album. I must add that the vocals in the album fit perfectly in terms of the depth and heaviness when it comes to complimenting the riffing. I believe this is something very important in death metal. If your vocals sound like you're just into puberty but your guitars are monstrous, then I might as well go ahead and just say that is pretty much bollocks.
The drumming in the album has been intense as well. The meandering nature of the drums from groove, to machine gun double bass to the cymbal work have been immaculate. The snare sound is just absolute favorite for my ears and to my liking. It's crisp and hits hard. All in all, the band manages to tweak every aspect of their sound in this album to perfection. The guitars, vocals, drums and bass all match each other in terms of how much they compliment each other. Each ingredient has been perfectly engineered in the desired ratio to produce this beast of a debut record.
Stream the album down below. And if you like them enough, support them by giving yourself some really cool death metal on their bandcamp page and merch store.