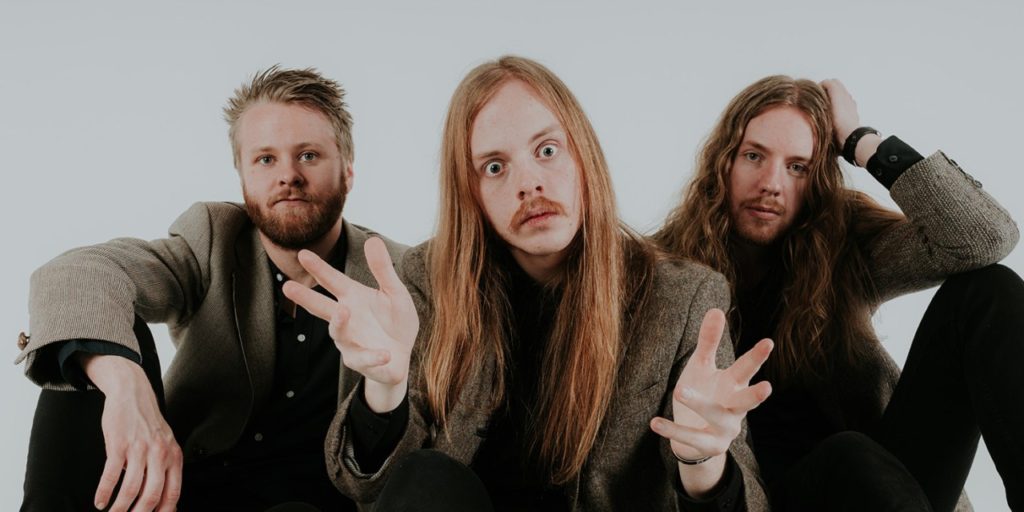 Classic rock trio The Vintage Caravan caused an earthquake in the heavy music scene with their self-released debut album "The Vintage Caravan" (2011), and their sophomore record "Voyage" (2012; re-released in early 2014). In 2013 the band was officially signed with Nuclear Blast. Also their reputation as a powerful live band soon got around and gave them numerous possibilities to open up for acts such as Blues Pills and Grand Magus.
Their 3rd trick followed in May 2015 in the form of "Arrival." The ensuing campaign for this release was full of highlights: Their very first, 2-month European headline tour, a Latin American headline tour, 2 UK headline tours, supporting the legendary EUROPE in the European mainland & Scandinavia, performing at 60+ festivals (Roskilde, Graspop Metal Meeting, Wacken Open Air, and Hellfest to name but a few).
2018 brings us the 4th studio album entitled "Gateways." via Nuclear Blast. We really pushed ourselves to make this album sound as great as possible," states Óskar. Recorded in the legendary Sundlaugin Studios in Iceland (Sigur Rós), and produced by Ian Davenport (Band Of Skulls, The Twilight Saga: New Moon), the record's cover photo art was crafted by Julian Haas (Through The Haze).
The 48-minute ride kicks off with 'Set Your Sights.' This one starts with a few seconds of sorrowful guitar before jumping into an infectious riff in the style of Rainbow! 'The Way' comes next and this is the funkiest song on "Gateways," especially it's simple but catchy groove that's primarily driven by bass and drums. 'Reflections', which after one listen, decided is one of the best songs of 2018. This is an EPIC in every sense of the word. It starts on a strong point and just continues to grow and progress with little nuances that will cause you to listen to this track multiple times! At around the 3 minute mark 'Reflections' quiets down for a bit before kicking into some truly inspired guitar work! 'Reset' surprises with an emphatic riff attack which takes hold in everyone's brain instantly and should be a fixture of the bands future set list with its memorable chorus. 'Nebula', is quite a risky track. I personally feel that psychedelic rock when done wrong is pretentious, boring and simply uninspired. However, The Vintage Caravan are an exception to this, as they have crafted a song that remains interesting with it's hauntingly beautiful atmosphere and eruptive guitar solo! 'Farewell' is a mid paced song that starts off on a strong enough riff reminiscent of a perfect blend between Jimi Hendrix and Deep Purple before it suddenly morphs into a Black Sabbath type jam that features killer musicianship from all involved!
At 10 tracks, The Vintage Caravan have crafted an album that is really the pick me up that this time of the year needed. We were sorely lacking in truly great releases for the past couple of months, however, with the imminent release of "Gateways" (which is hitting shelves Aug.31) I have renewed interest in what the rest of the year has to offer.