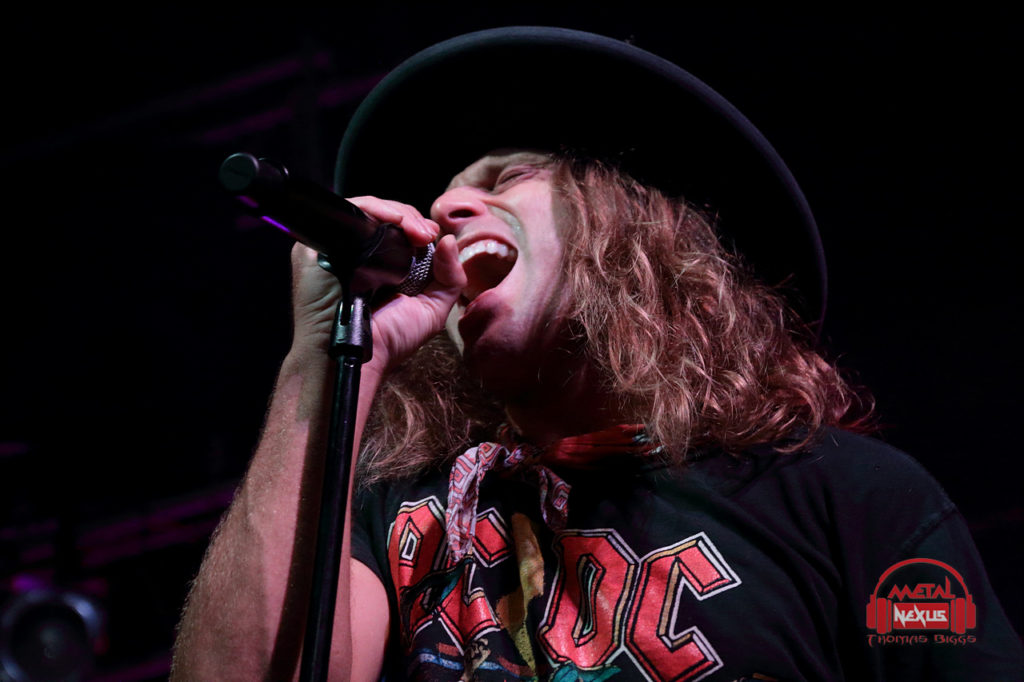 When I heard that California's own, Dirty Honey, were returning to Johnson City, Tennessee, I knew from that point I wanted to make this show. But when I heard who was opening for Dirty Honey, I really got ecstatic! None other than the Orange County, California rock band, Joyous Wolf! This night was going to be nothing but pure rock n roll for the soul!
I have a story I always like to tell about Dirty Honey, so before I get too far into this, I'd like to tell you what happened.
Dirty Honey was playing Johnson City, Tennessee, in 2020. The same venue, which is called "Capones" on Main Street. If you have never been to Capones, please do yourself a favor and check out this super venue! Great place to see a show! Anyway, the date was January 29, 2020. I was in attendance and loving every minute. Little did I know, Dirty Honey would be my last show until late 2020, thanks to COVID-19. Not really what I would call "rock" shows per say, but I got to see some live music. 2021 is really when it started to get better. It makes me so happy that after a year of being quarantined, (which I wasn't, I had a job and thankful I have kept it through this mess,) that I can finally go out and start seeing some shows again! Dirty Honey was my last show at Capones in 2020 and Dirty Honey was my return to Capones in 2021! Funny how it works out sometimes!
Now let's talk about this stunning show in depth!
 For those who do not know Joyous Wolf, you are missing out big time! As I stated earlier, they're from Orange County, California. They have released one EP titled "Place In Time", which blows my mind every time I listen to it. The mix on this EP is remarkable. It stays in my rotation of albums I spin. If you were to ask me, I would tell you this is one of the greatest rock bands that has hit the stage in 10+ years. This unique lineup consists of "Nick Reese – Vocals",  "Blake Allard – Guitar",  "Greg Braccio – Bass",  "Robert Sodaro – Drums". Joyous Wolf is an unbelievably tight band. I would hate to be the following act because I know some huge shoes would have to be filled! (Dirty Honey stuck right with them though).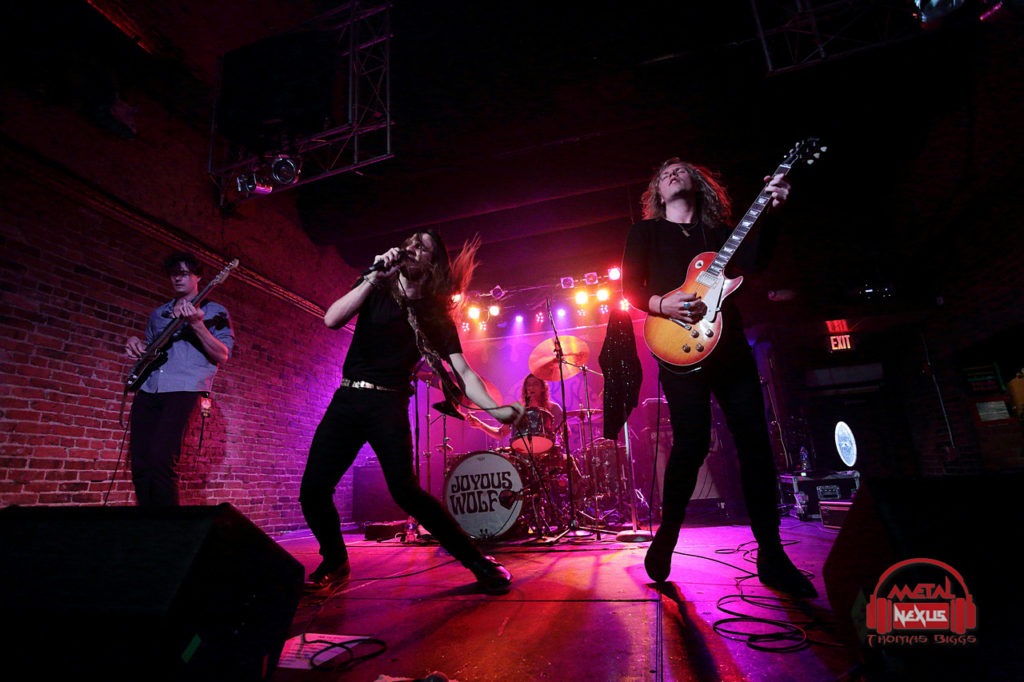 It was time for Joyous Wolf to come out on stage. The crowd was pumped! As soon as Nick Reese made his presence known, Capone's exploded! The 4 young gentlemen in Joyous Wolf knew they were getting ready to give this crowd what they had been waiting for since the pandemic. Starting with their song "Fearless", Joyous Wolf was not going to stop! Their hard driven rock sound with intense guitar work right in your face, along with groovy bass lines, this made Capones want more! Every head was bobbing in this venue, including mine! Also doing one of their well-known songs "Quiet Heart", got me ultra-excited! This is one of my favorite Joyous Wolf songs. I remember hearing Joyous Wolf play this once before at Manchester Music Hall in Lexington, KY, and I loved it then. But the power that Joyous Wolf had in them in Tennessee, blew me away. I was amazed from start to finish. But that wasn't all. They also threw in "Mother Rebel", "Talk To Me", "Get Myself Right" among other rockers! Joyous Wolf always puts on a super show! I got to speak with them after the show. Super nice guys! Get out and support this amazing rock act! They're going to be at Louder Than Life this year. They will be playing Friday. If you do not get a chance to see them before then, here is your opportunity. It's worth the price of a ticket to see Joyous Wolf. Trust me on that!
Now it was Dirty Honey's turn to rock Capones.
If you're not familiar with Dirty Honey, please be sure to look them up! You will not be sorry, I promise! Dirty Honey resides in Los Angeles, California. They got their start in 2017. They released their first E.P. "Dirty Honey" in 2019. The first track from this E.P. "When I'm Gone" hit big! It hit the US Mainstream Rock charts at #1! How amazing is this?! Not even a full-length release at that time and already a #1 song! That alone should let you know how kick ass Dirty Honey truly is! Dirty Honey, however, released their full-length studio album titled "Dirty Honey" in April of 2021. Dirty Honey consists of "Marc Labelle – Vocals" "John Notto – Guitar", "Justin Smolian – Bass", "Corey Coverstone – Drums". Dirty Honey is another band I would for sure say is one of the greatest bands that has came along in the last 10+ years. They get better and better every time I see them! Dirty Honey better put their shades on because there is a bright future ahead for these 4 gentlemen!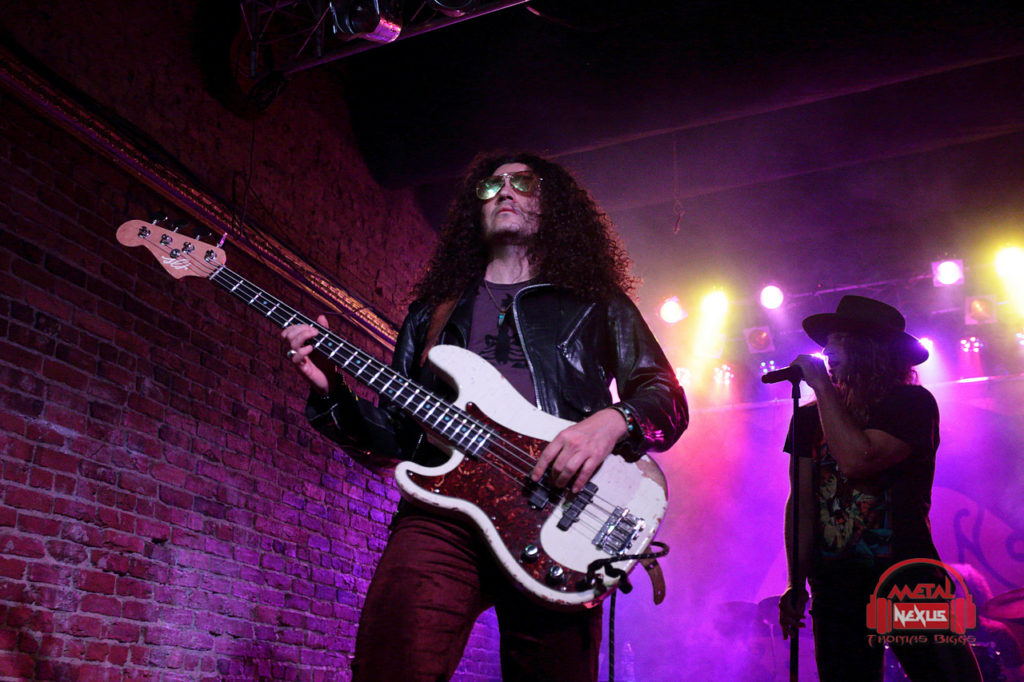 Dirty Honey makes their way to the stage and oh man! Capones just became an uproar!! It was LOUD! Starting out with their song "Gypsy", this building was shaking! Everyone was so happy to finally enjoy good rock n roll again! Marc Labelle was eating it up! He loved the turnout! Marc stated through the show that the crowd at Capones had been his favorite on this tour. He loved the enthusiasm coming from the crowd. Not to mention every song that was played from Dirty Honey including "Fire Away", "Heartbreaker", "Down The Road", "California Dreamin'" , and the encores of "When I'm Gone" and Rolling 7's", was sung by the crowd! Word for word! It was such a thrilling experience to see live! What surprised me even more was when Dirty Honey pulled out an AC/DC cover. They performed "Girls Got Rhythm"! What a reaction! Holy crap! I feel that was such a fitting song to play that night because so many women were dancing and had a lot of rhythm. In my mind, that was a good call by Dirty Honey to include in the set! Dirty Honey was groovy! The incredible bass, with the clean sounding guitar, along with crisp vocals and sick drum fills/grooves. If you love rock n roll, you'll love this band. No doubt about that at all!
Overall, I enjoyed my experience seeing Dirty Honey and Joyous Wolf! 10/10 show. Amazing performances, amazing staff at Capones, everything was perfect. I wish I could go back and re-live that night again! If you want to experience rock n roll, and a killer live show, these 2 bands are your best bet. Please get out and support these guys! They can't do it without us! Live music is making it's return. It's starting to slowly come back to the arenas, the clubs, the stadiums and everywhere else live music is held. Please, get out and see some shows. COVID-19 has almost killed live music and musicians, so please, buy a ticket, buy some merch and lets keep these guys on the road letting them make our next favorite album!