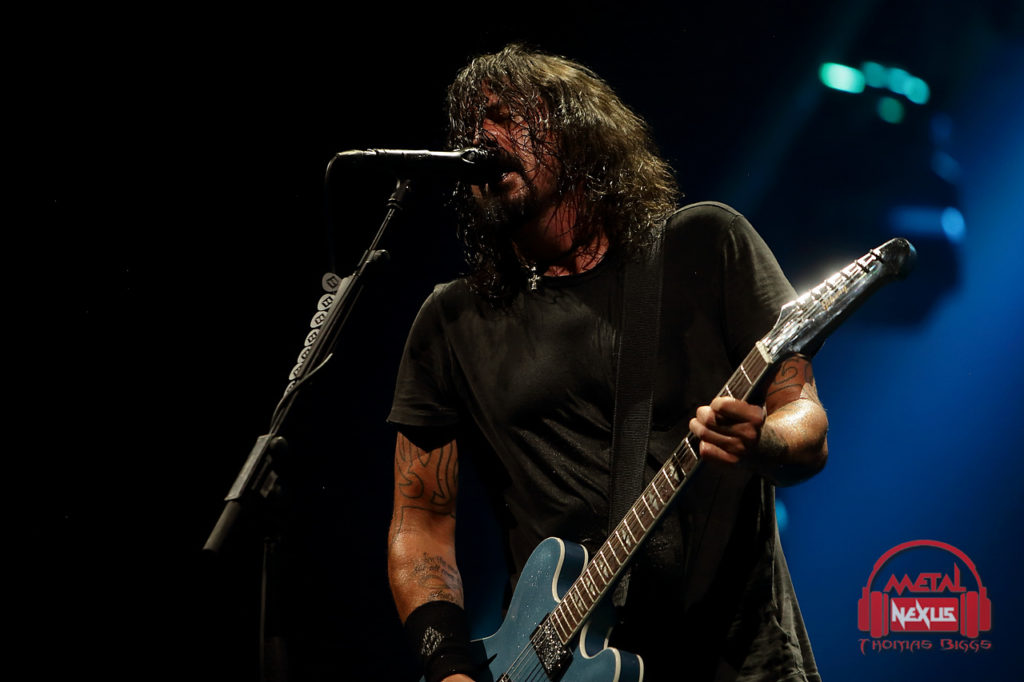 Bourbon & Beyond is back! Bigger and dryer than last year. As most know, last year's two day event was shortened to one day by torrential rains that caused flooding and threats of flooding in and around Champions Park (last year's venue). As they say that was last year, this year was a very different story! Not only did the festival move to a different venue it was expanded from two days to three and there was NO rain in the forecast. In fact the reported 91,000 plus fans were treated to what some people in Kentucky were calling 2nd summer with temperatures in the 90's all three days. It was hot, temperature and music!
Bourbon & Beyond was the second of three festivals that Danny Wimmer Presents was hosting at the Highlands Festival Grounds, on three consecutive weekends. Regarded as the "Trifesta" – Hometown Rising, Bourbon & Beyond and Louder Than Life brought over 298,000 people to the Louisville area along with hundreds of bands, chefs, bourbon distillers and many different kinds of food vendors. It was an opportunity to try different foods, a new bourbon and find a new favorite band. These three weekends offered something for everyone.
Day one offered an impressive lineup of music, from rock and roll hall of famers, to Grammy nominated artist, up and coming artists, country, bluegrass, jazz and of course Rock and Roll. All on the three stages, Barrel, Oak and the Bluegrass Situation stage. Starting the day one off was Pearl (wife of Anthrax's Scott Ian and daughter of Meatloaf) she was followed by The Record Company, Blackberry Smoke, Lukas Nelson (son of Willie Nelson) & Promise of The Real and Joan Jett & The Blackhearts. How's that for a line up? That's not everyone that made up the early line up on day one ( yes, day one! ) but you can get an idea of what this year's Bourbon & Beyond has in store for you from this group of artists!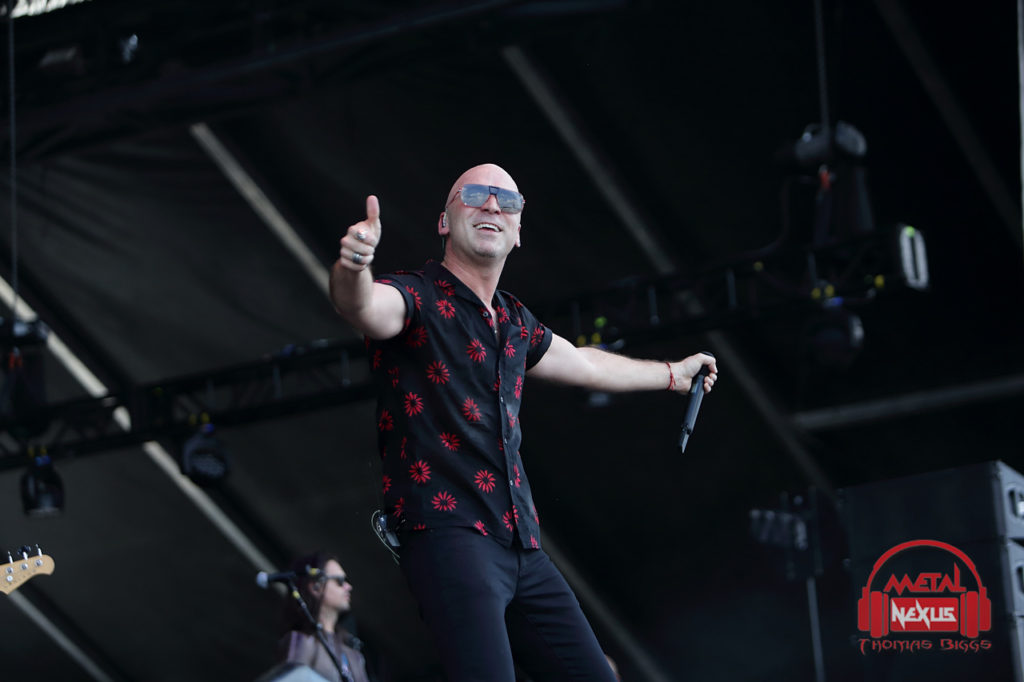 Kicking off the early evening was +Live+. The rock and roll veterans from York, Pennsylvania started their set off with "All Over You" and "Selling the Drama" from the breakout album 'Throwing Copper'. Followed those two songs with a beautiful cover of R.E.M.'s "Losing My Religion". After a hitatus and now with Ed Kowalczyk back on vocals +Live+ sounded like they are meant to with the original crew creating those silky smooth nostalgic tracks, the big crowd that gathered at the Barrel Stage loved every minute!
One of the many things I love about big music festivals is that I'm introduced to bands that I might not have ever listened to or be familiar with. The next two bands fit in that list, The Flaming Lips and Nathaniel Rateliff & The Night Sweats.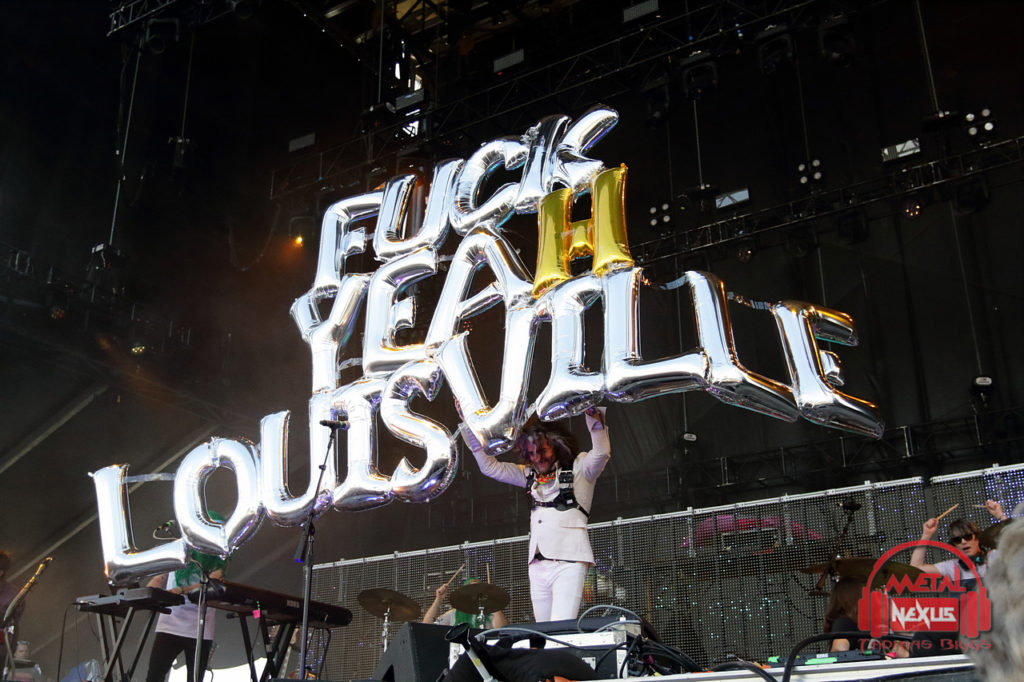 Now obviously I have heard of The Flaming Lips (they've been around since 1983), but I'd never had the opportunity to see one of their live performances or was really all that familiar with their music. What I was about to witness was an extremely energetic, prop and confetti filled stage show and music played by some seriously talented musicians! Starting the set off with "Race for the Prize" then into "Yoshimi Battles the Pink Robots, Pt. 1 & 2". During these three songs vocalist Wayne Coyne never stops moving, he's either carrying around a huge inflated sign that reads 'F**K Yeah Louisville' (see picture) or he's throwing handfuls of confetti into the screaming crowd (evidence of that confetti was still visible at the next weekend's Louder Than Life festival, yeah it was a lot of confetti!) The big crowd no I should say the huge crowd that gathered for The Flaming Lips set at the Oak stage was eating up everything the band offered and begging for more!
Another of the things I love about these three festivals in particular is the setup of the two main stages, right next to one another. Five minutes after a band finishes a set on one stage the next band is ready to go. As was the case with The Flaming Lips and Nathaniel Rateliff & the Night Sweats.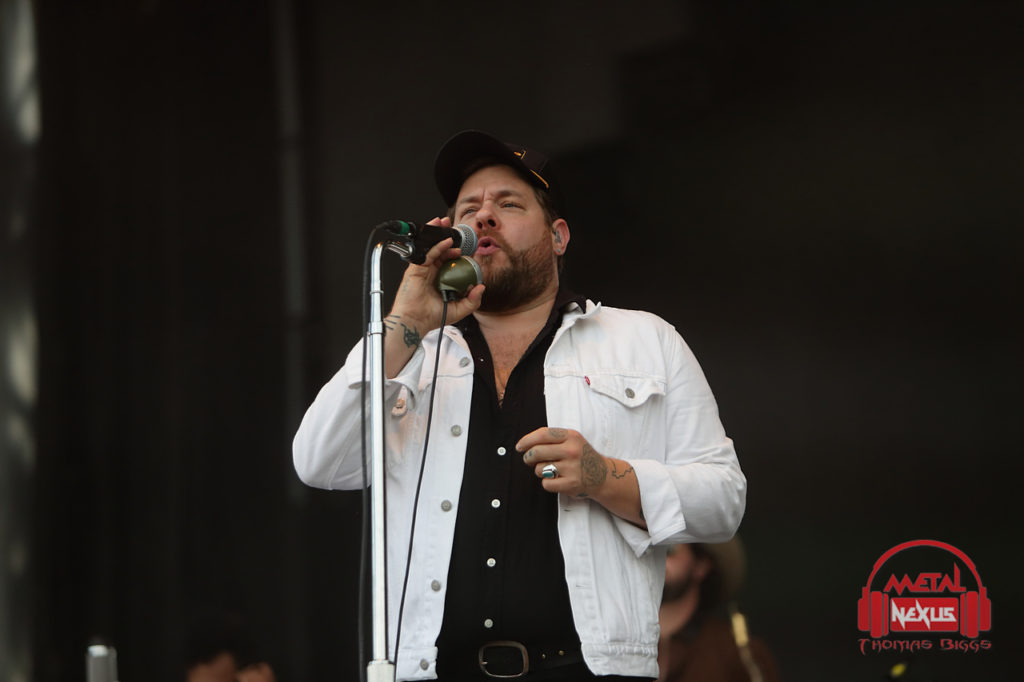 As soon as The Flaming Lips finished their set the crowd moved over to the Barrel stage for Nathaniel Rateliff & The Night Sweats. A very different style of music but the energy on stage and in the crowd was just as intense! Nathaniel and band kicked off the set with "Look It Here", "Hey Mama" and "You Worry Me". An incredibly upbeat and soulful style of music that had fans dancing and singing but also had new fans eager to hear more from Nathaniel Rateliff & The Night Sweats and maybe dance a little!
As soon as Nathaniel Rateliff & The Night Sweats were finished on the Barrel Stage it was back to the Oak Stage for the first of tonight's two main headliners. Each closing out their respective stages for the day.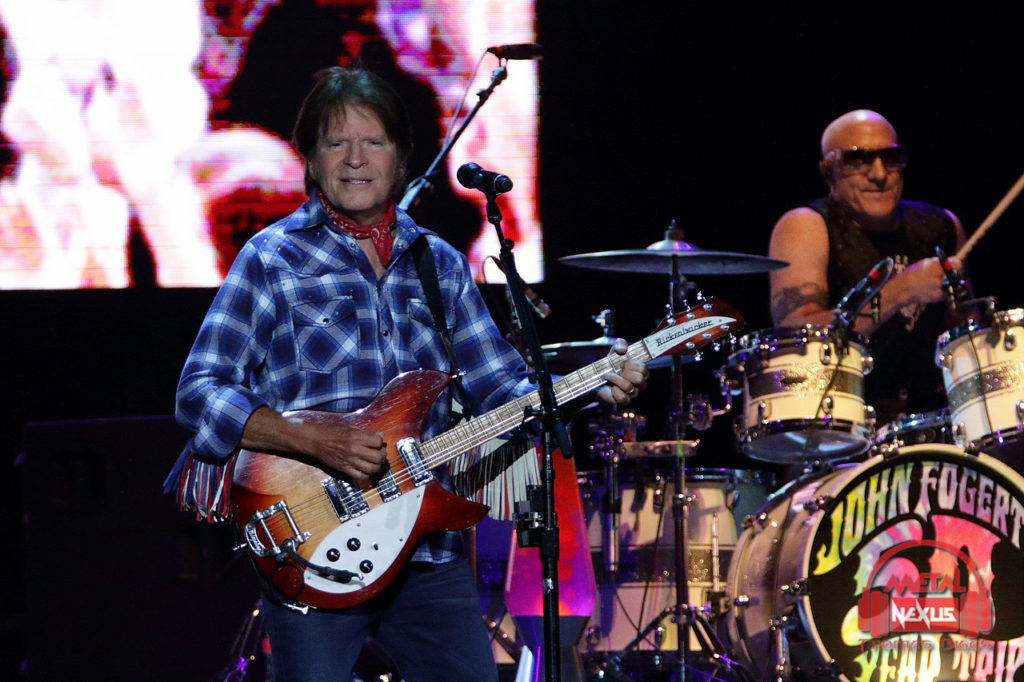 Closing out the Oak Stage tonight was Rock and Roll Hall of Famer, music legend and icon John Fogerty! What can be written about a man that has had a 50 plus year music career? A man that with his band Creedence Clearwater Revival and subsequent solo albums has had some sort of influence on most everyone on this three day bill of musical acts. A man that has been named among the greatest singers and guitarist of ALL time. His music either solo or as part of Creedence Clearwater Revival has been included in countless movies and has been part of the soundtracks of so many lives for over five decades! To say he qualified as a headliner would be an understatement. He kicked off this set with 3 Creedence Clearwater Revival songs "Born on the Bayou", "Green River" and "Lookin Out My Back Door" and as you can imagine they were performed to perfection. Two of his sons joined him on stage, one played in the band most of the night while the other came out for a couple different songs. The 22 song set was filled with hit after hit, his solo work and Creedence Clearwater Revival songs along with some pretty special covers. The Beatles "Little Help From My Friends", Little Richard "Good Golly Miss Molly", Sly & The Family Stone "Dance to the Music" and "Everyday People", Plastic Ono Band "Give Peace a Chance" and Jimi Hendix's version of the Star-Spangled Banner. It was incredible as you would expect!
As everyone caught their collective breaths it was time to shift attention to the Barrel Stage for the Day One closer Foo Fighters!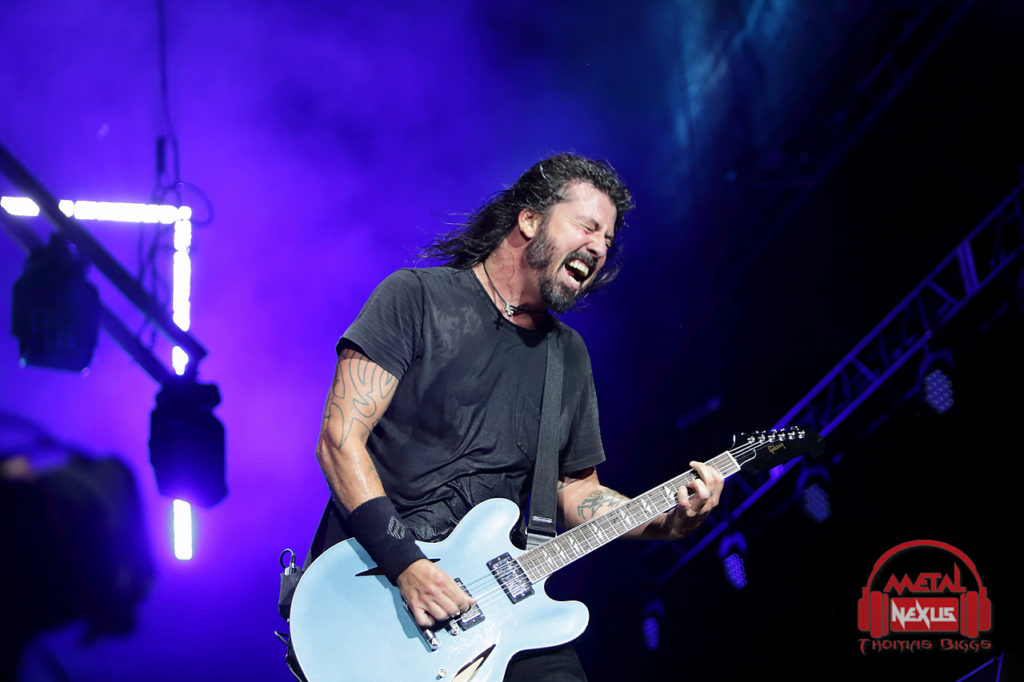 Just a brief Foo Fighters history lesson in case you're a music fan that's been living under a rock for the last 25 years. Dave Grohl started Foo Fighters as a one man project following the dissolution of his first band Nirvana, you're thinking Nirvana? Yeah, that Nirvana! Foo Fighters have evolved from a one man band to what it is today, a musical juggernaut! With Dave Grohl on guitar and lead vocals, Nate Mendel on Bass, Pat Smear backing vocals and guitar, Taylor Hawkins drums, percussion and backing vocals, Chris Shiflett guitar and backing vocals and Rami Jaffee keyboard and piano. These six guys make up one the great rock bands in recent memory. Watching just a few minutes of them on stage and I think you would agree. They started their set with "The Pretender" and it seemed from that minute on for the next 19 songs Dave Grohl didn't stop moving! Well, Dave did sit down during one song when he and Taylor switched places for their incredible cover of Queen's "Under Pressure". This was an amazing set list filled with hit song after hit song. "Times Like These", "My Hero", "All My Life", "Monkey Wrench", "Best of You" and ending the night with "Everlong" and a little help from Scott Ian (Anthrax) and Pearl Aday's young son on rhythm guitar.
Foo Fighters had the tens of thousands of fans in Louisville rocking from the very beginning of "The Pretender" to the last note of "Everlong" these two and the 18 songs between them made up an epic set and brought to a close a stupendously good day of music on Day One of Bourbon & Beyond 2019.