Knuckleheads big and small, young and old converged on Rupp Arena in Lexington Kentucky for an early December night of rock and roll! For those reading this that don't know what a "Knucklehead" is (other than what your Dad called you when you did something questionable as a child, or maybe that was just my childhood) that's what the fan base of Five Finger Death Punch call themselves and they have shown up by the thousands to see what Lexington's own Chris Kael and the rest of Five Finger Death Punch have in store for them. Five Finger Death Punch didn't show up to the most holy of holy arena's in college basketball alone, no they brought Three Days Grace, Bad Wolves and Fire From The Gods. This night was going to be LOUD!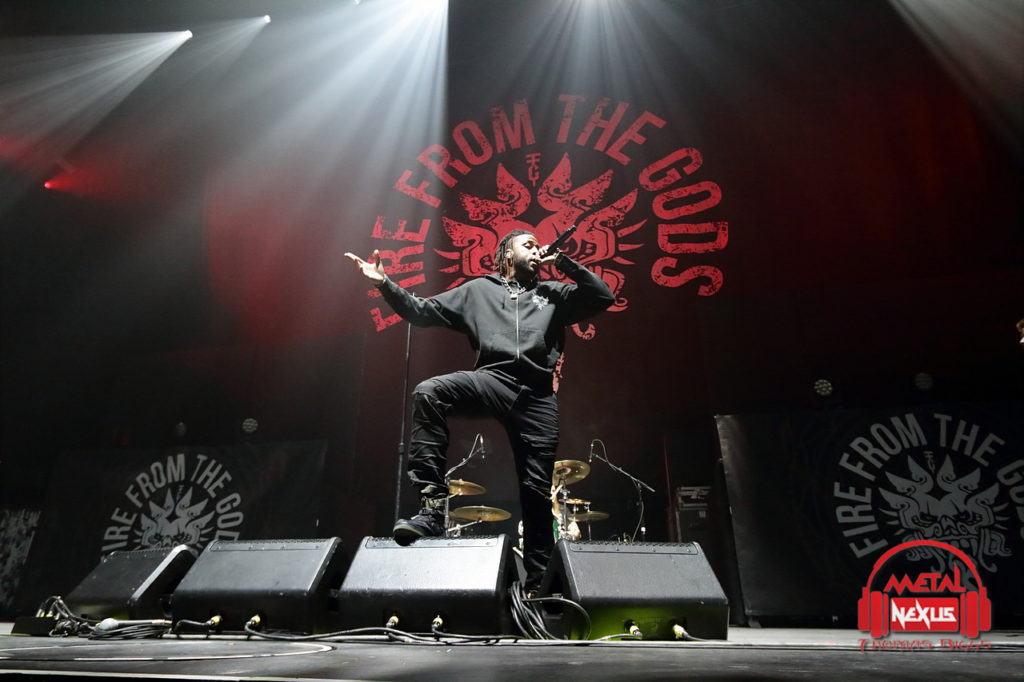 Fire From The Gods was first up on this epic night in Lexington. This Dallas, Texas band fresh off the release of their third studio album 'American Sun' (Album review can be found here) ripped through a terrific set of songs, that included "Truth To the Weak(Not Built To Collapse)," "Another Level," and "Fight the World." Lead singer AJ is one of the most passionate vocalists you will ever hear and he usually has some heart to heart with the crowd during their performance. They came on to the scene with their first album that had some songs produced by Fred Durst but their recent album has really seen mainstream success with the hit singles "Right Now," and "End Transmission." In the few short months since I last saw Fire From The Gods they have grown as a band and belong on this big arena stage! Give them a listen, you will not be sorry.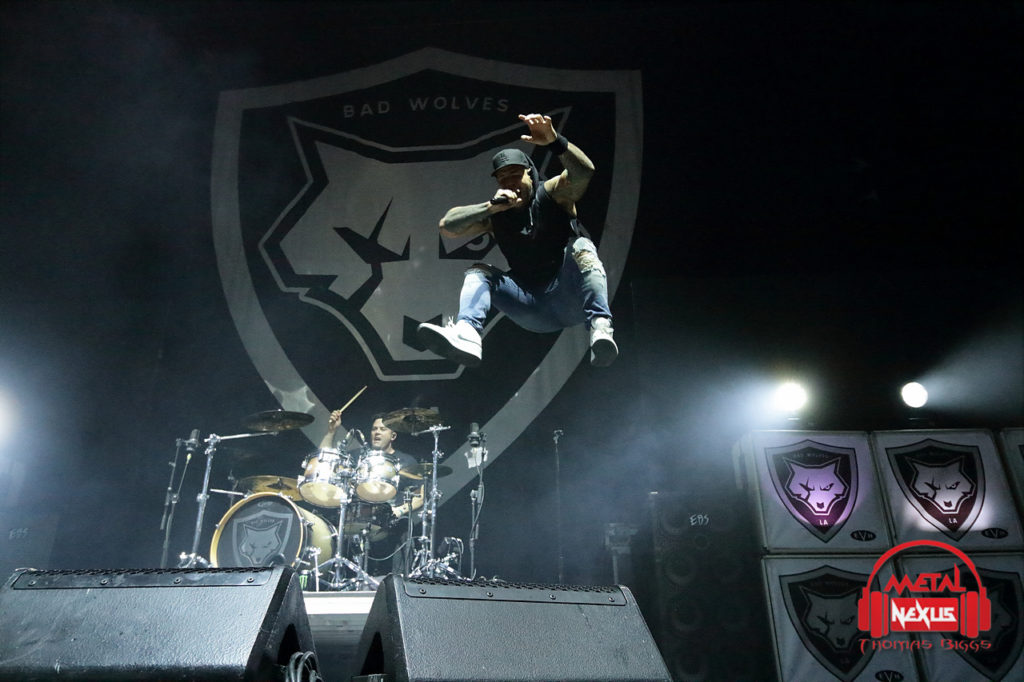 To say the last couple years have been good years for this newer supergroup would be an extreme understatement! Bad Wolves as a band have only been around since 2017 but the members have been involved in numerous bands (Devildriver, In This Moment, Bury Your Dead, God Forbid, Divine Heresy) for many years and that experience is on display when you see them live or hear their music. But what I saw tonight was on another level, they have stepped up their game big time. Kicking the set off with two songs from their most recent release 'N.A.T.I.O.N.' "No Messiah" and "Foe or Friend". They were a tight group the last time I saw them but now they are a well-oiled machine, made to be on a big arena stage. That big stage gave Tommy Vext room to move and move he did! Jumping from the drum riser (more than once) running back and forth across the stage and yes for those wondering, he is as big as he looks in pictures and videos! Of course they closed out their set with the breakout hit "Zombie" (The Cranberries cover).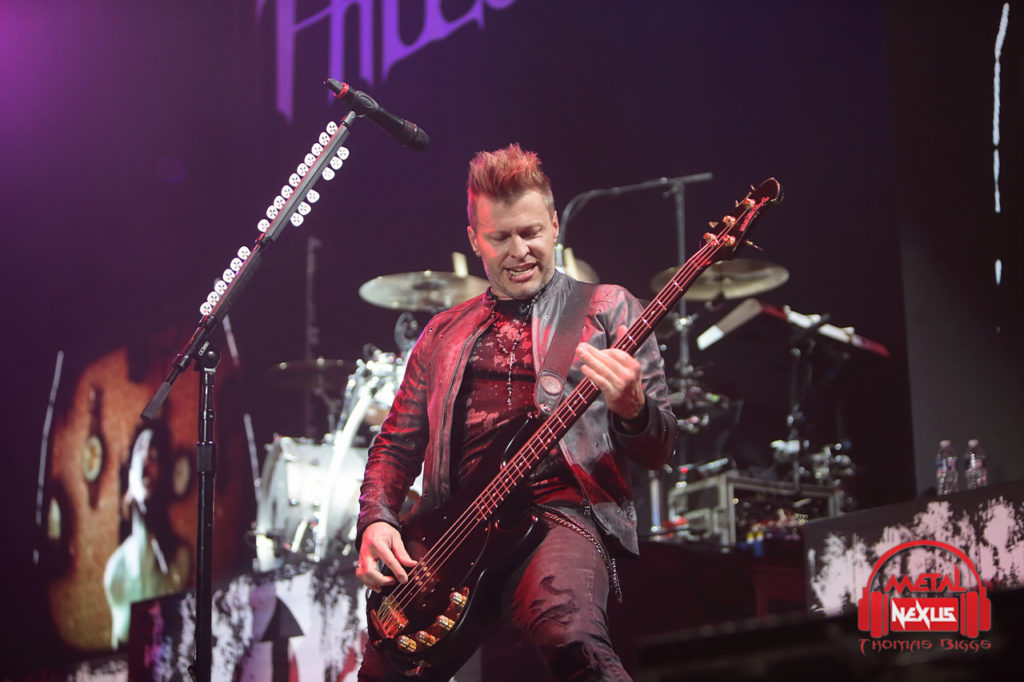 Three Days Grace hit the Rupp Arena stage like a band that's been playing music in front of big crowds for a long time with a set list of hit songs after hit songs! Don't believe me? They started off with "The Mountain" and "Home," big enough hits for you? Well the Rupp Arena crowd thought so, after those two songs they were in a rock and roll frenzy! But Three Days Grace didn't let off the gas they just kept pouring it on, remember those hit songs I mentioned? How about "Break," "Pain," and "I Hate Everything About You?" It was a greatest hits collection of rock radio and fan favorites and the fans tonight couldn't get enough! Three Days Grace saved one song for last, a song that was sure to send this crowd over the edge and "Riot" just about brought the house down. Holy shit what a setlist!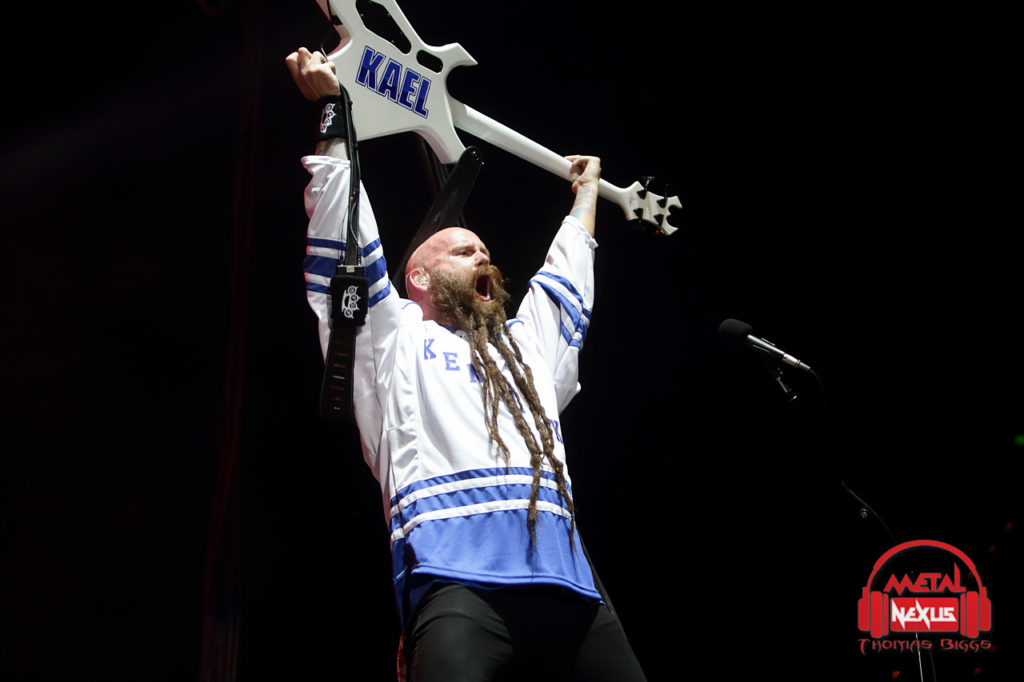 There are not many bands touring right now that could follow what we just witnessed but Five Finger Death Punch are one of those bands! Why, you ask? Well it's because of Ivan Moody being Ivan (check out this interview with Ivan here), it's Jason Hook lifted up on a 30' platform playing a guitar solo, and it's Chris Kael slamming on the bass and changing into so many different University of Kentucky shirts and jerseys that I lost count (it's his homecoming show after all) or it's Zoltan Bathroy shredding guitar and flingin dreads and its new guy Charlie Engen under the skull banging on the drums (one of the few drummers around that is not stuck in the dark, actually has some light on him, sorry that's a photography thing). Bring those five guys together and they produce one of the best live shows you could ask for, oh, throw in some fire and a killer light show and that's why they are the band that is one of the best headliners in modern rock and metal!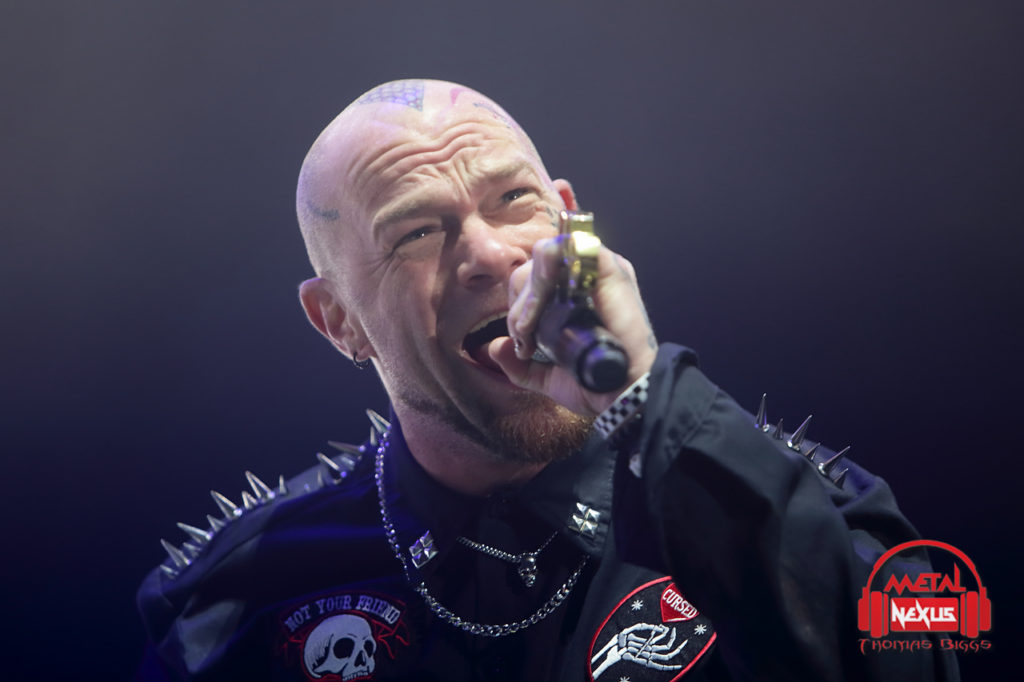 It was full throttle from the moment Five Finger Death Punch took the Rupp Arena stage opening with "Lift Me Up," and "Trouble." Ivan would pause between songs to conversate with the crowd. He even apologized for missing the meet and great, he was under the weather a bit. Saw a doctor and they fixed him up, touch of the flu or something of that sort. Whatever it was it wasn't noticeable after the first song. I mentioned earlier that this was Chris Kael's homecoming show, he went to high school in Lexington so he was fired up for the Lexington crowd. He's always a wild man on stage but it was amplified tonight, there's even a picture in the gallery of him telling me I'm number one, you'll know it when you see it! Anyway, back to the music; Five Finger Death Punch cranks out a couple of killer covers "Bad Company," and "Blue On Black" but between those two are several other songs and an acoustic version of "Wrong Side Of Heaven" which is always a highlight because during past performances Ivan has brought kids out of the crowd onto the stage but for whatever reason they couldn't do that tonight. He did work his way around the stage finding kids in the crowd and threw them candy until he made his way back center stage and saw a little girl on her dads shoulders, he (Ivan) was out of candy so he took off his necklace and threw that to her! It was back to the music again with "Never Enough" and "Burn MF." Closing out this 16 song set list with "Under And Over It" and "The Bleeding." A killer night of music to say the least!!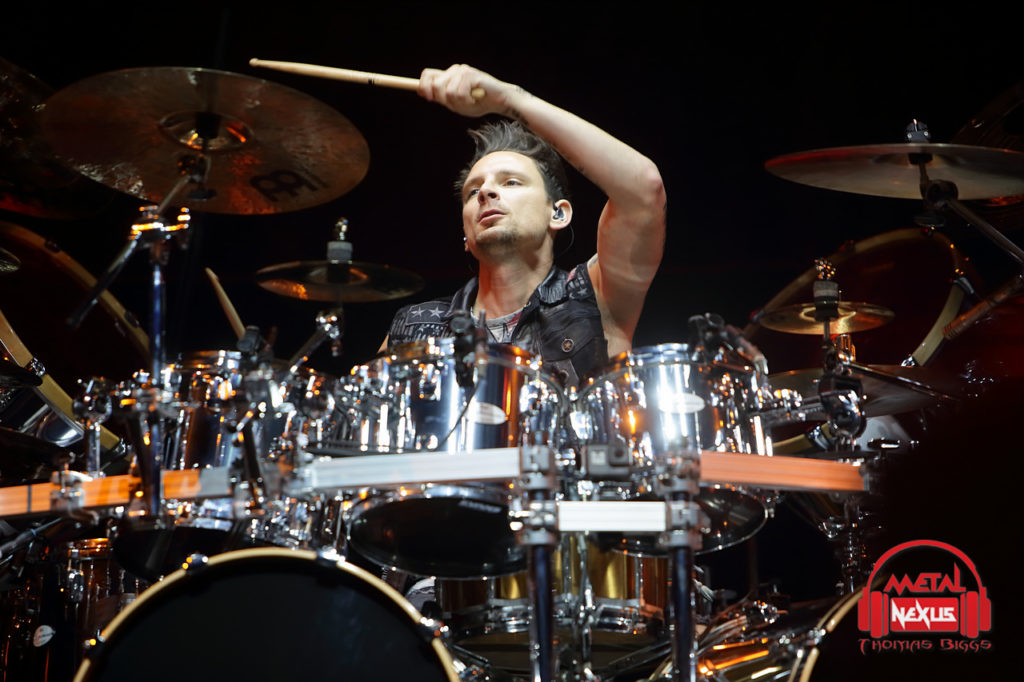 One thing I've learned talking with people about Five Finger Death Punch, there really isn't any middle ground, you're either a fan or you're not. Tonight was a building full of fans! I am not ashamed to say that I am a fan, if not only for the bad ass music but for Five Finger Death Punch's support for our military and first responders. I come from a military and law enforcement family, so I appreciate everything Five Finger Death Punch does for both!
*This article and photo gallery is dedicated to the grandfather of Thomas "Tom" Biggs (writer/photographer). Mr. Thomas E. Williams served in the U.S. Navy for 26 years. He served in World War II, Korean War and the Vietnam War, before retiring. He was also a Fire Chief from 1965-1988 in his hometown of Hornbreak, Tennessee and an accomplished clock maker. Mr Williams passed away on Jan. 6, 2020 at the age of 97. We posthumously  thank Mr. Williams for his service and dedication to his country. Our thoughts are with Tom and the family.*