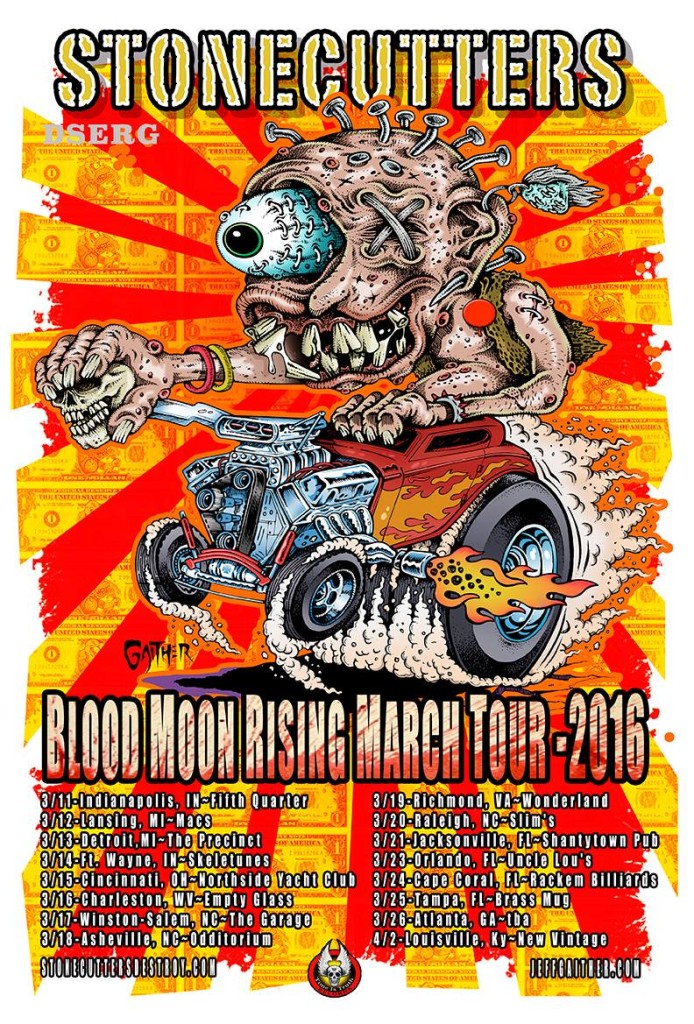 One of Kentucky's best metal bands is about to showcase their talents all over the East Coast. Stonecutters are touring in support of their recent album "Blood Moon" which made our Top 25 albums of 2015. If you are anywhere near any of their stops on tour you will want to make sure to get your ass out there and see them live. Buy a shirt, get the album and raise hell in the pit. Coming to a town near you…
Blood Moon Rising Tour March 2016

3/11-Indianapolis, IN~Fifth Quarter
3/12-Lansing, MI~Macs
3/13-Detroit,MI~Painted Lady
3/14-Ft. Wayne, IN~Skeletunes
3/15-Cincinnati, OH~Northside Yacht Club
3/16-Charleston, WV~Empty Glass
3/17-Winston-Salem, NC~The Garage
3/18-Asheville, NC~Odditorium
3/19-Richmond, VA~Wonderland
3/20-Raleigh, NC~Slim's
3/21-Jacksonville, FL~Shantytown Pub
3/23-Orlando, FL~Uncle Lou's
3/24-Cape Coral, FL~Rackem Billiards
3/25-Tampa, FL~Brass Mug
3/26-Knoxville, TN~The Concourse

Follow Stonecutters online here!