*This is part of our State Of The Art series, showcasing bands every Monday from the featured State*
This month's State is Virginia!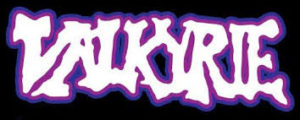 After starting our State of the Art: Virginia series off with a bang last week, I would like to introduce or reintroduce a band that has been turning Traditional Doom fans on their heads since 2002. Started by vocalist/guitarist Jake Adams, bassist Eric Seaman and drummer Luke Shafer in Rockbridge County, VA, Valkyrie quickly released a five song EP in 2003 which included the track "Wintry Plains" that was later used in their most recent release, some twelve years in the future. By 2004, Jake's brother Peter (also of Baroness) was added to the band, sharing guitar and vocal responsibilities. A second demo was recorded at a local radio station shortly before Shafer split with the band and was replaced with Mike Hoke on drums. Sunlight Shines followed along with a 7" split with VOG. By the end of 2004, the young band lost Seaman and Hoke and were replaced by Nick Crabill on bass and Nic McIntrurff on drums. Once being picked up by Twin Earth Records, their debut, self-titled, full length album was released with the assistance and engineering talents of Chris Kozlowski (Pentagram, Trouble, The Obsessed, Spirit Caravan, The Melvins, Blue Cheer). Changing the lineup once again, bass player Will Barry–Rec and drummer Gary Isom (Spirit Caravan, Pentagram) were recruited into the band, allowing Valkyrie to play many festivals including the final Emissions from the Monolith Fest in Austin, TX and the Stoner Hands of Doom festival in Phoenix, AZ. Isom left the band in 2007 and was replaced by Warren Hawkins. The next year, Man of Two Visions was released on their own label, Noble Origin. Valkyrie's debut and Visions were later re-released on 12" vinyl in 2007 and 2008, the year that Pete joined Relapse Records recording artist Baroness which called him away for full time touring. In 2010, Meteorcity Records (The Obsessed, Nebula, Atonic Bitchwax) re-released the first two albums on CD. Joining Valkyrie on bass while still playing with Earthling, Alan Fary released a new split with both bands in 2013. 2014 proved to be a huge year for Valkyrie and its members. With production from Sanford Parker (Nachmystium, Pelican, Voivod), Shadows was released shortly before Pete was asked to play with Glen Danzig's Samhain where he toured their reunion shows throughout the United States (information from Valkyrie's online resources).