3 Kisses is:
Tish Meeks – Vocals, guitar
Drew Owens – Lead guitar, backing vocals
Dale Payne – Drums
Zach Adams – Bass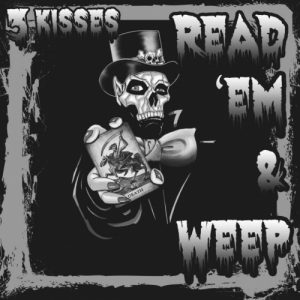 Born in the fiery heat of Central Texas and then transplanted to Wasilla, Alaska comes Punk/Rock/Hard Rock/Alternative/Pop sensation, 3 Kisses. Fronted by wild woman Tish Meeks, 3 Kisses was originally formed in January 2004 as an Alternative Punk Rock outfit focused on good times aligned with unprecedented energy. True to form, Tish quickly garnering the title of "A Little Ball of Fire", and with the rest of the band, began their dominant rampage across the Southern United States. Once their momentum overcame the region, 3 Kisses was able to expand their influence all over the country and earned them sponsorship from Jagermeister, Paul Reed Smith Guitars, Dirtbag Clothing, Daisy Rock Guitars, Miller Lite, Dunlop, Coffin Case, GoGirls Music, Texas Independent Musicians, Music Gorilla, Old Dog Products and Powered by Sam Ash. The amalgamation of fun, energetic and radio-friendly music full sarcastic angst resonated deeply with fans and catapulted 3 Kisses to enviable heights. With influences ranging from Frank Zappa and Led Zeppelin, to Joan Jett and the Go–Gos, to The Cranberries and Blondie all the way to Korn, Tool and Marilyn Manson, 3 Kisses have an enormous range of loyal music fans as well. Think hard hitting Rock acts like that that of Pat Benetar, Joan Jett, Green Day and the Ramones with the sarcastic playfulness of Pink and Avril Lavigne. This winning combination has worked brilliantly and since 2004, 3 Kisses has performed thousands of shows, been in an endless number of music magazine and radio features, been on ABC's "Wife Swap", had their very own reality program, been involved in numerous commercial campaigns, video games, movies and television shows (including the "2014 Nickelodeon Kids Choice Awards", "Restaurant Impossible", "Diners, Drive Ins & Dives", "Dallas Card Sharks", "Disaster Decks", "Plants vs. Zombies Garden Warfare", "Sonic Boom", Lifetime movies, and "Hot Wheelsspots"), has had multiple singles land on the Top 15 by Rock Solid Pressure, is a heavy supporter of breast cancer research through the Susan G. Komen Race for the Cure and the American Cancer Society, been inducted into the Independent Artist Registry, holds the #1 spot for Alaskan Alternative Music on ReverbNation and has nine studio albums to their credit. Their most recent release, Angels Bleed Black, turned the page on the next chapter of this long-standing band; serving as a fitting segue into an edgier, more Metal oriented sound that is permeated with more serious subject matter while staying true to their trademark grooves, passionate lyrical themes and top-shelf musicianship. Singer and guitarist Tish Meeks, lead guitarist and backing vocalist Drew Owens, bassist Zach Adams and drummer extraordinaire Dale Payne continue to up their heavier game with Read 'Em & Weep! After releasing the single "Dead Man's Hand" to much critical and fan acclaim, there is no doubt that 2017 will be hotter than ever for 3 Kisses!