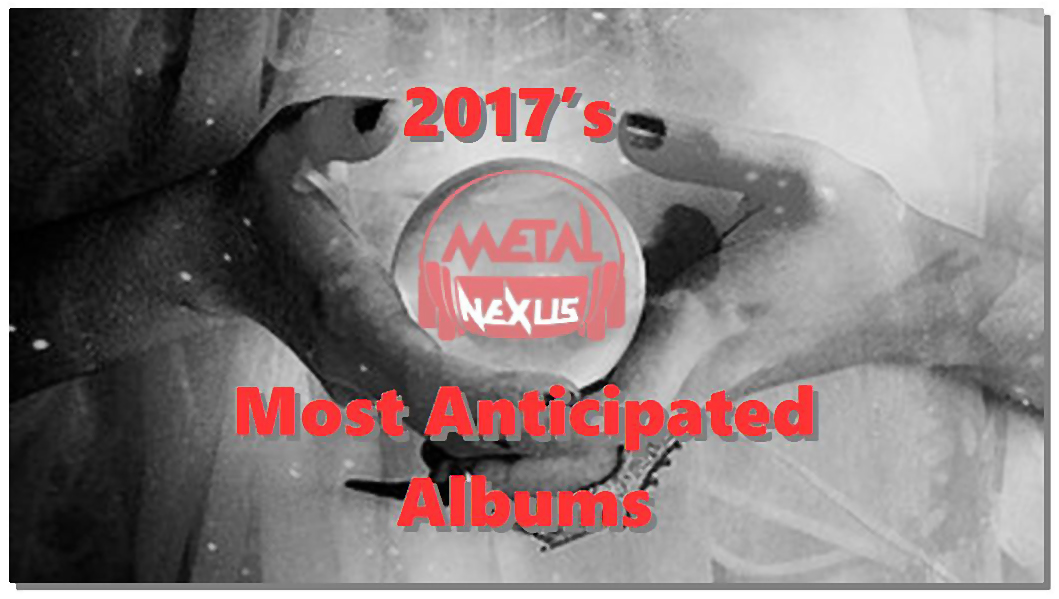 With 2016 just barely behind us we are looking at the upcoming releases in 2017. Some of these albums already have specific release dates and titles and some haven't been announced yet. These albums are not only by bands that we like but a release in which the band is reuniting or hasn't released an album in a while, or just an album we think will have a huge impact on the band's career. The albums that follow are in no specific order and our staff has all had input on the albums in which they think are the most anticipated of 2017.

Dragon's Most Anticipated:
Arduini/Balich: "Dawn Of Ages" – Former Fates Warning member and founding guitarist Victor Arduini has teamed up with current Argus (and former Penance) vocalist Brian 'Butch' Balich and the results are incredible! I can say that because I have an advance promotional copy of this debut and damn, it is magnificent..just a fantastic blend of Doom and Progressive Metal from two revered music veterans. This will be released through Cruz Del Sur Music on February 24th.


The Obsessed: "Sacred" – Scott 'Wino' Weinrich morphed his previous band Spirit Caravan into a totally new version of another earlier band of his, The Obsessed. Since then, a line up shift occurred that saw him and drummer Brian Costantino joined by guitarist Sara Seraphim and Wino's former The Hidden Hand bandmate, bassist Bruce Falkinburg. Relapse Records snatched the group up which recorded the first new music from The Obsessed since 1994, "Sacred", albeit with former bassist Dave Sherman at the time. After seeing the new line up's first live show myself and hearing 3 new tunes, I can firmly say that The Obsessed's "Sacred" will be one of the best albums to hit in 2017.

Overkill: "The Grinding Wheel" – New Jersey thrash masters Overkill will undoubtedly dominate the scene yet again with another metallic onslaught. Their eighteenth studio album is expected to further cement the unfaltering legacy of these warrior's long running career. What Big Four?! Overkill are Number 1 when it comes to thrashing ass kicking and they'll prove it when "The Grinding Wheel" drops and pulverizes all on February 10th via Nuclear Blast.

Serpents Of Secrecy: Untitled – One of the most hyped, talked about, speculated over, and seemingly on again / off again projects in recent times is the very embodiment of the term "supergroup". The band's roster currently has settled in with King Giant's Todd Ingram and Borracho's Steve Fisher on guitars, vocalist Mark Lorenzo, and Foghound rhythm section Reverend Jim Forrester on bass and drummer Chuck Dukeheart III. Recently having played their debut live show with others planned, including a spot on 2017's Maryland Doom Fest III, Serpents Of Secrecy promises to be one of the most intriguing (and rockingest!) bands to fully manifest this year and I'm confident their debut album will be stellar.


Sanctuary: "Inception" – The reactivated pre-Nevermore melodic thrash/power metal band Sanctuary made their long awaited return in 2015 and we recently got news of a "new" release. The release may be new but the material actually pre-dates the band's 1988 debut, "Refuge Denied", as it is recently located early demos. It should sound brand new though as the material has been restored, remixed and remastered by Chris "Zeuss" Harris. Plus, the album artwork was created by the famed Ed Repka who's done album covers for Death, Megadeth, Hirax, Nuclear Assault, and many others, including the band below.

Dark Angel: Untitled – Metal fans everywhere are hoping that 2017 is the year that we get the long awaited studio return of the "Leave Scars" era line up of the famed oldschool thrash legends Dark Angel. Since announcing their return in 2013, drummer Gene Hoglan, guitarist Jim Durkin, vocalist Ron Rinehart, guitarist Eric Meyer, and bassist Michael Gonzalez (in the place of Rob Yahn) have hinted and hinted at a new album being in progress. Let's hope and pray to Satan that this is the year that it materializes.
Unearthly Trance: "Stalking The Ghost" – After a seven year hiatus, period of inactivity, or break up, what have you, one of NYC's most savagest bands will return with this Relapse Records offering. As one of extreme metal's most unique, stand alone bands, the long-awaited return of Unearthly Trance should have people shaking in their boots. It will happen on February 24th.
Life Of Agony: "A Place Where There's No More Pain" – As a career-long LOA fan of the band and all of their previous albums, the long awaited materialization of the first new record since Keith's transformation to Mina Caputo is sure to be a make or break release for many fans. The recent announcement of its release on March 28th via Napalm Records will mean it is the NYC's unit's first new studio offering in over a decade and after hearing a snippet of the title track this week, things are sounding quite promising.
Odyssey's Most Anticipated: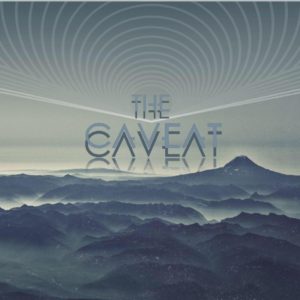 Members Michael Stancel on lead guitar, Kyle Neeley on guitar, Nik Schafer on bass and Paul Christiansen  playing drums are releasing their self-titled debut on January 6th.  While they have released the songs as singles over the course of the last year or so, this formal release is sure to gain them much deserved traction, allowing them to expand their unique brand of Progressive Metal.  Pulling from damned near every genre, this stellar group of artists create very deep, instrumental music that should attract fans from all over the map.  We just received and reviewed this beast and it is so much better as a CD than as singles (The Caveat Review). Definitely getting the feeling that this thing is going to land on my Best of 2017!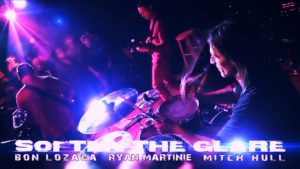 What's not to get excited about when Jazzy, Blues/Rock guitarist Ben Lozaga, bass player extraordinaire Ryan Martine and drummer Mitch Hull unite to create Soften the Glare?  After touring extensively over the course of the last few months, these incredible musicians have started a musical pledge page (Soften the Glare) to help fund their new album due out February 2017.  Based on a number of singles and videos released to this point, this is going to be another album that is going to garner huge attention from all over the musical map. Like The Caveat, Soften the Glare already has a spot on the best of 2017.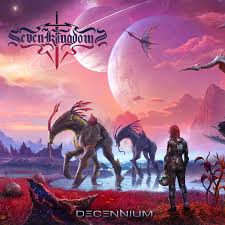 Decennium by Seven Kingdoms is due out in January 31st, 2017.  Since their inception, Seven Kingdoms has produced genre defining, high speed Power Metal, done in the European style while being based in Central Florida.  After listening to them for a couple of years now and recently seeing them for the first time, singer Sabrina Valentine, guitarists Camden Cruz and Kevin Byrd, bassist Aaron Sluss and drummer Keith Byrd promise to stay true their music and rabid fan base with this release.  Based on past albums, there is no doubt in my mind that this thing is going to continue their Metal march like the hammer of the gods!  Watch for my review shortly!  I have the album now and can say that it is spectacular!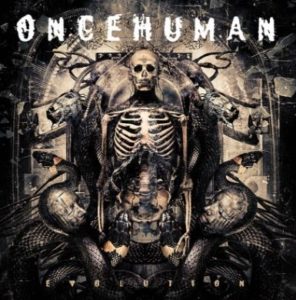 Not to play favorites, but Evolution by Once Human may be my most anticipated album this coming year.  I have listened to this brutally good band shortly after they released The Life I Remember late last year and loved them ever since, jones-ing for more.  Joining forces again are vocalist Lauren Hart, guitarists Logan Mader, Max Karon and Skyler Howren, bass player Damian Rainaud and drummer Dillion Trollope in what is guaranteed to be one of the heaviest and most abusive releases of 2017.  Based on the teaser, single releases of "Eye of Chaos" and "Gravity", lightening is about to strike another destructive blow when Evolution drops in February.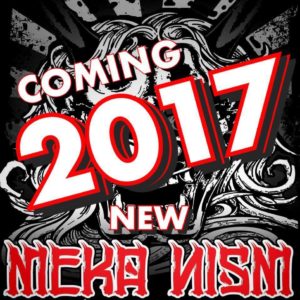 Following up their killer, May 2015 release of The Shift, Orlando's mighty Meka Nism is back in the studio, writing and recording what is sure to be their greatest album yet.  After winning Best Metal Band in Orlando in 2016 by Orlando Weekly, touring extensively and playing and/or supporting local Metal in and around Orlando, including the annual Kink Fest; singer Ms. Meka, lead shredder Bobby Keller, guitarist Jeremiah Bennett, drummer Jeremy Mansfield, keyboardist Jay Adkisson and bassist Jarret Robinson are back at creating their "Pure Unadulterated, In-Your Face, Take No Prisoners Metal."  With the recording process just beginning, there is no set dates, names or artwork just yet, but stay tuned.  This will be huge!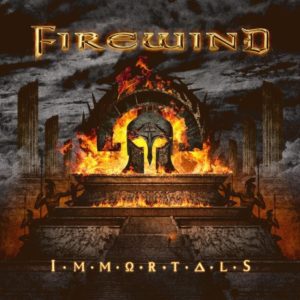 Alright, I am a guitar guy, so when it was released that Firewind was coming out with Immortals on January 20th, my pulse quickened.  With Gus G railing the guitar, Henning Basse singing, Petros Christo playing bass, Bob Katsionis covering keyboards and live guitar and Jo Nunez behind the kit, virtuostic Power Metal lives on.  Having all of their previous releases and still sitting in awe of their work, Immortals simply cannot be ignored.  Love Firewind!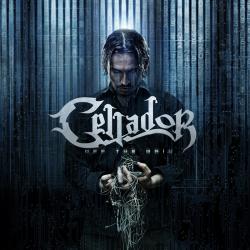 Here is another album that will absolutely have some of the best guitar work in 2017.  Due out March 10th, Off the Grid is the long awaited album by some of the best musicians on the planet. Guitarist/vocalist Chris Peterson, guitarist Eric Meyers, keyboard player Diego Valadez and drummer Nick McCallister are sure to hit the ground running after their protracted hiatus.  Having the highest of highs and the lowest of lows, Cellador have finally secured an amicable record contract with Scarlet Records allowing them to finally release this beast on March 10th.  Watch for our review just prior to release as I have bugged the crap out of them for a taste of what we have in store!  Can hardly contain my excitement.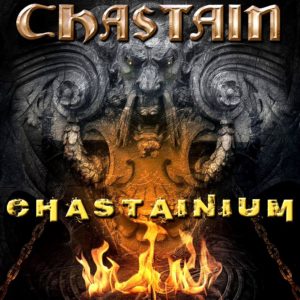 Since I am including the aforementioned guitarists, it would be irresponsible to not include Chastain's Chastainium that include David T Chastain, Leather Leone, Mike Skimmerhorn, Ken Mary, John Luke Hebert, Paul David Harbour, Stian Kristoffersen, Kevin Krank Kekes, Dennis Lesh, Kate French, Dave K Starr & Larry Howe.  This all too often overlooked guitarist is legendary in guitar gods circles and promises to be excellent.  Again playing with vocalist Leather Leone, this may be this band's best album yet!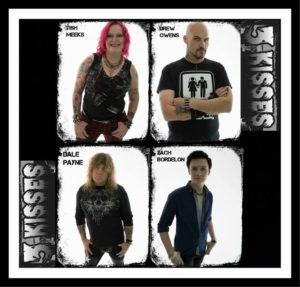 This is privileged information, so you will have to just take my word that 3 Kisses new album is going to kill! After getting behind their latest release of Angels Bleed Black, the band offered to let me hear rough tracks off of their forthcoming, 2017 album.  With no title yet released and no date set, stay tuned here as that information comes out because lead vocalist/guitarist Tish Meeks, backing vocalist/guitarist Drew Owens, bassist Zach Bordelon and drummer Dale Payne have something very new and different up their talented sleeves for 2017! With generous permission from the band, here is an exclusive, Metal Nexus taste of what to expect when this drops later this year: "Dead Man's Hand"!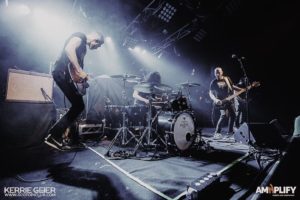 Loving instrumental music, sleepmakeswaves has started a pledge campaign (sleepmakeswaves) for their third album.  These Australian metalers include Alex Wilson on bass and keys, Otto Wicks-Green and Daniel Oreskovic on the axes and Tim Adderley on drums.  I was introduces to this stellar band on their tour with The Contortionist and Entheos, who hit my list of the Best Albums of 2016, and was amazed by the variety of musical influences these guys pull in to create their unique take on Metal.  If you have not heard these guys, check out their first two releases and give them a hand if you are so inclined!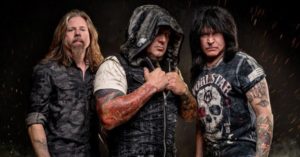 The reunion of Nitro dropped like a nuke in the San Andreas fault.  Wait, what?  Really?  That's right, virtuoso guitarist Michael Angelo Batio, vocalist Jim Gillette and drummer Chris Alder return under the Nitro name!  While there is no further information other than a tentative release date sometime in the Spring of 2017, it is going to be very, very interesting what these legends come up with after their last release back in 1991.  Stay tuned.  This is going to be good!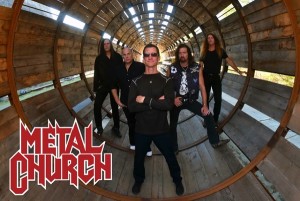 Based on rumor and conjecture from the band itself, my all time favorite band, Metal Church are said to have another album in the works for 2017.  After the return of Mike Howe on vocals for 2016's XI (number two on my list of the Best Albums of 2016), guitarists Kurdt Vanderhoof and Rick Van Zandt, drummer Jeff Plate and bass player Steve Unger may return for the second album in the same number of years.  These guys could put out an album a month and I would be happy, so we can only pray that they follow up XI sooner than later!
Low Gain's Most Anticipated: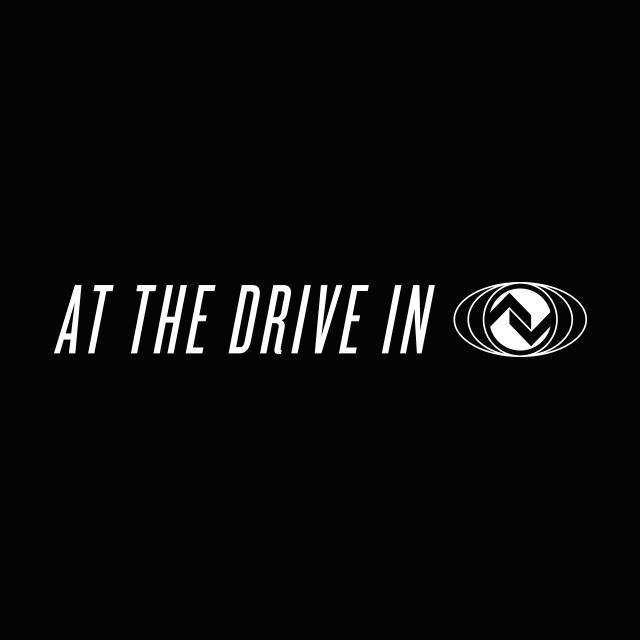 At The Drive-In: Untitled – After an abundance of amazing side projects, the band has finally come back together to release their highly anticipated follow up to 'Relationship of Command'. There isn't a set release or title for the album yet, but just last month they released the new song: "Governed By Contagions". The track is filled with unorthodox lyrics and catchy guitar riffs as you would expect from At the Drive-In. Founding member, Jim Ward, will not be a part of the album though. He opted out of the reunion tour in 2016 and was replaced by Sparta guitarist, Keeley Davis. It will be interesting to see how this album is received, as 'Relationship of Command' has been claimed as one of the best albums of the 21st century.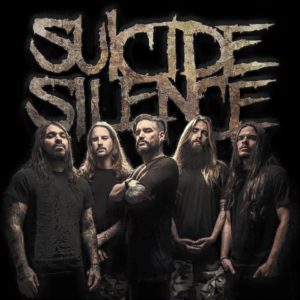 Suicide Silence: 'Suicide Silence' –  The new Suicide Silence drops February 24, 2017 and it is self-titled. There will be a lot of mixed reviews on this record. The deathcore legends have claimed that the album will feature "70% clean vocals". I see this as a good change to expand their sound diversity but many may see it as selling out. This will be the second album featuring lead singer Eddie Hermida on vocals since the untimely passing of Mitch Lucker in 2012.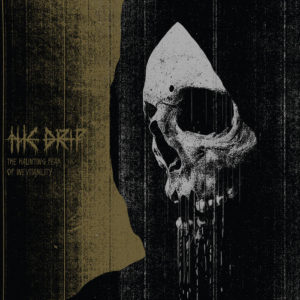 The Drip: 'The Haunting Fear of Inevitability' – Washington metal band The Drip is set to release 'The Haunting Fear of Inevitability' on January 13th on Relapse Records. I actually got a chance to review the album a few weeks ago and you can check that out here. The record absolutely rips your face off.  An uncompromising, brutal 32 minutes of kicking your teeth in with some powerviolence and grindcore. The sheer power of this record is perfect for working out at the gym. The Drip has set the bar very high for 2017 and it will be difficult to top. Check this band out!!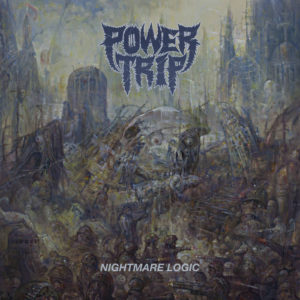 Power Trip: 'Nightmare Logic' – This is a release I've been waiting for since 'Manifest Decimation' came out in 2013. Texas crossover/thrash band Power Trip will release 'Nightmare Logic' on February 24th on Southern Lord Records. Personally, this might be my most anticipated release. The band seems to be at the top of their game right now, having toured with the likes of Lamb of God, Napalm Death, and The Black Dahlia Murder. They are preparing to embark on a coheadline tour with Iron Reagan (which you can read about here). You can listen to the new song "Firing Squad" and preorder the new record on their Bandcamp.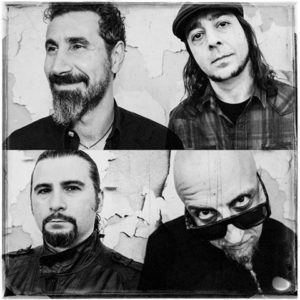 System Of A Down: Untitled – News has been leaking out a little bit at a time. First, the short video snippets were shown of the band members rehearsing in October. Then, social media pictures were updated and festival dates began to get announced. Now, it has been said by drummer John Dolmayan that there are about 15 songs to choose from to put on their upcoming record. The last album was released in November of 2005, so you could assume that there will be a ton of hype around this record. It will be interesting to see if it will be the same band. People change over time but I think their distinct sound will remain. Hopefully more news for the album will come soon with some US tour dates as well.
BloodRoseRed's Most Anticipated:
Kreator: "Gods of Violence" – German thrash metal icons, Kreator, prepare to release their first album in almost five years. This marks the longest gap between albums in the bands history, their last album "Phantom Antichrist" was released in 2012. "Gods of Violence" will contain eleven new tracks and is set to be released in just a few weeks on January 27th.
Battle Beast: "Bringer of Pain" – February 27th Finnish heavy metallers Battle Beast will be releasing their fourth studio album "Bringer of Pain". This album will contain 10 tracks and will be the first album released without founding member, guitarist Anton Kabanen. The group has already released a single from this album titled "King for A Day", it isn't what I have come to expect from Battle Beast but I hold out any judgement until I can hear the entire album as intended.
Iced Earth: "Incorruptible" – This will make the 12th album by the Florida based prog metallers, and the first since guitarist and front man Jon Schaffers recent neck surgery. The band has set a tentative May release date for this album and have also announced the return of drummer Brent Smedley for the new album and subsequent tours following its release.
Eluveitie: "Evocation II: Visions" – This second part to the bands 2009 release "Evocation I: The Arcane Dominion" is set to be released sometime this spring. Though the band recently lost three key members, recording and progress of this follow up album have continued. This concept album is reported to contain folkier, wilder music than their previous acoustic album. Each song will pay homage to a different Celtic deity not only lyrically but musically.
Fist's Most Anticipated Albums:
GOATWHORE – (Untitled Currently): Goatwhore has just wrapped up recording their next record. It was recorded at Earth Analog Studios and all analog recording. That in itself should create some major grit for the blackened thrashers. Most all Goatwhore records are highly anticipated, but this one should be on everyone's radar. After speaking with lead vocalist Ben Falgoust recently the band is staying tight lipped about any details on the album like, title, tracks or release date. We expect it out sometime before spring but no exact date yet.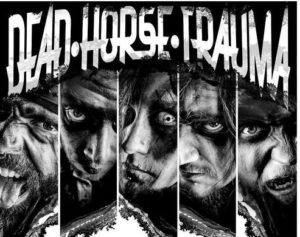 DEAD HORSE TRAUMA – 'Life': The hype around Dead Horse Trauma's upcoming album 'Life' has been massive. The band recently signed to The Orchard which is a branch of Sony, they certainly see something in this album which just adds to the anticipation. Along with that the band recorded the album with powerhouse producer Rick Lander (Flaw), he raises the bar on any record he touches as can be heard on Flaw's recent release. Look out for Dead Horse Trauma's upcoming music video for the track "Fugitive State" which will release on January 10th.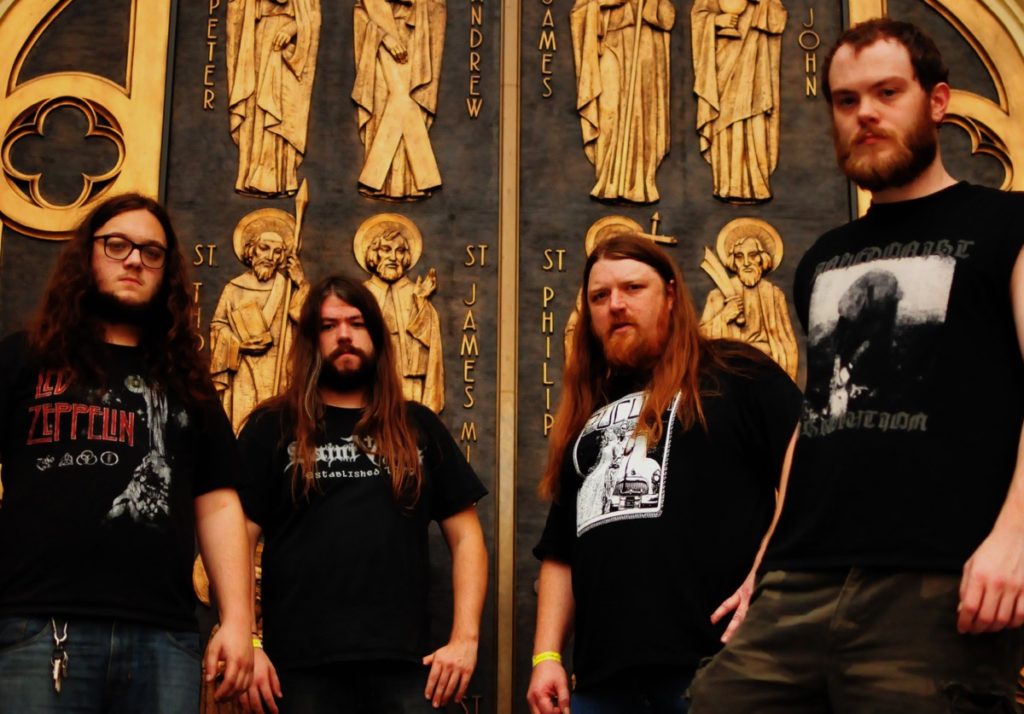 PALLBEARER  – "Heartless" PALLBEARER released their debut full-length, "Sorrow And Extinction", in early 2012. That album made a huge impact not only in the doom scene but in all of metal. The Arkansas natives truly put their state back on the map in regards to music. Their sophomore album again was an impact and made various best of lists for 2014. Their new album 'Heartless', will be released on March 24, 2017.  The band has the following to say about 'Heartless': "This album finds us exploring new territories; instead of staring into to the void — both above and within — 'Heartless' concentrates its power on a grim reality. Our lives, our homes and our world are all plumbing the depths of utter darkness, as we seek to find any shred of hope we can." The band is always outdoing themselves and this album will raise the bar yet again.
CORROSION OF CONFORMITY – (Untitled at this time)
Corrosion of Conformity are working on their upcoming release which will feature vocals and guitar work from returning member Pepper Keenan. The last COC album with Pepper was 'In the Arms Of God' in 2014. The band has been touring again as a 4 piece for well over a year and their chemistry on stage is as amazing as ever. This album, like the majority of COC albums, is being produced by John Custer who is sometimes referred to as the 5th member of the band. It will release via Nuclear Blast sometime in 2017 yet there's no exact date or title yet.
These albums are a only the tip of the iceberg in what 2017 has to offer, while we are looking forward to these releases there are various others and new emerging bands that we will bringing to you as well. Stay tuned and stay metal.