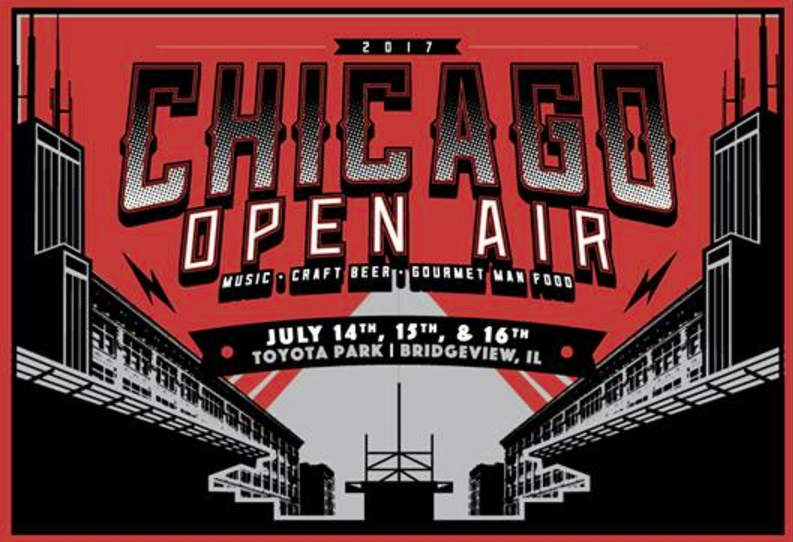 The second annual Chicago Open Air will bring together an all-star lineup of rock's top artists on Friday, July 14, Saturday, July 15 and Sunday, July 16 at Toyota Park in Bridgeview, IL, just outside Chicago. The three-day music, craft beer and Gourmet Man Food festival will feature over 40 performances, including legendary rock artists Ozzy Osbourne, KISS, and Korn, along with Rob Zombie, Slayer, Godsmack, Stone Sour, Megadeth, Lamb Of God, Seether, Meshuggah, Anthrax, Clutch, Body Count, and many more.
Currently one of the most talked about events on social media, Chicago Open Air features an abundance of great music. The fest's second year will see headline performances from Kiss, Korn, and Ozzy Osbourne. When I try to think of a rock band that could top last years headliner Rammstein's stage show, only one or two bands come to mind. Kiss is one of them. Their pyrotechnics and performance will be a spectacle for all to see. Rob Zombie, playing right before them, is also sure to bring a flurry of epic stage antics that will wow the crowd. On Saturday night, Korn will be appearing at the fest for a second consecutive year. They are only one of two bands to do so, and I'd say many will be happy they are. The band delivered a crushing set right before Disturbed last year. This was definitely the craziest crowd the main stage saw the whole weekend. It will be interesting to see if the energy can be matched again or even exceeded. Godsmack before them also always kills it. The drum solo they do is unlike any other I have seen. On Sunday night, Ozzy Osbourne will bring the fest to a close with one of his first shows back in the United States as a solo act since 2011.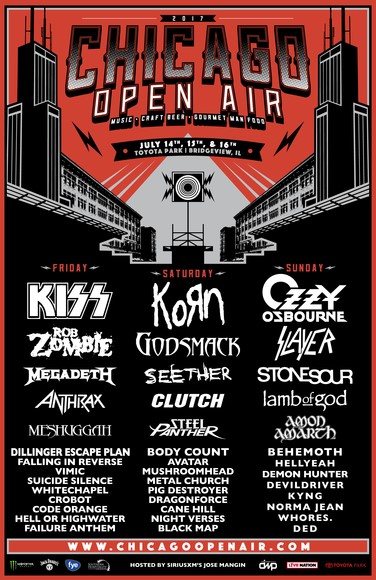 The mighty Slayer will also be seeing the fest for the first time. If you have not seen Slayer yet, you will be blown away. The band hardly ever takes breaks and never gives you a chance to catch your breath. Hard hitting thrash nonstop for an hour that will please everyone. Aside from the top two lines, the festival features a killer under card. On Friday, two more bands from The Big Four are featured with Megadeth and Anthrax. The other band making a return to the fest will be Meshuggah, whom slaughtered the second stage last year. This time they will be back featuring music from their new album, 'The Violent Sleep of Reason'.  Another band I'm really stoked on is The Dillinger Escape Plan. In what could be the band's final show in Chicago, the band will electrify the Chicago crowd with their unexpected turns they take on stage. One thing for certain with a Dillinger show, is that nothing is certain. A band that certainly sticks out on the list is Body Count. The band fronted by Ice-T has a style that mixes together rap, thrash and punk to create a unique sound that is sure to appeal to a wise array of listeners.
Joey Jordison's new band, Vimic, will also be showing at the fest. It is exciting to see him quickly getting back on track. Also featured on Friday are deathcore giants, Suicide Silence and Whitechapel. I am expecting the crowd to go bonkers during these sets. The bands have had huge followings for years and this will only the second or third time they make their way to the DWP fest. Up and coming  hardcore band Code Orange will be here promoting their fantastic new album 'Forever'. The band has taken new direction but still has their incredibly heavy edge. They will turn a lot of heads and gain some new fans. On the funky side of things, Crobot will be bringing their groovy rock'n'roll sound to the stage. These guys have fantastic stage presence and many of us here at Metal Nexus are thrilled to see them on the lineup. Moving on to Saturday, Clutch will also be bringing their pummeling rock and roll sound to the COA stages. It is great to see these guys moving up the bills every year, they are professionals at what they do. The band is spot on live, and it is almost a sure thing that you will hear them play something different every show. Definitely not a show to miss! Steel Panther will be ready to show everyone what glam metal is all about when they hit the stage. It is impossible to not have a good time when they are playing. They are hilarious guys and are very talented musicians. Avatar will once again be coming back to the states to attempt to steal the show. I've seen these guys four times and it never gets old. There will be plenty of heavy riffs, melodic guitar solos, and headbanging. Mushroomhead is great at interacting with the crowd. I expect them to be a fan favorite after the weekend is over. The biggest surprise of the fest for me was easily seeing Pig Destroyer on the lineup. The band combines elements of grindcore and thrash together that will rip your head off. This might be the heaviest band that I've ever seen them book. I'm certain they are going to blow some minds. The unrelenting power of their riffs will pull people in quickly. And now for the final day, which might be the best single day lineup I've seen here.
Aside from already having Ozzy and Slayer, Corey Taylor will also be returning to Open Air to perform with his band, Stone Sour. It will be great to see the contrast in Corey's stage presence in Stone Sour versus what he did with Slipknot last year. They will ore than likely have some new music out by then while also bringing out their old hits that bring back some good memories. It only gets heavier from there, right below them is Lamb of God, arguably one of the biggest and best metal bands of the last 20 years. The pits they bring are always huge, but they will only get bigger being in a stadium with 30,000 metal heads losing their minds to the sounds of their music. I had almost counted out Amon Amarth for the fest, but it looks like they will be playing a fest in Sweden on Friday and making the trip over here to play on Sunday. I'm hoping that the fest organizers decide to bring the drinking horns back this year. They will be perfect to raise high when Amon Amarth plays "Raise Your Horns". Next… the band I'm most excited for… BEHEMOTH. The Polish black metal band will be storming the stage in what will be one of their few shows of 2017. The band has a huge following here and will shock many. I've waited a long time for this and I have very high expectations.
Hellyeah will be coming to Open Air for the first time as well. They are one of the best modern metal bands I have seen as far as interacting with the crowd goes. Chad Gray brings an infectious amount of energy to the stage that grabs the attention of everyone from the beginning to end of their set. Also featured on the lineup is one of the heaviest Christian metal bands out right now in Demon Hunter. They will be out promoting a new album soon and are sure to put on an impressive performance. It is cool to see them join the fest, and I'm sure they will be swarms of fans flocking to see them. This will be another set to look out for. Ironically enough, after them on the poster is DevilDriver. I'm not sure if it still holds, but I believe DevilDriver holds the world record for the world's biggest circle pit at a show. This will be the band's debut on the DWP fests from what I remember. They bring a great heavy metal sound that has gained them a huge fan base over the years. I like Dez's other band Coal Chamber as well but I'm glad to see it is time for some DevilDriver again! I had the opportunity to see Kyng last year at Louder than Life last year. The three-piece was received very well by the fans. They have a huge sound for a three-piece that is along the lines of 80s heavy metal. Yet another great band. Also featured is garage rock band Whores. They are another three-piece rock band that will melt your face off. Once again, Chicago Open Air has put together another incredible lineup that has something for everyone. We look forward to another year of great bands and food. See you all at Toyota Park!!
Tickets for Chicago Open Air go on sale Friday, January 20 at Noon CT at www.ChicagoOpenAir.com.
The daily band lineup (subject to change) is as follows:

Friday, July 14: KISS, Rob Zombie, Megadeth, Anthrax, Meshuggah, The Dillinger Escape Plan, Falling In Reverse, Vimic, Suicide Silence, Whitechapel, Crobot, Code Orange, Hell or Highwater, Failure Anthem
Saturday, July 15: Korn, Godsmack, Seether, Clutch, Steel Panther, Body Count, Avatar, Mushroomhead, Metal Church, Pig Destroyer, Dragonforce, Cane Hill, Night Verses, Black Map
Sunday, July 16: Ozzy Osbourne, Slayer, Stone Sour, Lamb Of God, Amon Amarth, Behemoth, Hellyeah, Demon Hunter, DevilDriver, KYNG, Norma Jean, Whores., DED
Tickets are priced as follows:
3-day General Admission Field: starting at $209.50
3-day General Admission Bowl: starting at $119.50
3-day VIP: starting at $425.00
Single Day General Admission Bowl: starting at $50.00
All VIP tickets include: VIP entrance lanes into the event, access to a VIP lounge area featuring dedicated food and beverage offerings (for additional purchase), field and stadium level viewing areas of the main stage, dedicated restroom facilities, and a commemorative Chicago Open Air VIP-only laminate.
For more information on Chicago Open Air, visit:
Website: www.ChicagoOpenAir.com
Facebook: www.facebook.com/chiopenair
Twitter: https://twitter.com/chiopenair
Instagram: https://www.instagram.com/chiopenair