*This is part of our State Of The Art series, showcasing bands every Monday from the featured State*
This month's State is Alaska!

3 Kisses. Where the hell do you start describing a band that has been around since January 2004, performed thousands of shows, has nine albums under their belts, been in endless music magazines, on countless radio stations, been on ABC's "Wife Swap", had their own reality show, been featured in numerous commercials, video games, movies and TV shows (including the 2014 Nickelodeon Kids Choice Awards; Restaurant Impossible; Diners, Drive Ins & Dives; Dallas Card Sharks; Disaster Decks; Plants vs. Zombies Garden Warfare; Sonic Boom; Lifetime movies, and Hot Wheels spots), had songs in the Top 15 by Rock Solid Preasure, is currently rated #1 for Alaskan Alternative Music on ReverbNation, heavily supports breast cancer research through the Susan G. Komen Race for the Cure and the American Cancer Society and been inducted into the Independent Artist Registry? I honestly don't know, but let's give it a shot. Here we go…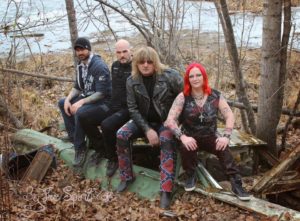 Fronted by wild woman, Tish Meeks, 3 Kisses is a Punk/Rock/Hard Rock/Alternative/Pop (in that order, in my humble opinion) band that calls Wasilla, Alaska home after moving the outfit from Austin, TX. Often being called "A Ball of Fire", I guess TX just couldn't take the heat from the sun and Tish Meeks at the same time. But I digress. This band is a serious player in Alaska's musical landscape. Hard hitting and fast, like a Punk band should be; catchy, shred guitar riffs like any good, 80's style Rock band; complex, well developed song writing of modern Alternative Rock bands; impassioned and thoughtful lyrics with just enough sarcastic angst to keep things interesting without ruining 3 Kisses, over-the-top "fun factor" are but a few of the trademarks that make 3 Kisses so special. The party definitely starts at their front door, wherever that front door may be when they are performing. That does not mean to say that they are some shallow, bubble-gum BS band though. 3 Kisses hits as hard as Joan Jett, Green Day or The Ramones with the sarcastic playfulness of say, Pink or Avril Lavigne.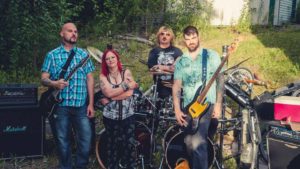 Musically, 3 Kisses has a plethora of talent to pull from. Current members include: the charismatic Tish Meeks (of course) on vocals/guitar, Andrew Owens shredding up the guitars, bassist currently TBD (formerly CJ Elliot) and drummer Dale Payne. Vocally, Tish has a voice similar to that of Joan Jett with less rasp and the power, range and clarity of Pat Benatar. On stage, she is said to be an explosive, high energy force that grabs the audience from song one and does not let go until the last note has been played. Definitely not surprising by listening the music alone. On guitar is Andrew Owens who is a freakin' bad-ass PLAYER. His styles seem to be endless. Punk, Metal, Rock, Blues and shred. It is all there, and all done to absolute perfection! While bass players and drummers have drifted in and out over the years, all have been really good and fit well with 3 Kisses various lineups. Bass parts on the new album are spectacular; playing long, shred-like runs while maintaining perfect tempo and rhythm line. Recently married drummer Dale Payne, has also added a heaviness that has been less prevalent in previous releases. All in all, a musical tour de force with influences ranging from Frank Zappa and Led Zepplin to Joan Jett and the Go–Gos, to The Cranberries and Blondie all the way to Korn, Tool and Marilyn Manson assuring that their fan base is diverse and spread across just about every genre of music fan out there.
Having earned sponsors/endorsements from Jagermeister, Paul Reed Smith Guitars, Dirtbag Clothing, Daisy Rock Guitars, Miller Lite, Dunlop, Coffin Case, GoGirls Music, Texas Independent Musicians, Music Gorilla, Old Dog Products and Powered by Sam Ash, you can expect to love much, if not all of 3 Kisses music. With recently released "Angels Bleed Black" darker and heavier leaning towards Hard Rock or traditional Metal, 3 Kisses continues to evolve and morph into a do it all monster of a band!
More on 3 Kisses can be found on:
Web  Twitter  Facebook  ReverbNation  Soundcloud  YouTube  MySpace
Releases (available on Amazon, iTunes, CDBaby, on their website and at other music outlets):