3 Kisses is:
Tish Meeks – Vocals, guitar
Drew Owens – Lead guitar, backing vocals
Dale Payne – Drums
Zach Adams – Bass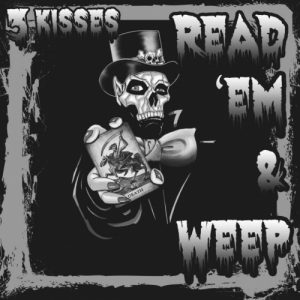 Born in the fiery heat of Central Texas and then transplanted to Wasilla, Alaska comes Punk/Rock/Hard Rock/Alternative/Pop sensation, 3 Kisses. Fronted by wild woman Tish Meeks, 3 Kisses was originally formed in January 2004 as an Alternative Punk Rock outfit focused on good times aligned with unprecedented energy. True to form, Tish quickly garnering the title of "A Little Ball of Fire", and with the rest of the band, began their dominant rampage across the Southern United States. Once their momentum overcame the region, 3 Kisses was able to expand their influence all over the country and earned them sponsorship from Jagermeister, Paul Reed Smith Guitars, Dirtbag Clothing, Daisy Rock Guitars, Miller Lite, Dunlop, Coffin Case, GoGirls Music, Texas Independent Musicians, Music Gorilla, Old Dog Products and Powered by Sam Ash. The amalgamation of fun, energetic and radio-friendly music full sarcastic angst resonated deeply with fans and catapulted 3 Kisses to enviable heights. With influences ranging from Frank Zappa and Led Zeppelin, to Joan Jett and the Go–Gos, to The Cranberries and Blondie all the way to Korn, Tool and Marilyn Manson, 3 Kisses have an enormous range of loyal music fans as well. Think hard hitting Rock acts like that that of Pat Benetar, Joan Jett, Green Day and the Ramones with the sarcastic playfulness of Pink and Avril Lavigne. This winning combination has worked brilliantly and since 2004, 3 Kisses has performed thousands of shows, been in an endless number of music magazine and radio features, been on ABC's "Wife Swap", had their very own reality program, been involved in numerous commercial campaigns, video games, movies and television shows (including the "2014 Nickelodeon Kids Choice Awards", "Restaurant Impossible", "Diners, Drive Ins & Dives", "Dallas Card Sharks", "Disaster Decks", "Plants vs. Zombies Garden Warfare", "Sonic Boom", Lifetime movies, and "Hot Wheelsspots"), has had multiple singles land on the Top 15 by Rock Solid Pressure, is a heavy supporter of breast cancer research through the Susan G. Komen Race for the Cure and the American Cancer Society, been inducted into the Independent Artist Registry, holds the #1 spot for Alaskan Alternative Music on ReverbNation and has nine studio albums to their credit. Their most recent release, Angels Bleed Black, turned the page on the next chapter of this long-standing band; serving as a fitting segue into an edgier, more Metal oriented sound that is permeated with more serious subject matter while staying true to their trademark grooves, passionate lyrical themes and top-shelf musicianship. Singer and guitarist Tish Meeks, lead guitarist and backing vocalist Drew Owens, bassist Zach Adams and drummer extraordinaire Dale Payne continue to up their heavier game with Read 'Em & Weep! After releasing the single "Dead Man's Hand" to much critical and fan acclaim, there is no doubt that 2017 will be hotter than ever for 3 Kisses!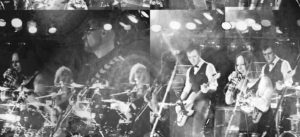 Rabidly loyal, long-time fans of 3 Kisses have become accustomed to their fun loving, Hard Rock sound with roots deeply entrenched in their read on sarcastically playful Punk. With the 2016 release of Angels Bleed Black, 3 Kisses rolled the dice and introduced us to a heavier vibe that served as an evolutionary segue for what was to come for this well established band. Now, less than a year later, 3 Kisses prepares to unleash Read 'Em & Weep, where darker themes and a heavier sound cleverly intermingle with their trademark grooves and unmistakable vocals they have become famous for. Singer and guitarist Tish Meeks, along with guitarist and backing vocalist Drew Owens, drummer extraordinaire Dale Payne and new bass player Zach Adams even blew their own preconceived notions of how special this new album was going to be. After one listen it becomes brutally apparent that the gloves are now off and categorical barriers have been all but shattered. Read 'Em & Weep is a passionately heavy album that opens the doors for a new legion of fans while remaining undeniably 3 Kisses. Leading off the album with the uniquely killer intro to "Crucify Me", this Hard Rock anthem contains some of the coolest turnarounds available anywhere and extremely impressive, understated guitar leads wrapped around an unusual, stuttered tempo. If a sardonic, faux self-deprecating eye roll could be heard, this is exactly what it would sound like. In stark contrast, "Goodbye Home" hits hard right out of the gate. Heavily compressed Metal rhythms drive this medium-tempo track straight through the heart. Particularly emotive vocals and lyrics cut deeply as the difficulty of moving on with life and starting over after a personal tragedy is intimately outlined. Almost voyeuristic and heartbreaking, especially knowing some of the back story behind this song. This track physically hurts. Continuing in the same musically heavy vein, the first released single off of Read 'Em & Weep, "Dead Man's Hand" explodes with earth-shattering drums and sharp guitar riffs. Song writing prowess is exemplified as the body of lyrical frustration bleeds through the music. A heavy dose of visceral growls juxtaposed with whispers further the emotional theme make this song one of the band's favorite songs and a real stand-out on the album. Not willing to fully abandon their Punk roots, "Savior" takes a rather severe, dark, angry and pragmatic tact that would have been uncharacteristic if written for prior albums. Along with interesting vocal timing, "Savior" fits wonderfully in this new found setting. Going all the way into traditional Metal, "Here and Forever" takes the Metal anthem, adds throatier, gritty vocals and tops things off with a bass line Getty Lee would be proud of. Zach proves that he definitely has the chops to play with this top-shelf band. A keeper for sure! Taking on the guise of an uncomfortably angry, Hard Rock fairy tale that would make the Brothers Grimm cringe we are taken to the "Kill Shack" before continuing on with "Stay". From the era of Dokken, Ratt and Black 'n Blue, this track adds 70s Punk vocal timing and theme and adding yet another catchy and intricate bass line. Retro-cool that leads perfectly to 3 Kisses purist song, "Green Light Go". Fun, catchy and positive 3 Kisses brand of heavy Punk with a sped up tempo, making it fit well with the new musical direction. "Fool's Gold" takes this sound to the next level. Driven almost exclusively by Dale's drumming skills, unique time changes and staccato guitar leads during the verses build to desperation during the chorus. Drew's heart-felt guitar solo is the cherry on top of one of the most memorable songs on Read 'Em & Weep. Overtly satirical eye-poking replaces desperation in "Deny Me". Very strong, duel guitar harmonies drive much of this track when not being shredded over yet another impressive, medium tempo bass line and crushing drums. Heavy Punk at its very best! Saving the heaviest song as the album closer, "Victory of Defeat" is no-holds-barred, in-your-face fast Metal. There is even bouts of beat blasted drums to curb the hunger of the most devout Metalhead here. Could this be the precursor for the next album? We will have to wait and see…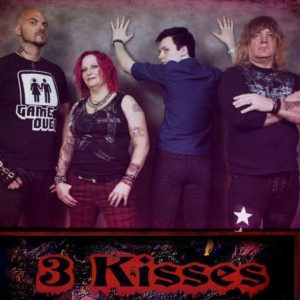 Having had an extended amount of time invested in this album, what strikes hardest is the on point emotion laid out bare within 3 Kisses decidedly heavier sound. Read 'Em & Weep is much more mature than anything from previous releases without being cynical or overly angry. In the moment frustration and a lifetime of insight and life reflect brightly through this collection of emotional vignettes, putting it at the leading edge zenith of what 3 Kisses has to offer the world. One very special release.
Pre-order 3 Kisses,  Read 'Em & Weep right HERE!
More on 3 Kisses can be found on The Web Facebook Twitter Tumblr MySpace ReverbNation Soundcloud Spotify Last.FM PureVolume YouTube Vimeo iTunes Amazon CDBaby SonicBids OurStage LinkedIn GooglePlus