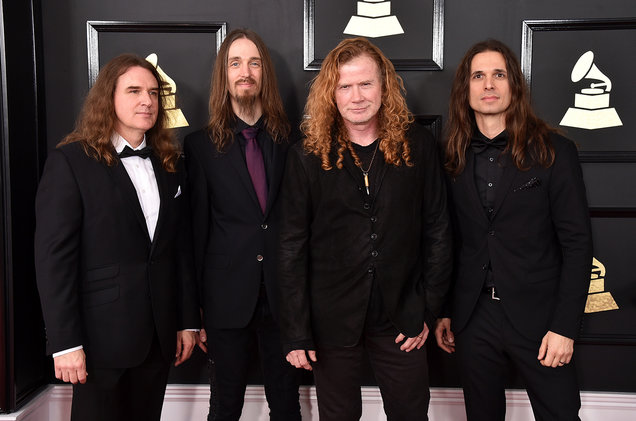 Dave Mustaine, the front man of thrash metal legends, Megadeth, has been time and again hinting at the possibility of re-recording their first ever album, 'Killing Is My Business.. And Business Is Good'. Mustaine looks really committed and wants to keep the door open for this prospect and he has been witnessed confirming the claim in a recent flurry of tweets, in fact yesterday on May 1. This happened while Dave Mustaine was involved in a Q&A tweet session with his fans on Twitter. If this really ends up materialising then this would be Dirk Verbeuren's first recording with the band as 'Dystopia' involved the talented Chris Adler on drums and Kiko's second in the current line-up.
According to ultimateguitar.com, Dave Mustaine took to Twitter and told his fans, "We have plans for something with 'Killing' coming up I'm sure you will like."
Excited and exuberant to see Dave announce such a decision, a fan tweeted in reply, "I imagine a re-recording with Kiko and Dirk… Am I wrong?", to which Dave Mustaine replied, "Well, yes" and then teased him back with a "No ?". 
Another droogie as Dave Mustaine likes to call his fans, appreciated the "Dystopia" world tour and said it's "amazing" and also asked if there is any possibility of the band releasing a "Dystopia World Tour Live Album". Dave Mustaine didn't disappoint and retorted back,
"We are discussing it and I will confirm as soon as I can."
Dave Mustaine has been vocal about the re-recording of the 1985 debut "Killing Is My Business.. And Business Is Good", previously on many accounts as well. One of them being in an interview back in November 2015, where he was questioned to clarify the rumours about the band re-recording their debut, to which Mustaine then opined,
"It's not a rumor. It's the 30th anniversary of it, so they wanted to remix it, and I thought it would be better if we just completely re-recorded it with this new lineup [which included Chris Adler on drums at the time], 'cause I think that would be really exciting, but we were in the process of making the new record."
Keep your eyes peeled, this surely looks like a deal. Following are the links to what Dave Mustaine had to say,
We have plans for something with killing coming up I'm sure you will like https://t.co/Lj0TbKLNrs

— Dave Mustaine (@DaveMustaine) May 1, 2017
Well, yes. https://t.co/NlVgm5zvFJ

— Dave Mustaine (@DaveMustaine) May 1, 2017
— Dave Mustaine (@DaveMustaine) May 1, 2017
We are discussing it and I will confirm as soon as I can. https://t.co/FoPbBGYZiS

— Dave Mustaine (@DaveMustaine) May 1, 2017