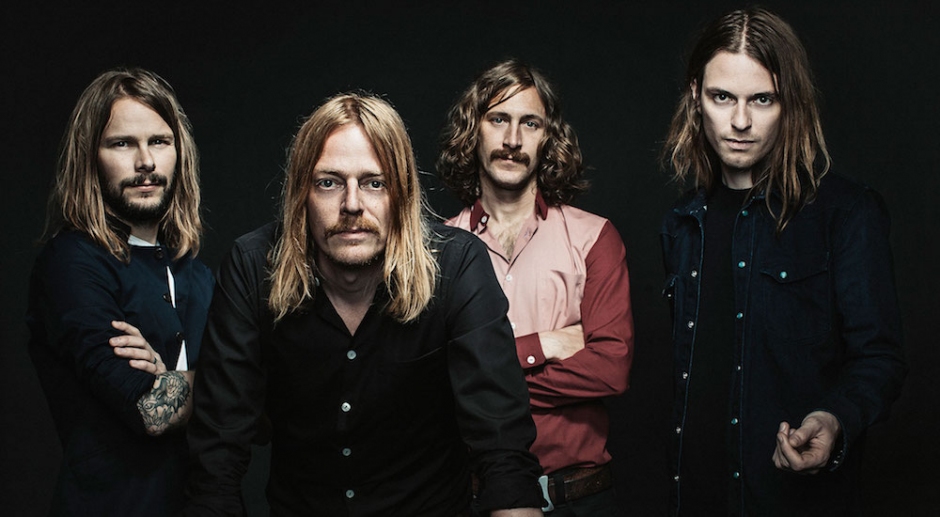 Welcome back to our ongoing series of LOUDER THAN LIFE 2019 artist profiles, our weekly guide through the lineup of acts who'll take the stage at Louisville, Kentucky's Highland Festival Grounds at Kentucky Expo Center September 27-29 in what's sure to be one of the biggest concert events of the year. This week, we're taking a closer look at Swedish neo-psych blues chooglers GRAVEYARD.
The dark boogie of Gothenburg rockers GRAVEYARD will bring a decidedly 70s bent to Friday's festivities at the Highland Festival Grounds. From their eponymous 2007 debut to last year's Peace, they've dished out five solid slabs of leather-and-denim rock tinted with occult dyes and jazzy technicolor psychedelia that should appeal to heshers, stoners, and riff worshipers of all ages. Gutsy, gritty thumpers like "Please Don't" (from Peace), "Goliath" (from 2012's Lights Out), and "Hisingen Blues" (the title cut from their 2011 opus) are ample proof of  why GRAVEYARD has attained such a lofty position in the upper pantheon of hard rock's new classicists.
Over the years, GRAVEYARD has developed a formidable live reputation, able to turn on a krona from pulverizing intensity to sun-spattered freeform freakouts to southern-fried ramble tamble and back again, with vocalist/guitarist Joakim Nilsson's impassioned, urgent stylings casting a smoky, bourbon-hued haze over the whole affair.  Road-hardened and battle-ready, they've been spreading Peace for much of the last year, touring the world with the likes of UNCLE ACID & THE DEADBEATS, DEVIL ELECTRIC, and TWIN TEMPLE; their performance at LOUDER THAN LIFE will kick off a brief U.S. tour with Vancouver's BLACK MOUNTAIN that wraps at the inaugural edition of EXIT 111, then it's back to Europe for shows with RIVAL SONS and CLUTCH. GRAVEYARD isn't a band you want to miss; grab your Louder Than Life tickets right here and check out the rest of their upcoming American dates below.
Graveyard Tour Dates
9/27 – LOUDER THAN LIFE – Louisville, Kentucky
9/28 – Mr. Smalls Theatre – Pittsburgh, Pennsylvania
9/29 – The Crofoot Ballroom – Pontiac, Michigan
10/01 – The Wilbur – Boston, Massachusetts
10/02 – The Stone Pony – Asbury Park, New Jersey
10/04 – Music Farm – Charleston, South Carolina
10/05 – The Ritz Ybor – Tampa, Florida
10/07 – The Howlin' Wolf – New Orleans, Louisiana
10/08 – Mohawk – Austin, Texas
10/10 – The Riot Room – Kansas City, Missouri
10/11 – Delmar Hall – St. Louis, Missouri
10/12 – EXIT 111 – Manchester, Tennessee