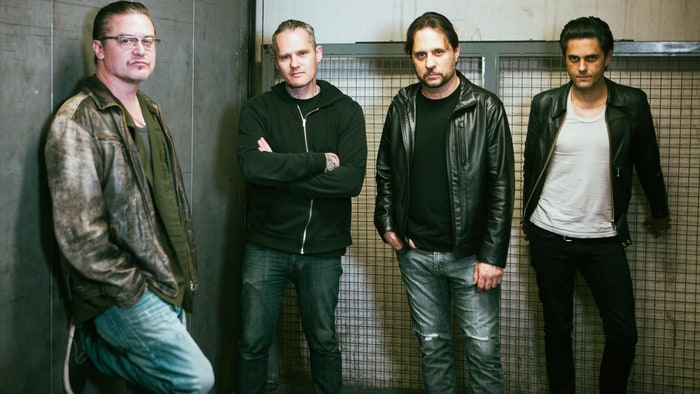 Robing in the likes of ex-Slayer drummer, Dave Lombardo, Mike Patton from Faith No More hardcore supergroup DEAD CROSS form a potent force in 2015. They won't release a new album up until August 4,via Ipecac Recordings, this year. In support of their self-titled debut album they will be touring entire North America and promise to put up excellent shows with a new breed of energy, the dates to which have been already announced.
DEAD CROSS was formed initially with vocalist Gabe Serbian (the Locust, Head Wound City and ex-Retox). However, Gabe later in 2016 left the group for some reason and was replaced by Faith No More vocalist Mike Patton. Mike then recorded vocals for the new album, with the music already recorded prior to Mike's arrival, as the group planned to not release the album with Gabe's vocals and lyrics on it. As said above, the debut album was completed and mastered by Ross Robinson who has previously stepped up for Korn, Deftones, Sepultura and Limp Bizkit, among others, and was mastered at Golden Mastering Studios in Ventura, California.
If you're wondering what to expect from this supergroup's debut, here's an idea you can get from Mike Patton's statement when he spoke to Rolling Stone.
"To me, it is a traditional hardcore record. It is very pointed, direct and visceral. Like, I wasn't going to play keyboards, add samples or any kind of orchestration. It was like, 'Yo, just go for it.' In some ways, it reminded me of stuff that we had collectively all grown up with and loved when we were like teenagers – bands like the Accüsed, Deep Wound or Siege, stuff that was just brutal, uncompromising and right to the point. I was listening to all those bands again before this came to be, so it was already back infused in my blood. And now I got a chance to do a pencil-in-your-eye record."
Dave Lombardo chips in with the following,
"Everything about Dead Cross screams aggression", said Lombardo. "I have no idea what kind of chaos it will conjure on stage or in the audience… but I know it's going to be a hell of a good time. Really looking forward to hitting the road with these guys."
The band recently released the first single titled 'Grave Slave'(video attached below) off the album. The pre-orders, both digital and physical, are available now. Both the CD and vinyl versions feature glow-in-the-dark packaging, with vinyl available in clear/red/black swirl and a limited edition metallic gold.The summer tour kicks off on August 10, almost a week after their debut release at The Observatory, Santa Ana, CA.
Here are the following tour dates. Be sure to catch them up live if you're in and around the following venues:
August 10 – Santa Ana, CA,  The Observatory
August 11 – Las Vegas, NV, Brooklyn Bowl
August 12 – Phoenix, AZ, The Marquee
August 14 – Dallas, TX, Gas Monkey Bar & Grill
August 15 – Houston, TX, Warehouse Live
August 16 – Austin, TX, Emo's
August 18 – Tucson, AZ, The Rialto Theatre
August 19 – San Diego, CA, The Observatory North Park
August 21 – Los Angeles, CA, El Rey Theatre
August 23 – Berkeley, CA, The UC Theatre
August 25 – Vancouver, BC, Vogue Theatre
August 26 – Seattle, WA, The Showbox
August 27 – Portland, OR, Wonder Ballroom
August 29 – Sacramento, CA, Ace of Spades
September 8 – Baltimore, MD, Baltimore Soundstage
September 10 – Philadelphia, PA, Union Transfer
September 11 – Boston, MA, Royale
September 12 – New York, NY, Gramercy Theatre
September 13 – Brooklyn, NY, Warsaw
September 15 – Detroit, MI, St. Andrew's Hall
September 16 – Chicago, IL, Riot Fest
September 17 – Milwaukee, WI, Turner Hall Ballroom
September 19 – Minneapolis, MN, First Avenue
September 20 – Lawrence, KS, Liberty Hall
September 23 – Denver, CO, Ogden Theatre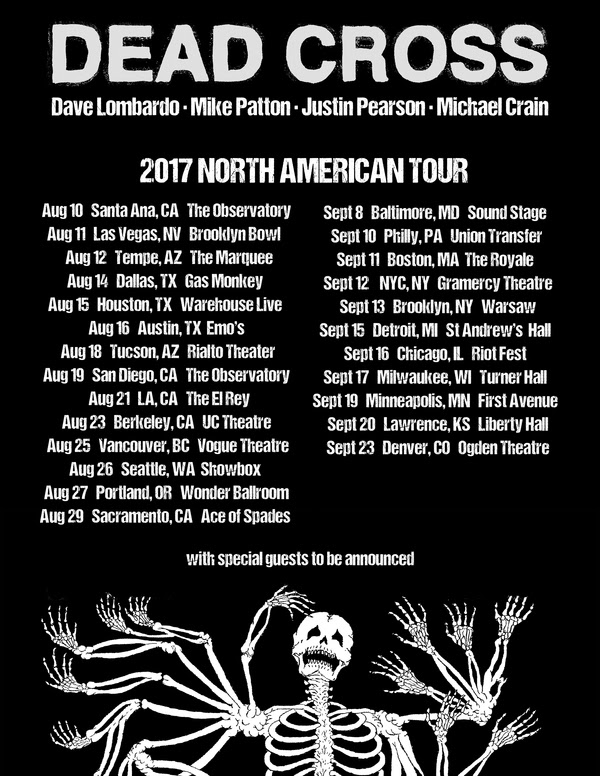 Pre-order your copy of 'Dead Cross' here.
DEAD CROSS is :
1. Michael Crain – guitar
2. Justin Pearson – bass
3. Dave Lombardo – drums
4. Mike Patton – vocals