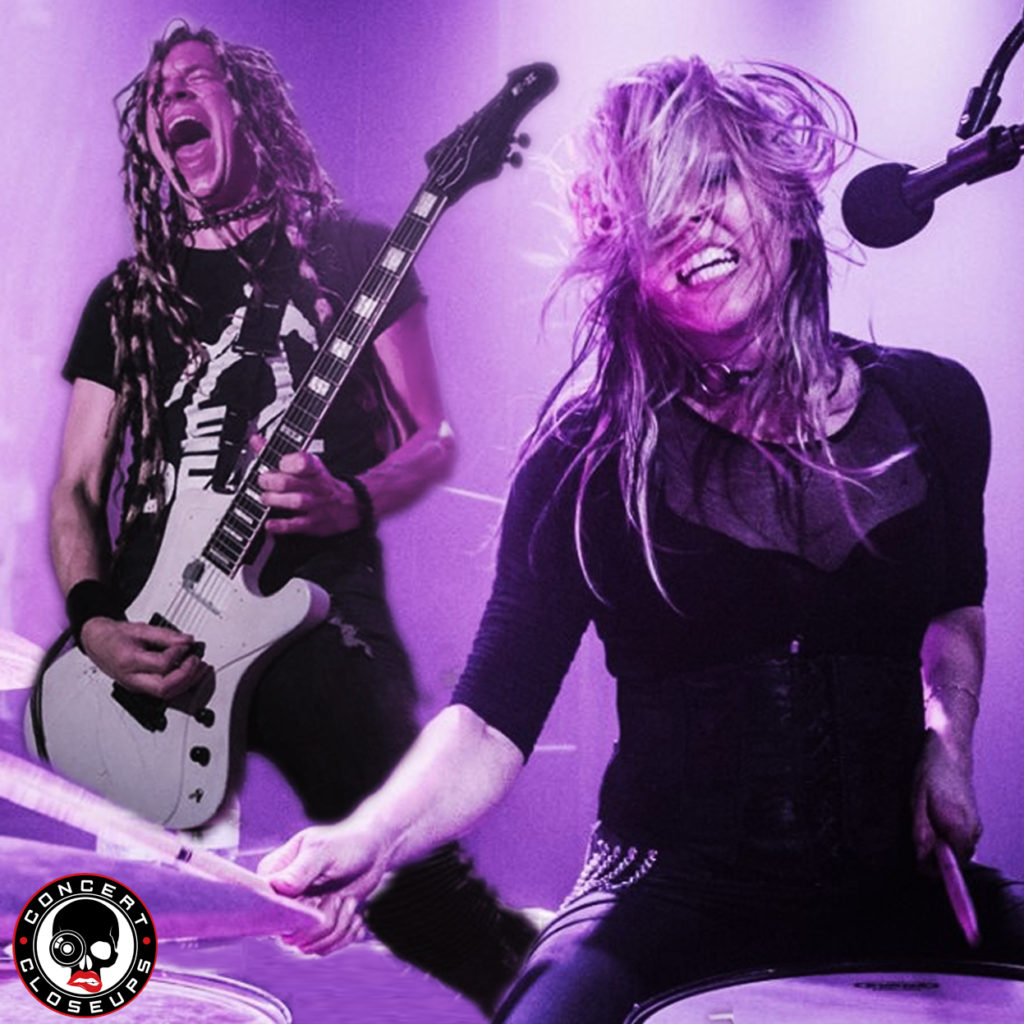 Los Angeles based Alternative Metal Duo KRASHKARMA has been coined as "The White Stripes of Metal" with their singing female drummer intertwining with a guitar sound Frankenstein could take credit for creating. The dynamic on stage between the two vocalists capture a yin and yang that keeps your eyes peeled, your head banging and your lips belting out your new favorite songs. Energy and passion meets explosive guitar riffs – with their debut album, 'Straight To The Blood', KRASHKARMA have establishing themselves as one of the hottest touring acts. Made up of Ralf Dietel (vocals, guitars) and Niki Skistimas (vocals, drums) are radiating waves of excitement – especially in Germany and the surrounding countries. Ralf also formerly played guitar for Nine Inch Nails in 2015. Bleeding guitars, crushing rhythms and choruses that go straight for the throat fuse together creating an adrenaline-driven show that lies somewhere between heaven and hell. The band over 450 live performances under their belt and has even licensed music to Fox Sports. After their debut album in 2011 and extensive touring throughout the US and Europe – even representing the metal scene in Morocco, Africa – they stand, poised to strike – ready to tear down new borders with their second album "Paint The Devil". The album released Oct 16, 2015 via Splitnail Records. The band has an aggressive alternative sound that you have to see in person to believe. The vocal harmonies between the duo is complete perfection. 
KRASHKARMA is also going on tour with former Bucketlist alum Vajra, Make sure to catch them if they are playing in your neck of the woods.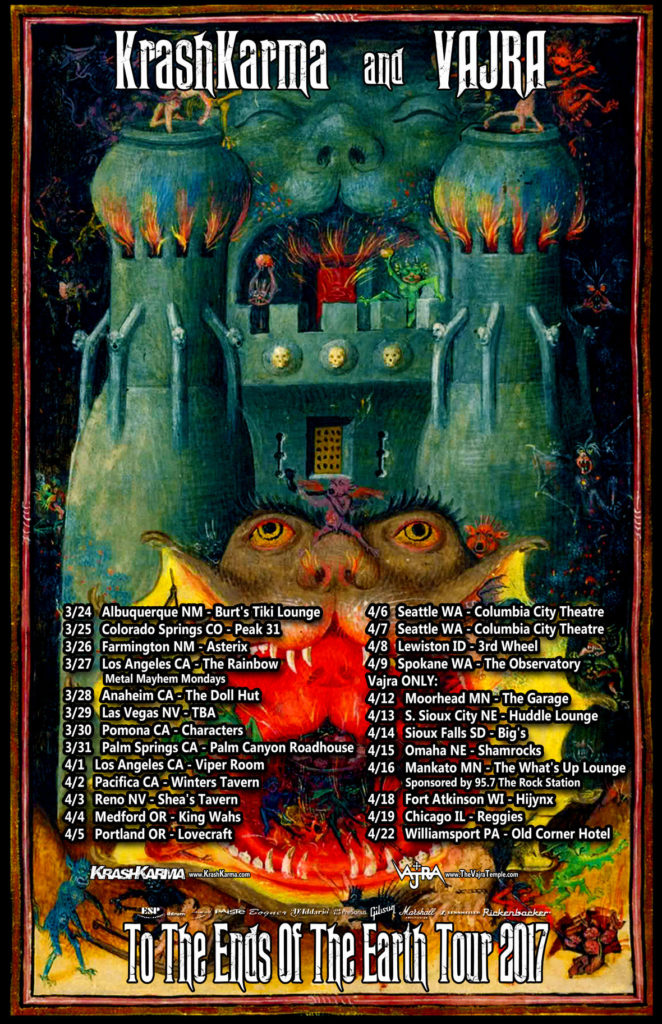 As music fans we live to see our favorite bands perform live. Musicians often get a much better opportunity and view to see some of the bands we all know and love as well. KRASHKARMA has performed both domestically and abroad along side some amazing bands. We keep a running list of bands we want to see live and most musicians are fans just like us, so we are curious to know what bands they desire to see live the most. In this edition of The Bucketlist we spoke with KRASHKARMA drummer and vocalist Nicole Skistimas and she quickly gave us her list:
1. Soilwork
I want to witness this band live because the drumming is just insane. Unfortunately that guy plays now for
MEGADETH, but I am really curious who they got on board to fill his shoes!
2. At The Drive-In
The energy of Omar and Cedric live on stage is what Rock&Roll is all about.
3. Metallica
Those guys are just at the top of the whole rock genre. It is always good to see what they have
up their sleeves because you know that the budget is not an issue!
4. Nevermore
A band that apparently has an amazing stage show.
5. Avatar
We toured with them once through Germany and they have developed so much.
Great to see how bands move forward and perfect their craft.
I have personally seen 3 of the 5 on her list and they are all amazing. Avatar is a band that will make you a fan instantly if you aren't already into them. Metallica leaves nothing to say, the San Francisco legends have left crowds speechless for decades. Soilwork is always great live. Back in April they made 25 year old drummer Bastian Thusgaard their permanent drummer after he filled in for 10 months. His youthful hands is sure to breathe new life into the band as well. Nevermore are legends that I have always wanted to see, and just by seeing video of live performances they certainly can entertain a crowd. The reunited At The Drive In has been playing some dates recently and they are a huge ball of energy. They are a band that should be on anyone's list who hasn't seen them.