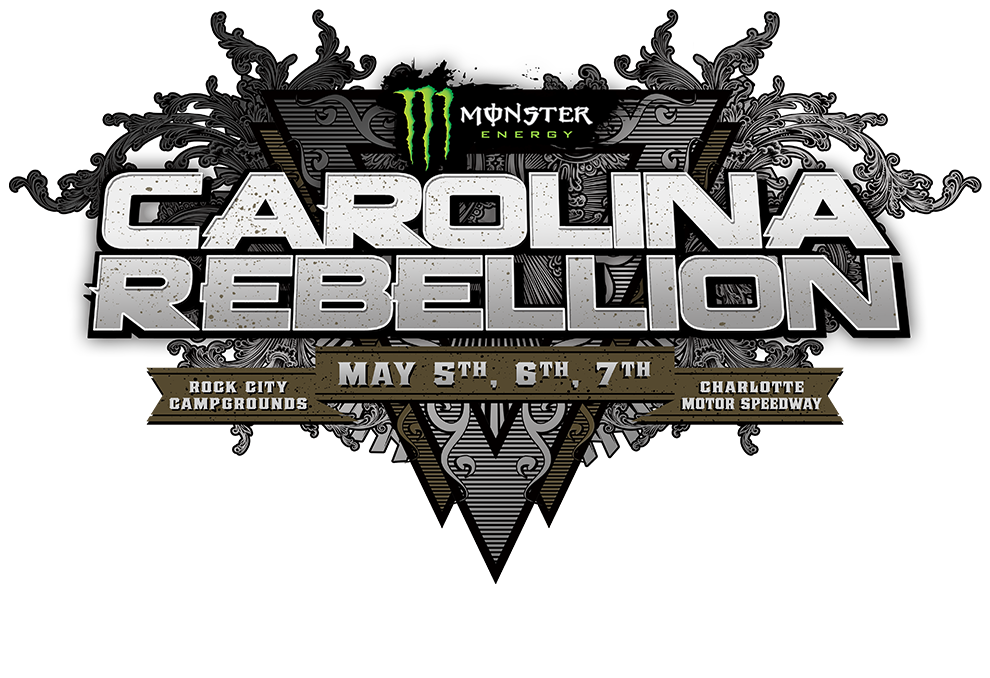 Soundgarden (Friday), Def Leppard (Saturday) and Avenged Sevenfold (Sunday) will headline the 7th annual Monster Energy Carolina Rebellion May 5, 6 and 7 at Rock City Campgrounds at Charlotte Motor Speedway in Concord, NC. Carolina Rebellion presale tickets and layaway packages, as well as hotel, camping and VIP packages, are on sale now at www.CarolinaRebellion.com. In 2016, Monster Energy Carolina Rebellion had another record breaking year with over 90,000 fans in attendance, so fans are encouraged to buy early and save and to be sure to secure a ticket for 2017.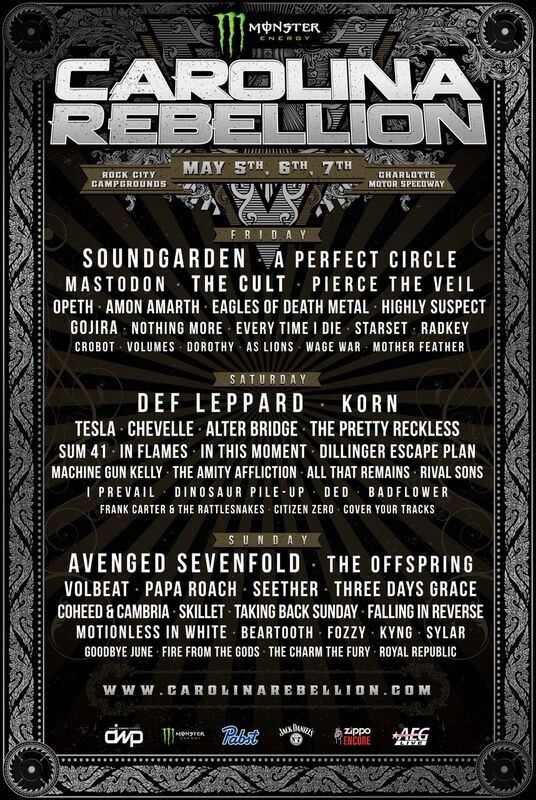 The lineup for Monster Energy Carolina Rebellion is as follows: Soundgarden, Def Leppard and Avenged Sevenfold, A Perfect Circle, Korn, The Offspring, The Cult, Volbeat, Mastodon, Papa Roach, Three Days Grace, Seether, Chevelle, Alter Bridge, Tesla, Pierce The Veil, The Pretty Reckless, Eagles of Death Metal, Highly Suspect, Coheed and Cambria, Taking Back Sunday, Opeth, Amon Amarth, Sum 41, Skillet, Machine Gun Kelly, Gojira, In Flames, In This Moment, The Dillinger Escape Plan, Falling In Reverse, Motionless In White, Nothing More, Beartooth, Starset, Rival Sons, Every Time I Die, Fozzy, All That Remains, The Amity Affliction, I Prevail, Dinosaur Pile-Up, Kyng, Crobot, Radkey, Volumes, Dorothy, As Lions, Fire From The Gods, Goodbye June, Sylar, Wage War, Badflower, DED, Frank Carter & The Rattlesnakes, The Charm The Fury, Royal Republic, Mother Feather, Cover Your Tracks, and Citizen Zero.
One of the most anticipated bands to see not only for this festival but in general is A Perfect Circle. Lead singer Maynard James Keenan did a short run of dates with his other band Tool recently, and then the announcement of APC playing some shows in 2017 kind of come out of nowhere. Tool has yet to announce the release date of their long awaited upcoming album that is supposed to already be complete. It's been almost a decade since I have personally seen APC, but they always put on a fantastic show. I can only imagine how they show will be on such a large stage. Another notable act on the heavier side is Amon Amarth. The band doesn't play a lot of U.S. dates and is one of the heaviest bands ever to grace a DWP festival lineup. In addition to Amon Amarth in the heavy caliber is Gojira, who also played last years inaugural Chicago Open Air. Their 2016 album 'Magma' was one of the best albums of the year. Of course there are always some throwback bands on most festival lineups. One band that often sells out most of the smaller more intimate shows is Coheed & Cambira. In the past I have seen them sell out back to back dates on a solo headlining tour. The band has a huge fan base and for good reason, they put on an amazing show and put every ounce of effort into making sure their fans walk away happy. Very happy to see them finally making their way onto the festival circuit. This years throwback bands hit in two decades. Def Leppard who had a strong hold on hit singles in the 80's are one of the headliners. Also we have some more late 90's early 2000's acts like The Offspring and Sum 41. With the recent reunion of The Misfits we expect a lot more punk acts to re-emerge onto the scene. Bands that you absolutely should not miss seeing are Dinosaur Pile Up, who put on an amazing show at Louder Than Life this year, we also interviewed their lead singer/guitarist Matt Bigland which you can see here. Highly Suspect are not only on this roster of bands but also represented the metal world as they were nomination for Best Rock Album at the 58th Annual Grammy Awards. Their song "Lydia" was also nominated for Best Rock Song. Those nominations alone should put them at the top of your must see list when working out your schedule of who to see when the gates open for Carolina Rebellion.  In Flames are one of the most iconic Swedish metal bands and always have a fast paced energetic show while also playing their songs in perfect quality. A band that you may not have heard of yet but will likely become a fan of after seeing their show is Sylar. They are likely the non-headlining band I am most looking forward to. They have at time have a more nu-metal sound, but then also in songs like their single "Assume" they seem to crossover more into the post-hardcore genre. What you do need to know is that their style is truly unique to them. Listen to them and you will become a fan pretty quickly.
A Monster Energy Carolina Rebellion presale password to purchase the following tickets can be found on the festival's website, Facebook and Twitter pages:
Weekend General Admission: $149.00
Weekend General Admission Ticket 4-Pack: $460.00
Weekend VIP: $299.00
2-Day General Admission (Friday/Saturday or Saturday/Sunday): $99.50
Single Day General Admission: $79.50
*** Ticket prices do not include fees.***
Those looking for an expanded festival experience are invited to purchase hotel, camping and VIP packages. Available camping options (RV and tent options for 4 nights) include the Groupie, Roadie, and Star packages. Hotel packages offered for 3 or 4 nights are: Bronze, Silver, Diamond and Platinum. For details on each package, visit: www.CarolinaRebellion.com.
The Monster Energy Carolina Rebellion public onsale is Friday, December 9 at 10:00 AM EST. Beginning at that time, ticket prices will increase, so fans are encouraged to buy during the presale. At the public onsale, prices will be as follows:
Weekend General Admission: $179.00
Weekend General Admission Ticket 4-Pack: $580.00
Weekend VIP: $329
2-Day General Admission (Friday/Saturday or Saturday/Sunday): $130.50
Single Day General Admission: $99.50
*** Ticket prices do not include fees.***