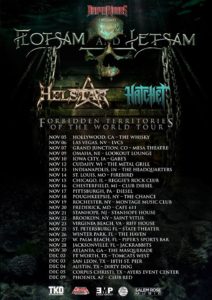 Man! When we first got wind that Flotsam and Jetsam, Helstar and Hatchet were hitting the road together, all of us here at MN (particularly Dragon and me) were praying this would stop somewhere within striking distance. Not just to see this collection of top shelf bands but also to get this match made in heaven available to our loyal readers. Who wouldn't want to see this? Love Hatchet. Been listening to them for since around 2013 when Dawn of Evil hit. Helstar. Hell, I have listened to them on and off for the better part of thirty years. Don't even get me started on Flotsam and Jetsam. They have ranked among my favorite bands consistently since Doomsday for the Deceiver way back in 1986. Saw them on their tours supporting No Place for Disgrace and Cuatro at Bogarts in Cincinnnati and one other time in Indianapolis in the late nineties. I have relentlessly listened to them even with my long hiatus seeing them live. While I like some of their releases better than others, Flotz is one of those bands that apparently cannot put out a bad album. I can only think of a couple of other bands that I hold in equal regards. To say the least, this was a dream show for me and was elated to find that it was coming to Jack Rabbits in Jacksonville, FL; just minutes from my house! So, you ask: "How was the show?"…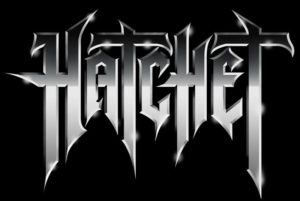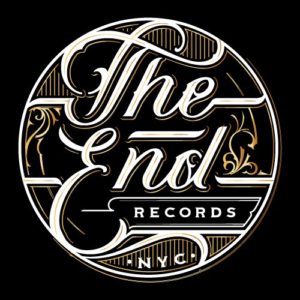 As always, I got to the venue early and was rewarded by having the opportunity to talk at length with members of San Francisco's own Hatchet at their merch table. Very nice guys all! They are having a blast being on the road with Helstar and Flotsam and Jetsam and are currently about a week out from going home where they are discussing their next move. They shared that they have enough material floating around the band right now to go back to the studio to follow up Fear Beyond Lunacy, which was released October of last year or hit the road on another tour circuit. Funny, staying home was not even in the discussion. After recently completing tours with Act of Defiance, Kataklysm, Metal Church and a number of big name festivals, who wants to slow down, right? Living the freaking life! Once they took the stage, they owned Jack Rabbits. Monday night is a tall order to get people out, but they left nothing on the table for those that came out. Starting things out with a selection from their latest release called "Where Time Does Not Exist", Hatchet played a well rounded selection of songs from albums old and new including "Living in Extinction", "Fall from Grace", "In Fear We Trust", "World Beyond" and finished their set out with "Vanishing Point". These guys are serious about their music and sounded very near CD quality in their playing but bring a fun vibe along for the ride that ebbed toward the Thrash attitude before flowing back to fun; always keeping the crowd moving and on their feet. Every member of Hatchet was born to be on stage, each with relaxed intensity that was energizing and genuine. Lead vocalist and guitarist Julz Ramos slammed down some of the most brutal leads and solos out while not dropping one vocal inflection or lyric. I have always been amazed by this because it is talent I don't even pretend to have and Julz just kills it with intensity and style! In contrast, lead guitarist Clayton Cagle takes a more relaxed stance, often staying very close to the crowd, be-bopping along or messing with members of the other bands that came to the front. Fun stuff and very entertaining to watch. Drummer Ben Smith, whom I had spoken with at length before the show followed the lead of Ramos in his intensity, presumably attempting to destroy his drum heads and keep the crowd moving. This man is an angry, caged animal back there behind the kit! Rounding out this killer band line up is bass player Devin Reiche who provides the "don't mess with us" attitude from the right side of the stage. Being the imposing figure of the band, he not only provides the necessary rhythms but balances out the band's stage presence, keeping that Thrashy feeling going even during more light hearted moments. I could not have been more pleased for my first outing with Hatchet. Would love to see them again for sure!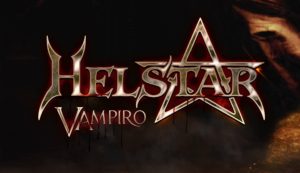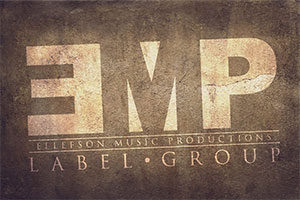 Next up was a bucket list band for me. I have listened to Helstar from Houston, TX for years but have never seen them live. Yeah, I know, not exactly the same band from twenty to thirty years ago and stories have flown around the band over recent years, but was extremely excited to see them nevertheless. Bands change all the time. I… Don't… Care! I finally got to see Helstar! Members now include James Rivera on vocals, Larry Barragan and Rob Trevino on guitars, Mikey Lewis on drums and Garrick Smith on bass. What I found out before the show is that guitarist Casey "The Sentinel Trask and drummer Sean "The Thrash Machine" Elg from CAGE were sitting in with Helstar this fine evening. Freaking CAGE?!? Casey asked if I had heard of them. Uh, hell yes! Another band I am dying to see live! Sure, I would love to see the actual members but what high end stand ins! Killer! After finding this out, I could not wait to see what Helstar had in store for us, especially after being primed by Hatchet's set. Well they stormed the stage with songs chosen wisely from their deep well of long standing songs. The set list included selections from their first album all the way to Vampiro that was released earlier this year: "Baptized in Blood", "Bloodlust", "To Sleep, Perchance to Scream", "To Their Deathbeds They Fell", "Harker's Tale (Mass of Death)", "Black Cathedral", "Run With the Pack" and even playing "Between the Hammer and the Anvil" off of the almighty Judas Priest classic Painkiller (James is also in Sabbath Judas Sabbath, a tribute to his two biggest influences). Even with the two members of CAGE on board, Helstar is everything I hoped they would be. Tight, old-school Metal that hits hard and fast with the glorious vocal chords of Rivera hitting all the notes in his otherworldly range he is best known for. All with the dramatics from the 80s too. Hell, I felt like I was sixteen again. Music tends to do this anyway, but is not often triggered by a live performance. These guys still have the soul and vibe Helstar has been known for all of these years and played everything to absolute perfection. Really amazing. After their stellar set, I ended up being a little star struck meeting the rest of the band for the first time (this is not normal since everyone I have met has been very cool). I needn't have been nervous because all are openly friendly and truly nice gentlemen. After hearing my story they were genuinely touched and invited me to hang out after the show or the following day. My only disappointment of the evening was that I had to get up and return to life: getting up early, running kids to and from school and working my ass off. You can guess what I would rather have been doing. I am, however, no longer the carefree sixteen year old that first heard Helstar almost thirty years ago. Responsibilities suck sometimes!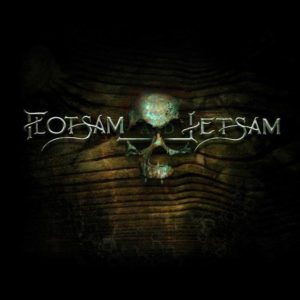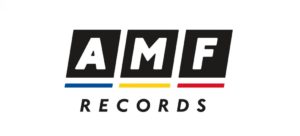 Flotsam and Jetsam on Facebook
And then there was one. I have been listening to Flotsam and Jetsam from Phoenix, AZ since before Metallica procured bassist Jason Newstead from these original Thrash monsters years ago and followed them ever since. I have owned all of their vinyls/tapes up to Cuatro (I still have many of them somewhere) before replacing everything with CDs and then with their MP3s a few years back. I simply do not have room for all of the hard copy material anymore with the extensive music library I own. Earlier this year when we found out that Flotsam and Jetsam was releasing a new album, Dragon and I chomped at the bit awaiting its availability. Well, neither of was disappointed and has since landed on my list of the top 25 albums of 2016 (to be presented later this month! Stay tuned…). If you have not heard it yet, it is a must have in my humble opinion. This thing has everything we have known and loved over these many years. Since I have not seen them in many years and love the new CD, I was about to come out of my skin to finally see Flotsam and Jetsam and again. Been too damned long! Their set had selections from Doomsday all the way to the new one and included: "Seventh Seal", "Dreams of Death", "Hammerhead", "Monkey Wrench", "Desecrator", "Me", "Life's a Mess", "She Took an Axe", "Hard on You", "I Live You Die", "Open Air", "Iron Maiden" and "No Place For Disgrace". Everyone present knew every lyric and sang along until we were all hoarse. Our vocal chords are not used to this kind of abuse, but we have been singing these Thrash anthems for near thirty years now! Eric "AK" Knutson's vocals are still just as strong and as clear as ever, maybe with a tad of smokey brashness that fits well with these veteran musicians and their history making music. The rest of the band includes guitarists Steve Conley and Michael Gilbert, Michael Spencer on bass and Jason Bittner is back on drums. All are just as kinetic and animated as I remember them years ago. Flotz still brings the passion and ferocity that keeps them headlining tours all over the world. I still have a pulled muscle in my neck from Monday's show. Yet more proof I am no longer sixteen! I really have to give it to Flotsam and Jetsam. Musically, they never disappoint. Live: they simply slay! I honestly don't think anyone could walk out of a Flotsam and Jetsam show and not feel exhilarated. Being around as long as they have they could phone in the passion but I am just not feeling it. They still love what they are doing and show no signs of throwing in the towel. These guys bleed their truly unique brand of original Thrash. No one has or ever will be able to duplicate their trademark sound that still continues to grow and develop. Maturity definitely looks good on Flotsam and Jetsam!
Sad this show is over. I could have sat there for days talking to and listening to every band on the bill. Hatchet carries the torch of bands like Helstar and Flotsam and Jetsam trail blazed many years ago. Veterans appreciating and taking young bands along to learn and grow will allow our genre to continue its exponential growth long into the future! This show just happened to be three of the best in the business and has left me wanting to hit rewind a thousand times! Definitely fortunate to make this one!