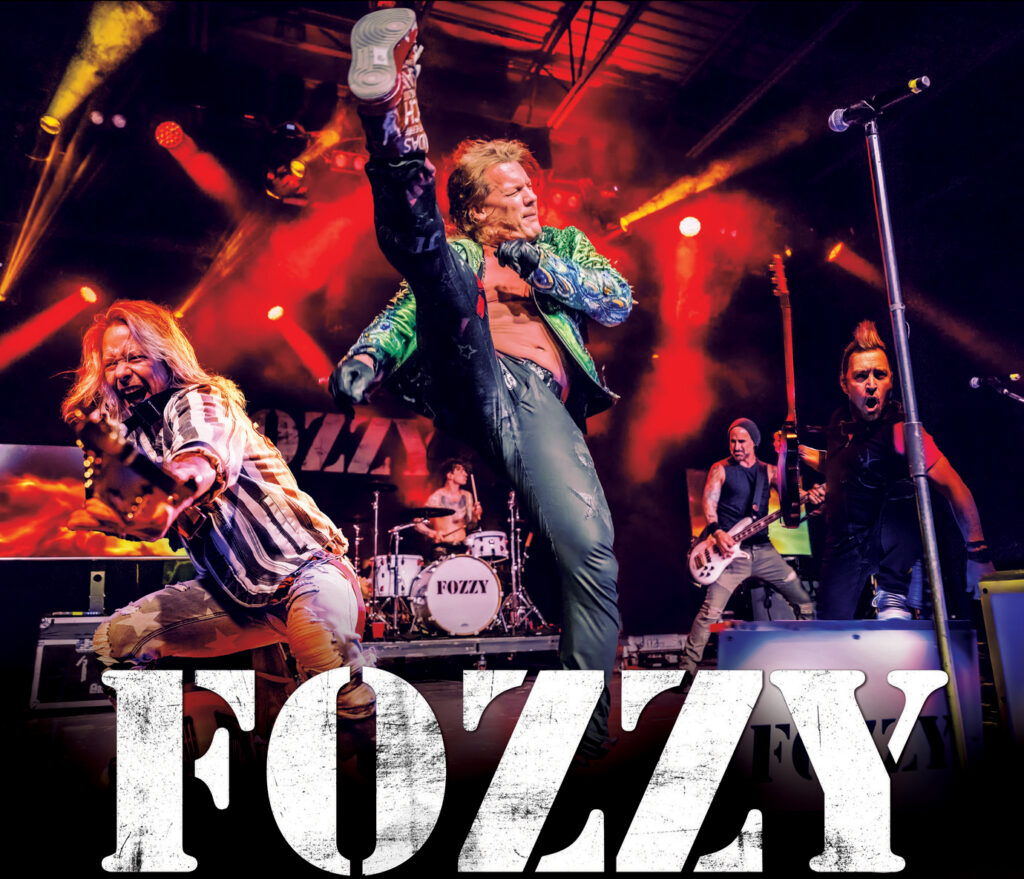 FOR TICKETS + VIP VISIT WWW.FOZZYROCK.COM Follow FOZZY for more information and announcements HERE
JULY 19, 2023: Today hard rock mainstays FOZZY announces their plans to dominate America's rock n roll scene with their upcoming Fall 2023 tour dates. The beloved band will be accompanied by an all-star tour lineup featuring Seventh Day Slumber, The Nocturnal Affair (featured in the top 20 rock SMR charts for three consecutive weeks), and Magdalene Rose (currently #1 on the Christian rock charts). Fozzy is returning with a new song, a new setlist, and the familiar high-octane energy that keeps fans coming back for more. Tickets and VIP packages are available now.
"We are beyond excited to put the Fozzy Spotlight back in the USA this fall! After headlining our biggest UK show ever in August, we are ready to keep the party machine rolling throughout America in Oct & Nov! With a brand new song, a brand new setlist, and the same Fozzy energy & attitude that you know & love, we fully expect this to be the perfect way to ring out your rock n roll year…with the most exciting show and tour of 2023! So get ready to share the spotlight with Fozzy!" -Chris Jericho, FOZZY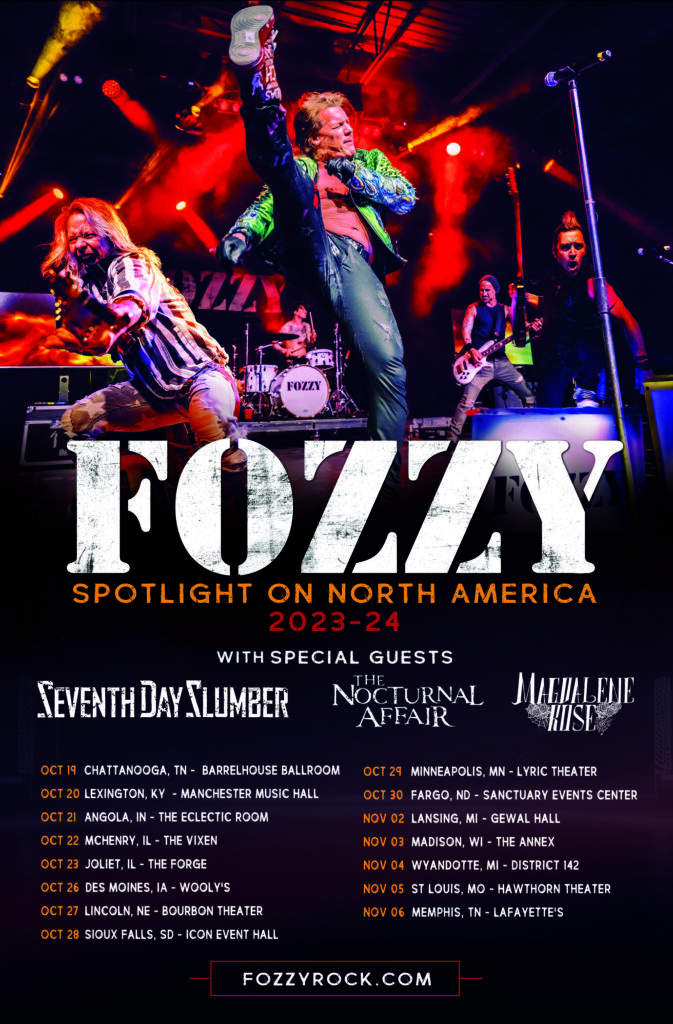 FOZZY Fall 2023 Tour Dates w/ Seventh Day Slumber, The Nocturnal Affair, and Magdalene Rose:
October 19 – Chattanooga, TN – Barrelhouse Ballroom
October 20 – Lexington, KY – Manchester Music Hall
October 21 – Angola, IN – The Eclectic Room
October 22 – Mchenry, IL – The Vixen
October 23 – Joliet, IL – The Forge
October 26 – Des Moines, IA – Wooly's
October 27 – Lincoln, NE – Bourbon Theater
October 28 – Sioux Falls, SD – Icon Event Hall
October 29 – Minneapolis, MN – Lyric Theater
October 30 – Fargo, ND – Sanctuary Events Center
November 2 – Lansing, MI – Gewal Hall
November 3 – Madison, WI – The Annex
November 4 – Wyandotte, MI – District 142
November 5 – St Louis, MO – Hawthorn Theater
November 6 – Memphis, TN – Lafayette's
More on Fozzy: After touring the world and building a loyal fanbase for the better part of twenty years, Fozzy is the epitome of what a killer rock n roll band should be: catchy, groovy, hooky, sweaty, and most importantly, a GREAT EFFEN TIME!
With six consecutive TOP 20 singles, Fozzy is steadily becoming one of the most successful bands on Modern Rock Radio, with their breakthrough massive smash song "Judas" achieving Gold Record status of 500,000 units sold in February of 2022!
Rich Ward is one of the most versatile, talented riff machines & songwriters in rock n roll today. Chris Jericho's skills as a frontman are second to none and his vocal style & range are both powerful and instantly recognizable. The spirited drumming of Grant Brooks compliments the blazing solos of Billy Grey and the rock star energy of bassist PJ Farley. These are five seasoned pros, whose electricity and charisma light up every stage they play on and every crowd they perform for. As a result, it's no surprise that Fozzy has skyrocketed into one of the hottest rock acts in the world today.
The band inched up the ladder after releasing four progressively popular studio albums in the 2000's. However, it was 2012's "Sin And Bones", which featured the hit single "Sandpaper" (over 4.6 MILLION views on YouTube) that found the band reaching a level of legitimacy that drew a mass audience to drink in their trademark heavy melodic groove. The album eventually reached #143 on the Billboard Top 200 Chart, but it was their next album, "Do You Wanna Start A War" (produced by Ward), released in the summer of 2014, that really blew the door open, debuting at #54 on Billboard and giving the band their first top 30 single in "Lights Go Out" which was blared in sports arenas nationwide.
But as much success as the band had enjoyed, nothing compared to the juggernaut of 2017's "Judas" album. Released in May 2017, the aforementioned title track spent 5 weeks at NUMBER ONE on the highly influential 'Big Uns Countdown' on Sirius/XM's Octane channel, amassed over 62 MILLION views for its video on YouTube, cracked the TOP 5 on the US Rock Radio Charts and is still heard by millions of fans worldwide weekly on TBS Network's hugely popular "AEW Dynamite" program. The follow-up singles "Painless" hit Number 9 on the charts (11 MILLION views on YouTube), "Burn Me Out" peaked at Number 18. The current record "Boombox" features "Nowhere To Run" which cracked the Top Ten, "Sane", (with its roller coaster themed video – one of the most thrilling & heart stopping ever made) landing at Number 8 followed by "I Still Burn" which peaked at #7, scoring a trifecta of singles for "Boombox" released May 6, 2022.
Now, with those massive songs in their arsenal, Fozzy has returned to the road with tours in the US, UK, and Australia. After sharing the stage in recent years with Metallica, Kiss, Iron Maiden, Avenged Sevenfold, Shinedown, Slash, Three Days Grace, Nickelback, Steel Panther & Buckcherry, Fozzy is stoked to continue to bring good times and kick ass tunes to their fans around the world… and elsewhere!
So get ready to experience the majesty and power of Fozzy LIVE once again and for Judas' sake…please wear a helmet!
Fozzy is:
Chris Jericho – vocals
Rich Ward – guitars, vocals Grant Brooks – drums Billy Grey – guitars
PJ Farley – bass
More on Seventh Day Slumber: As a consistent force in the music industry for nearly 20 years, Seventh Day Slumber still performs over 150 dates per year. The band has brought a fresh new feel to their signature sound, creating the heaviest and most powerful music of their career. The title track of their 2022 album "Death By Admiration" was co-written with Telle Smith and features The Word Alive. Produced by Memphis May Fire's Kellen McGregor, "Death By Admiration" debuted at #69 on the Billboard Top 200 and landed a top 25 position on Billboards Mainstream Rock Chart. The energy and momentum of their latest release led to several nationwide tours, including direct support for Fozzy on their upcoming "Save The World Tour" and Saliva's recent winter tour. The band is currently back in the studio with Kellen McGregor working on their follow-up album, "Feasting On Vultures," slated to drop on September 22nd. Check out www.seventhdayslumber.com for tour dates.
More on The Nocturnal Affair: The Nocturnal Affair is an alternative/dark rock project headed by singer/songwriter Brendan Shane, from Las Vegas. The band's crushing and melancholic musical style is an ode to darker alternative music torchbearers like Type O Negative, HIM, David Bowie, Gary Numan, and Nine Inch Nails. They capture a uniquely haunting sound steeped in downtrodden melodies enveloped in the darkness.
The band released their debut single, "Down", on Earache Records in November of 2021, from their first album, (META)MORPHOSIS, which was produced by Grammy-nominated Disturbed bassist, John Moyer. To coincide with the release of the album in April of 2022, the band embarked on their first national tour opening for rock veterans, Fozzy. In the fall of 2022 The Nocturnal Affair hit the road again for shows with Beartooth, Gemini Syndrome, and Earshot. The group has performed alongside a wide array of artists from heavy metal heavyweights like HELLYEAH, Asking Alexandria, and Pop Evil, as well as Industrial rockers My Life With The Thrill Kill Kult. They have toured with the vampiric act The 69 Eyes while also being accessible enough to share the stage with notable mainstream acts like 3 Doors Down and Black Stone Cherry.
Their latest single "It's No Good" is their take on Depeche Mode's chart-topping hit from '97. An homage to some of the music that made Nocturnal who they are. To coincide with this release, The Nocturnal Affair embarked on Spring and Summer tours with both Fozzy and Smile Empty Soul, respectively. "It's No Good" has been climbing the SMR charts, breaking the Top 20 in only a few weeks. A follow-up single and further national touring is projected for this Fall.
More on Magdalene Rose: Magdalene Rose is a powerhouse of raw talent and passion, known for her energetic vocals and powerful and catchy metal music. After starting out in the all-female rock band GFM, Magdalene has since gone on to make a name for herself with her solo project, backed by a group of insanely talented musicians.
Magdalene Rose is a master of metal, with an infectious energy and a fiercely devoted fan base. Her highly successful single, Shark Spray, is out now.