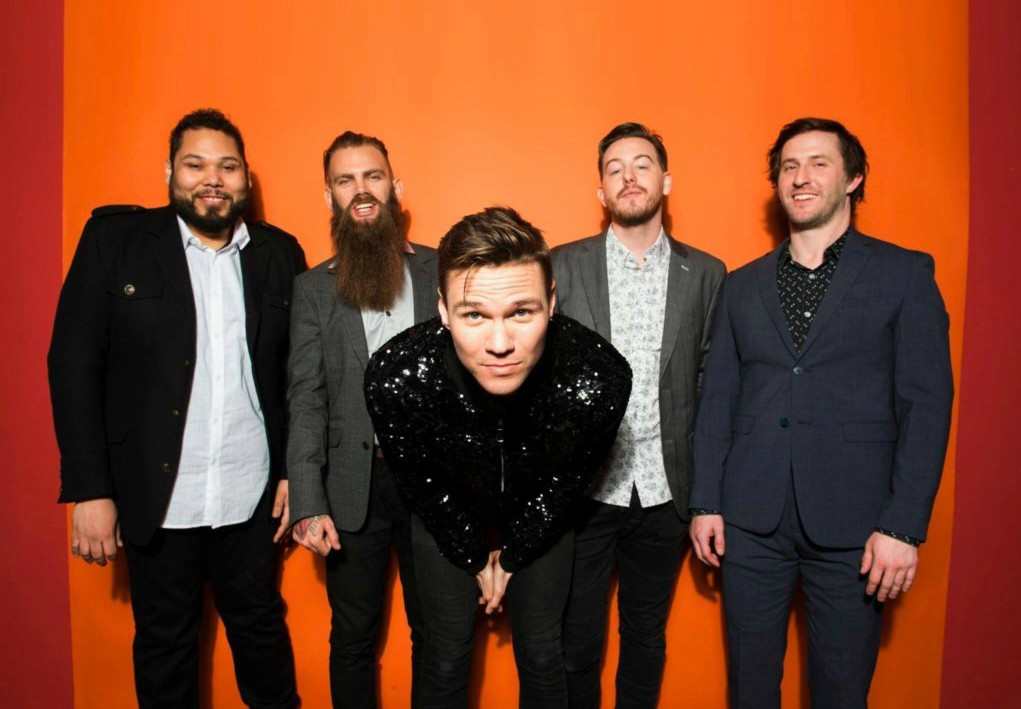 *This is part of the "World's Loudest Month" segment where we branch out and focus on bands that fans can see at this year's biggest music festivals during the month of May 2018!  This week, we're checking out Dance Gavin Dance, a stoner metal quartet from Portland, Oregon, who are geared up for this year's Rock On The Range, as well as others!*
With the multitude of merging subgenres these days, it would seem that you can't always describe a band exactly to someone that may have never heard them before. They are becoming so much more diverse, experimenting with a range of styles, and that's not a bad thing at all! For this has given rise to the next generation of boundary pushing artists with a new lease of excitement and experimentation – one of those bands that is pushing right at the forefront is Dance Gavin Dance.
The Californian quintet rose out of the dissolution of several other bands including Farewell Unknown, Ghost Runner on Third and Atherton. Together the amalgamation of individual band members with such differing styles fused to form Dance Gavin Dance in 2005, where what was achieved was a truly unique sound that combines post-hardcore, math-rock, experimental rock, and prog rock…with argueably even a little metalcore/screamo added to the mix.
The dynamic of serenity and aggression, soundscape textures against methodical fretwork, and raw versus clean gives an overall experience that is openly enticing, yet seems slightly wild where the unexpected is just around the corner. Dance Gavin Dance has managed to create music that can appeal and encapsulate fans from across the musical spectrum and continue to surprise along the way!
They self-released their debut EP 'Whatever I say Is Royal Ocean' in 2006, which was re-released later the same year after the band were approached and signed by Rise Records. They then went on to release their debut studio album 'Downtown Battle Mountain' with a slightly different line-up in May 2007. It featured the hit singles "And I Told Them I Invented Times New Roman" and "Lemon Meringue Tie", and saw them tour in support of the album with Alesana, A Day To Remember, and Pierce the Veil.
In 2008 they rose to critical acclaim with their self-titled sophomore release that peaked at no. 172 on the US Billboard 200 and reached no. 26 on the Top Independent Album chart, and have since gone on to record a further 6 highly acclaimed albums. Now, after their forthcoming sold-out headlining Japanese tour, they are soon to release their 9th studio album 'Artificial Selection' this summer on June 8th via Rise Records with the current line-up of Tilian Pearson (clean vocals), Jon Mess (unclean vocals), Will Swan (lead guitar/vocals), Tim Feerick (bass guitar) and Matt Mingus (Drums). Pre-order bundles are live here with the release date soon to be announced.
Can't wait? Then catch them at this years Rock On The Range (May 18-20) in Columbus, Ohio  or Northern Invasion (May 12-13) in Somerset, Wisconsin ahead of their headlining tour with I See Stars, ERRA and Sianvar, you may be one of the first people to hear their brand new album live.
(Tickets for Rock On The Range can be purchased here. Tickets for Northern Invasion can be purchased here. Tickets for their headlining US tour with I See Stars, ERRA and Sianvar can be purchased here with limited VIP tickets still available.)