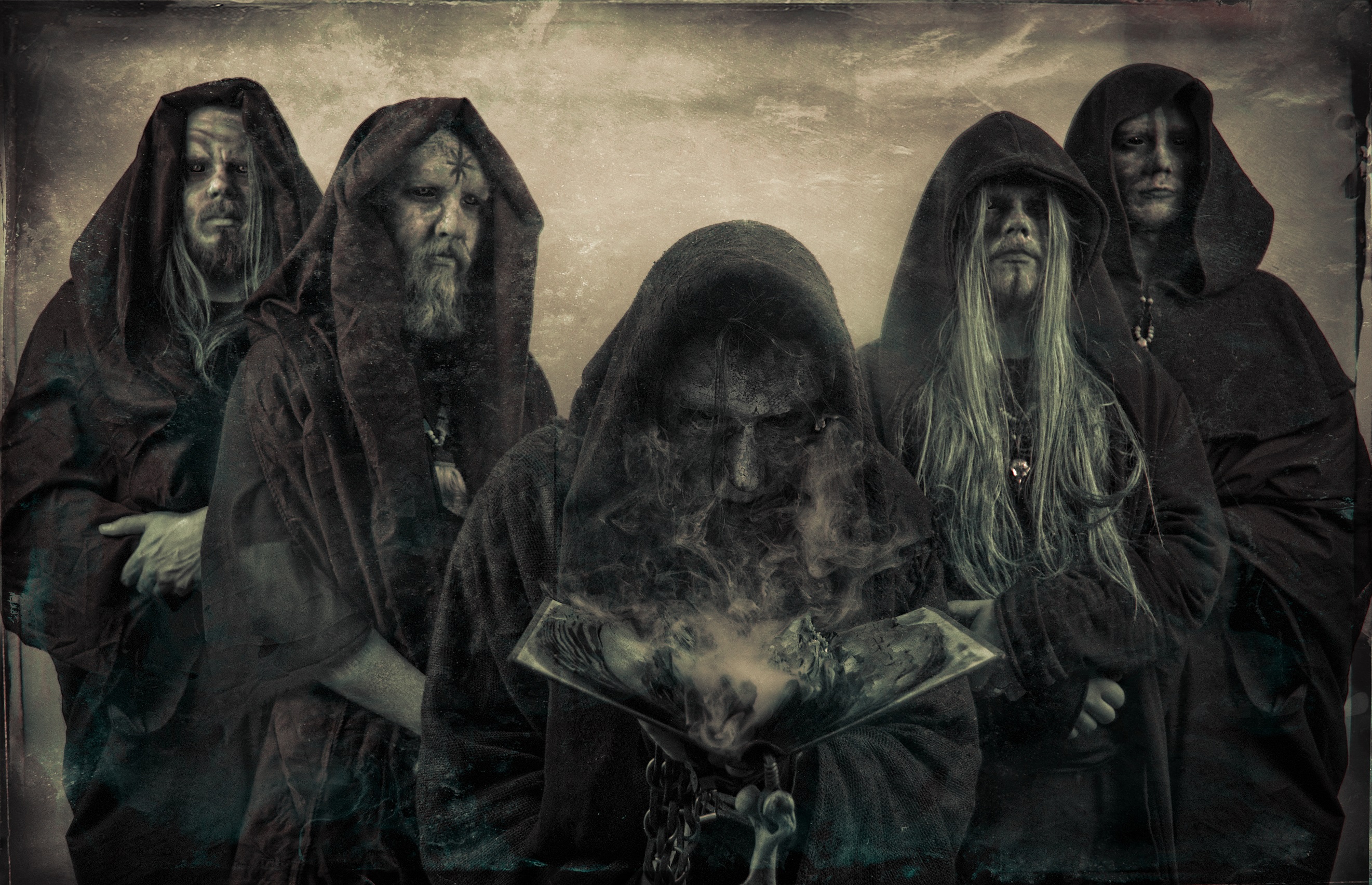 'Omega Prayer' is the second full-length studio album from Finnish blackened death metal band, Abhordium, released on October 27th, 2017 and distributed by Plastic Head Distribution. A common issue with extreme metal albums such as this one is that the music can tend to suffer from lack of variety, causing many of the songs to sound similar to each other. Such is definitely not the case with 'Omega Prayer.' Each track on the record offers something uniquely different while never straying from its overall darkly chaotic and brutal atmosphere.
What Abhordium is able to successfully accomplish with 'Omega Prayer' is a sound that is truly amazing in its horribleness, particularly vocally. Every moment exudes a definitive sonic tone of evil, brutality, or chaos through the use of multiple musical forms. They blend aspects of various styles of death metal and black metal together in a way that don't merely complement each other, but considerably elevate the music to something much viler than could be achieved otherwise. In essence, Abhordium's recipe for their blackened death metal achieves a level of grotesqueness that is rarely reached by others – and it fucking kicks ass.
Originally formed in 2005, Abhordium's current lineup now consists of Kari Laaksonen (vocals), Tommi Koivula (guitars), Henry Jalava (bass), and Arttu Aalto (drums). Purely coincidentally, at the time I am writing this review, Markus Hiitola (guitars) had unfortunately just passed away two days before on March 31st, 2018. Metal Nexus sends our condolences to his bandmates, family, and friends. The band posted this statement to their Facebook page yesterday:
"Yesterday 31.3.2018 we faced one of the inevitable things in life, Death. We all have to face it one day, but this time it met our good friend and guitarist Markus Hiitola. We found him in a peaceful position on his apartment's sofa. This is a great disaster for us and for many of the bands he was involved in. He was known as a very kind, calm and trustworthy person. Thanks for all these years as a friend and as a guitarist in Abhordium 2015-2018. We will be playing our scheduled concerts in Salo 13.4 and in Turku 14.4 with respect to his memory."
'Omega Prayer' was recorded at Raja-Audio in Salo, Finland by Kari Laaksonen, Kalle Puutio, Arttu Aalto, Jarkko Neuvonen, and Henry Jalava; with engineering, mixing, and mastering handled by Kari Laaksonen. Guitars were recorded at home studio by Neuvonen and pre-amped at Raja-Audio by Laaksonen.
Starting off the nine-track, 40-minute sinister journey is "The Chronology of Decadence." Like an ignitor of a destructive inferno, it comes in with blazing fast tech-death riffage and blast beat drumming, while vocally, Laaksonen spews venomously about the corruption of those in power. "Channeled Be My Hate" continues the blistering speeds with a more black metal-infused aesthetic riffwise and vocally. "Asebeia" provides powerful melodic riffing and thunderous double-bass drumming. Haunting vocal chants are sprinkled in for added atmosphere. Laaksonen by this point already demonstrates his vocal range as he seamlessly shifts between low to mid death growls and black metal shrieks. The Deicide-esque layered vocal tracks are often utilized throughout the record, adding that extra level of horrifying intensity. Aalto demonstrates impressive drumming tenacity and relentlessness on "Obsidian Chamber" and the fuzz-toned guitar sound is deviously filthy and raw. "Perpetual Desertification" journeys sonically into the depths of ancient Egyptian catacombs with this Nile-influenced, epic punisher.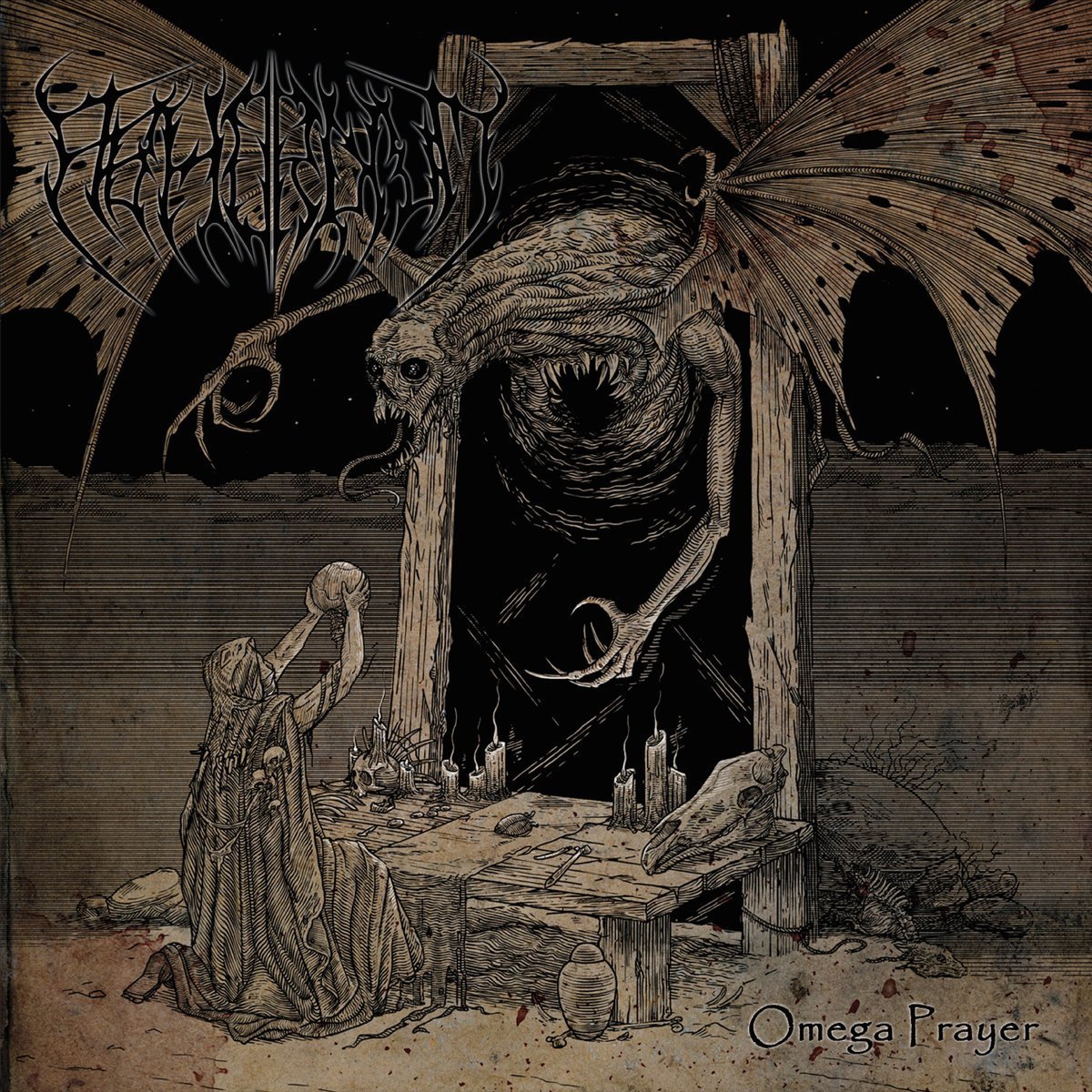 Other stand out tracks are the atmospheric "At the Highest Temple." It starts off with an epic, fuzzy-riffed, slow-building, doomy intro before shifting into hauntingly ethereal clean guitars and a combination of menacing, reverbed, layered vocal outbursts. The drums offer excellent variety on this track as they shift between intense speed to slower, tribalistic pounding.  "From the Depths I Slithered," one of my personal favorites, is pure Sinister-flavored brutal death metal that decimates all in its apocalyptic path. Final track "Omega Prayer" is the longest song of the album, clocking in at just over six minutes. It encompasses much of what Abhordium offers through various transitions and stylistic offerings while mankind's existence is doomed lyrically.
Overall, 'Omega Prayer' succeeds as an intense and extremely vile sounding record that is able to seamlessly incorporate various interesting levels of depth while still maintaining a raw simplicity. While the riffs are strong throughout, it's the vocal work and drumming that are most notable. Laaksonen offers a seemingly endless range of vocal styles as well as layering effects to ensure that there is no room for monotony during any point. Equally, Aalto's prowess on the kit is truly remarkable as he provides a consistent bludgeoning ferocity to propel every song. Abhordium has struck the perfect balance of brutal and wicked with this record. Highly recommend.