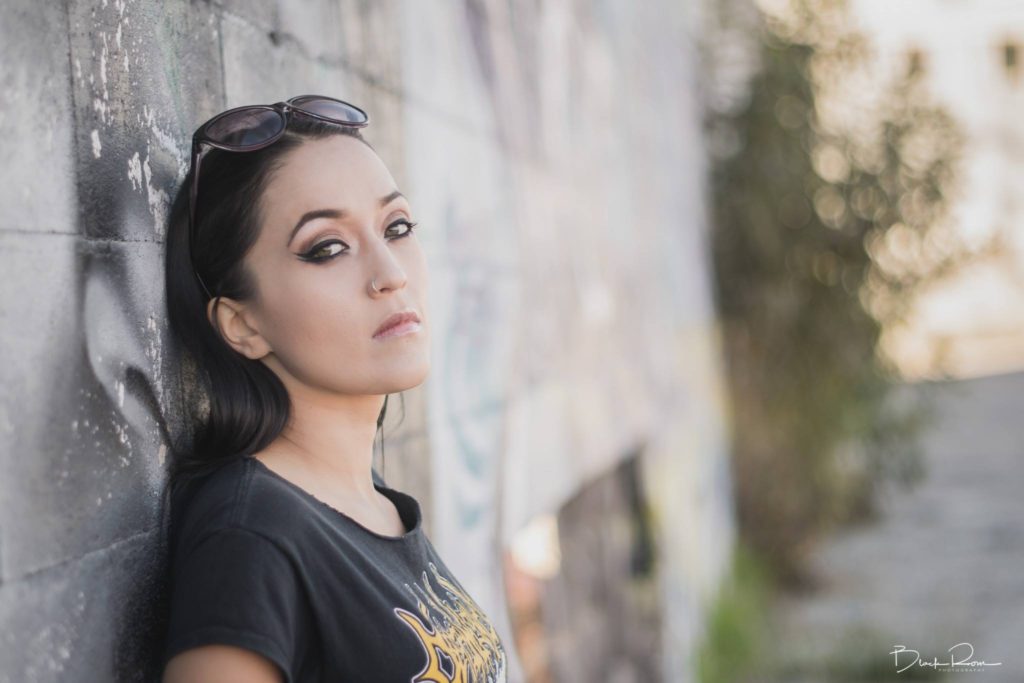 ---
March is National Women's Month, and we have decided to celebrate some our favorite women in metal. Every week during March, we will honor some of the most talented women in the metal and hard rock world.
---
I remember my very first time listening to ABNORMALITY, and I was so sure that it was and had to be a male vocalist. But then, BOOM! I saw the video for 'Fabrication Of The Enemy' and my jaws just dropped to the ground. As horrifying and terrorizing the video was, Mallika Sundaramurthy could really portray the same with her terrifying growls, that seemed like it spawned from the deepest crypts of hell. It was something of rare occurrence, given my knowledge of women in metal back in the days. I knew it was something I would dig and I instantly fell in love with her vocal abilities, and also ABNORMALITY as a whole.
Today on my edition of Women's Month spotlight, we shed some much deserved light on the immensely talented, and the gorgeous Mallika Sundaramurthy of technical death metal band, ABNORMALITY from Marlborough, MA. Mallika is undoubtedly one of the best female death metal vocalist in present day scenario, her vocal prowess is colossal, and on any given day she can give the likes of George "Corpsegrinder" Fisher, Glen Benton etc. a run for their money. Don't let her looks mask you from the fact that she can be vicious, fatal and an absolute killer of an artist. Femme fatale much? Definitely!
Mallika Sundaramurthy has been fronting ABNORMALITY ever since she co-founded the bestial machine back in 2005 with drummer Jay Blaisdell. It has been thirteen years of grinding and pummeling death metal ferocity, and there are no signs of slowing down let alone totaling out. She has steered ABNORMALITY all these years perfectly and has sung on all three studio efforts effortlessly, apart from also doing a couple of guest vocals for other bands. If you listen to PATHOLOGY's "Dies Irae" from 2013 'Lords Of Rephaim', title track from "The Redemption Of Past Supremacy" by HABITUAL DEFILEMENT, "Tower Deflower" by SCAPHISM, you'll be able to tell Mallika's presence in them. Oh and not to forget her guest vocals on "Circumcised With A Chainsaw" by GUSTLIT, from her fatherland, India. Yes, she has a mixed descent. Her father is from Chennai, India and mother is from NH, United States. Mallika quit her previous band PARASITIC EXTIRPATION knowing that it'd get difficult to juggle duties between the two bands, but she has lent her vocals on their 2014 album, 'Putrid Crown'. In 2010, ABNORMALITY dropped their debut EP 'The Collective Calm In Mortal Oblivion', which immediately drew attention in the underground, followed by the crushing and critically acclaimed full-length 'Contaminating The Hive Mind' in 2012, cementing their status as one of the heaviest and most dynamic bands in the genre. Metal Blade Records saw their talent and decided to robe them in their roster for their third release 'Mechanisms of Omniscience' in 2016. This was a major breakthrough deal for the band in terms of major label and promotion. A majority of credit goes to Mallika for her incredible performances.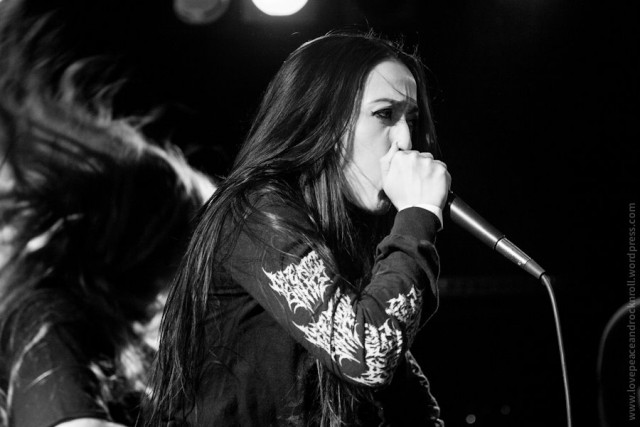 Mallika is the queen of all trades if I may say for obvious reasons. Apart from tearing the heavens with her deadly growls, she also does artwork for ABNORMALITY along with other bands as well. She describes her love for old school death metal album art and dark fantasy & surrealism in an excerpt from an interview, "I am inspired by old school death metal album covers and also dark fantasy and surrealist artists, such as Zdzisław Beksiński, Wayne Barlowe, and Dan Seagrave". She is also a fan of abstract art and that can be very well seen in the ABNORMALITY album covers. Previously, interestingly enough she was associated with the video game industry for a couple of years where she was a professional graphic and concept artist. She worked for Harmonix Music Systems, but now she is a freelance artist.
Sundaramurthy can't get enough metal with what she already does. Well, how can she? It's what we all so dearly love. So to continue her love and support towards death metal, Mallika along with her husband Serge Gordeev (EPICARDIECTOMY, FLESHBOMB) run a death metal focused record label, called Ultimate Massacre Productions, which is based out of Prague, Czech Republic. She just loves doing what she does, she is also the vocalist of the rightly named band, CASTRATOR, who evidently write on volatile and apt topics like feminism, anti-rape and misandry. A true example of a strong, independent woman, oh and definitely more metal than you!
Mallika Sundaramurthy is the perfect embodiment of an out and out brutal female singer in a male dominated genre, and can definitely be a tough rival to take down. She has been working her way up the ranks at a very decent pace, even if they are still underground, ABNORMALITY and Mallika herself have etched a considerable mark on the scene. A vessel possessed during her live performances, she can put to shame your regular male elitist friend. With frantic riffing, immaculate and tight drumming, her vocals just complements the fabric of the music they make. She is beautiful, brutal, uncompromising and has an unforgiving attitude when it comes to her dark and frightening guttural lows. At first listen, Mallika made me fall in love with ABNORMALITY and herself. *wink*. She definitely has a fan in me for life and I will be checking out whatever music she puts out. Go ahead and check out her in ABNORMALITY and CASTRATOR. Trust me, she kills it!
Oh and by the way, ABNORMALITY will be coming up with an album either late this year or early 2019, the drums tracking for the new album have begun just today. Keep an eye out for it!