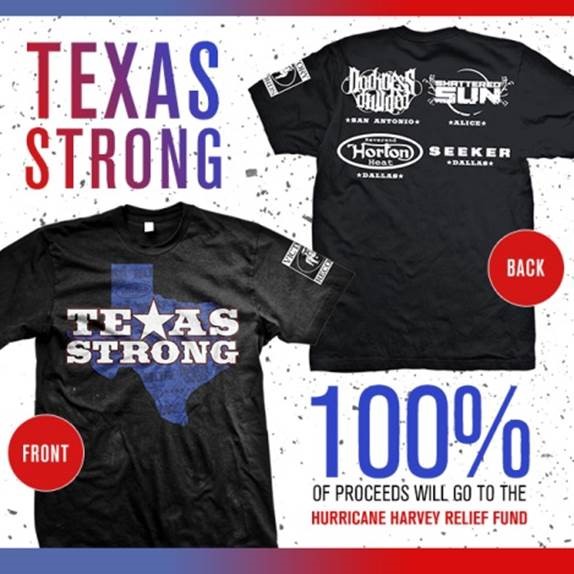 In response to the devastating events in Houston, TX and the surrounding area as a result of Hurricane Harvey, Victory Records will be raising money to donate with a limited edition t-shirt featuring the four bands that call Texas home: Reverend Horton Heat, Shattered Sun, Darkness Divided, and Seeker. The Texas Strong t-shirt is available for pre-order on VictoryMerch.com and will only be available for one week.
100% of proceeds will go to the Hurricane Harvey Relief Fund.
Additionally, Shattered Sun will be performing at two disaster relief shows this weekend in San Antonio, TX and Corpus Christi, TX and have shared the following message:
"Good morning our fellow Texans. After much deliberation about the shows this weekend in Corpus Christi and San Antonio we have decided to keep the shows alive. We spoke to all the bands and both venues and decided mutually to turn these shows into disaster relief shows. We simply couldn't sit back and do nothing. I know there are plenty of people out there struggling and we must do our part to help the city and state that made us who we are today. Saturday's show, we teamed up with The House of Rock – $10 at the door but can knock that down to half price by bringing a few canned goods to donate. If you don't have canned goods or a donation, a portion of your cover will be donated to those in need at this trying time. We will leave everyone with this, we definitely know that this isn't a time for shows and metal. We almost canceled all together but we didn't want to give up that easy. We want to help the place we all call home in any way we can, and this is the best way we know-how. Some residents may have got themselves a home warranty texas plan to make sure they have kept their belongings covered, we hope that they are okay. If you can't make it this weekend we truly understand but for those that can, please follow our lead by lending a hand to your fellow Texans in need. Come have a good time for a good cause!"
We here at Metal Nexus are sending good vibes to anyone affected by Hurricane Harvey and we commend the fine folks over at Victory Records for putting this together and aide the people that need help after this natural disaster. By purchasing this T-Shirt, you're helping families get the help they need through care packages and bc level 1 first aid kits to guide them through this traumatic time. Not only are you helping a great cause but you also get a killer t-shirt in the process. Go purchase your shirt now and help those in need. Order now here! Doing things like this can seriously help people in need and every little bit helps. If you know someone whose been affected by a weather disaster, see if they know to get home insurance to help them in case of it happening again. You can get the best home insurance in CA from simply insurance, so check and see if they can get it in their area too. These hurricanes can cause a lot of damage to homes, so it's important that people do have home insurance. Of course, it's not just the home that can be ruined, the backyard can also be left in quite a mess afterwards. Many homeowners find that their plants and trees are left in terrible states after these weather events. So much so that some homeowners have to call out a company that offers a Tree Care Fresno Tree Service, or somewhere more local to them. Those companies can normally provide care for the trees, helping them to survive. They can also provide removal services if the hurricane has ruined them.