Underground, Inc.
13 September 2019
Written, directed and produced by:
Shaun Katz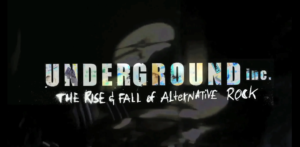 Life is a short span of time for each of us. Things go up and things come down. There are moments of strife that we can't seem to see the end of and times of pure joy that we hope will never end. There are tragic times that we can never forget like the assassination of J.F.K, the Space Shuttle Challenger disaster, 9/11 and the like; and quiet, personal times like getting married, the birth of a child and loss of someone close to us that shake and shape who we are and what we become. For many of us, music has been our catharsis through the thick and thin of life. The one thing that can raise our spirits or give us something to relate to. Something that makes us know that we are not the only ones experiencing what life throws our way. To us, music is heart-felt and soul mining.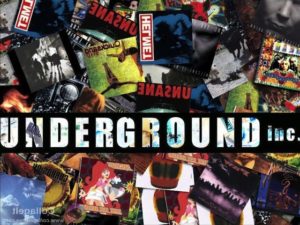 Through the 80s, Metal rose as a giant beast that ushered in names like Metallica, Megadeth, Slayer, Exodus, Metal Church, Death Angel, Flotsam and Jetsam, Testament and a bevvy of other heavy hitters into most of our musical lexicons while the excesses of Motley Crue, Poison, Warrent, Winger, Twisted Sister and other "Hair Metal" bands made the headlines and played endlessly to stadiums of adoring fans. As the eighties came to a close and the nineties began, the bubble burst as genres of music fans splintered into sub, sub-sub and sub-sub-sub genres played against one another. The economies around the world began to falter and for the first time in history, the younger generation was not guaranteed the successes of their parents. As any art is a direct reflection of the current culture, music also took a drastic turn due in no small part to this less than promising outlook on the future. Out of nowhere came raw, formerly unknown bands that had been around for a while that ran perpendicularly against the status quo, bubble gum Pop crap and gave rise to the Alternative Rock craze that the 90s are now most loved for. For writer, director, editor, cinematographer and all around talented mad-genius Shaun Katz, this is where the Underground, Inc. story begins.
After working in a record store as a kid in Australia, Shaun developed a deep love and respect for the burgeoning Alternative music scene that continued to grow over many years. Being involved in film and developing a highly respected career, Katz had a niggling in the back of his head that eventually lead him down a long road leading to what is sure to become the be all and end all documentary about the rise and fall of 90s Alternative Music. It is The Decline of Western Civilization Part II: The Metal Years for the next generation. Yes. It is that significant.
Shaun reached out to us a few years ago and we were on board to support him from the word "go". This is exciting stuff and it has been an honor to interview him a number of times and a couple of other people involved in this project. We were also privileged a view of the film recently. Two words: blown….away! This is both informative and extremely entertaining. Sure, there is some common knowledge subjects like the overt abuse of artists in the interest of record companies looking for the next big thing, drugs and personal relationships that shatter bands and mature frustration when the reality of the music industry sits heavy on bands' shoulders. Many of the bands had toured relentlessly for years before being picked up for an album or two, only to be dropped mid-tour by the same people that were wining and dining them only months before. Where this film diverges from the norm and gets really interesting is with the almost constant stream of artists, producers and record executives interview vignettes interspersed with vintage pictures, posters and video clips that have likely not seen the light of day in over 20 years. To give the film a fanzine feel are the brilliant animations by JB Sapienza. Think an '87 issue of Karang! brought to life by the makers of the original Batman television series. Spectacular and dazzling throughout. The interviews are mostly informal as opposed to sterile surrounds of a studio or sound room, Bedrooms, living rooms, bars, a park where a young woman in a red bikini is constantly checking herself out (I laughed out loud) become the studios of choice; wind blowing across the microphones and all. Their stories in their native surroundings with their unique perspectives. This film is raw, brutally honest, mature and surprisingly balanced. I thought it was going to be band heavy and somewhat bitter, but it ended up being funny, realistic and and taken from many, many perspectives. Where The Decline of Western Civilization Part II: The Metal Years leaves the viewer in an almost tragic void, Underground, Inc. is much more pragmatic and lands with mature insights about the Alternative music and its overall influences that have shaped what the music industry has become today. It also puts a spotlight on many bands that were a flash in the pan but are/were tremendously talented and deserved much better than they got. Honestly, I had not heard of many of the bands and now have them in my daily spin. New music, even if it 20 plus years old, is always good. Many have even reformed and are now producing their own music; the industry be damned.
In the end, this film will assuredly drag you kicking and screaming back to one of the most interesting eras in life-changing, genre-neutral music. In my case, I immediately travel back in time and feel exactly like I did in my 20's. Fireworks, motorcycles, the original Star Wars and Christmas morning with my kids are the only things that have this effect on me now. Underground, Inc. is an important story that had to be told and has done to utter perfection by Shaun Katz. Congratulations, my friend. Your labor of love is something that will make you live forever and will be unforgettable for generations to come!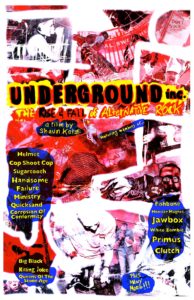 Featuring interviews with band members and industry experts:
Queens Of The Stone Age
White Zombie
Stone Sour
Primus
Helmet
Ministry
Sepultura
Pop Will Eat Itself
Biohazard
Texas Is The Reason
Failure
Quicksand
Jawbox
Filter
A Perfect Circle
Surgery
Down
Revolting Cocks
Corrosion Of Conformity
Snot
Jets To Brazil
Rocket From The Crypt
Clutch
Red Fang
And You will Know Us By The Trail Of Dead
The Sword
Sugartooth
Hyro Da Hero
Steve Albini – producer (Nirvana, Pixies, PJ Harvey)
Matt Wallace – producer (Faith No More, Deftones)
Only Living Witness
Alex Newport – producer (At The Drive In, Bloc Party, Death Cab For Cutie)
Public Image LTD
Killing Joke
Monster Magnet
Handsome
Stegosaurus
Brad
Cop Shoot Cop
Course Of Empire
Fishbone
My Head
Sense Field
Mind Funk
Trouble
For Love Not Lisa
Downset
Cro-Mags
My Life With The Thrill Kill Kult
Skatenigs
Skrew
Premiere screenings:
Reeperbahn Festival

– September 19th, 7:30pm @Festival Village / Cinema
Reeperbahn Festival

– September 21st, 1pm @Festival Village / Cinema
Facebook, IMDB, YouTube Channel
https://www.youtube.com/channel/UCDRh8L_4QxOMSdBhGqtLL7g