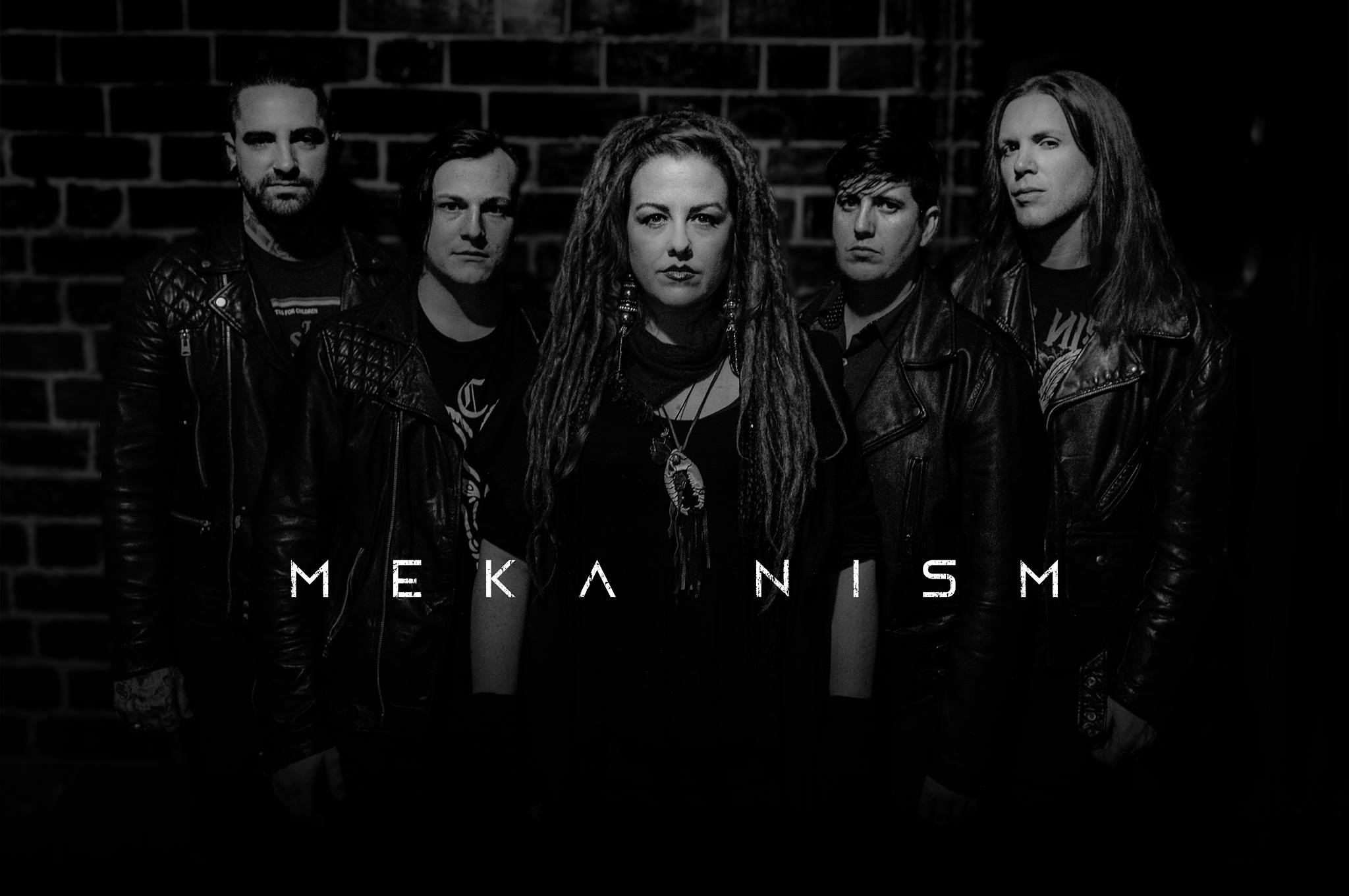 * For the Metal Nexus' Bucket List series, we pose the age-old question to some of your favorite artists: "Before you die, which band(s) would you want to see play live that you haven't seen before, and why do they mean so much to you?" *

This week, we focus on Orlando, Florida's art metal mavens, Meka Nism. The quintet consisting of Meka (vocals), Bobby Keller (lead guitar), Jarret Robinson (bass), Christopher Lane (drums), and Jay Adkisson (keys) have made quite a name for themselves in the metal world through their uniquely eclectic, genre-melding sound. Influences swirling throughout their music include everything from opera, to rock, to nu-metal, to black metal, and beyond. It's no wonder that we see such a wide array of musical styles pop up on each band member's bucket list.
Lead vocalist, Meka, originally started the project back in 2006 under the name Meka Nism and Her Rusty Tears as more of a solo act, for which she received much critical acclaim. In 2010, following heavy touring, the band evolved into a solidified group effort before releasing their first EP 'The Dance at the End of the World' under the current, shortened moniker, Meka Nism. The band has since gone on to release their next two EPs, 'The Shift: Anthems for a Revolution' in 2015 and live EP, 'Live from the Machine Shop' in 2016. Their upcoming EP, 'The War Inside,' set to release on May 10th, 2018 can be pre-ordered here.
As a group of talented musicians, Meka Nism will certainly appeal to those with a taste for outside-the-box creativity as well as an appreciation for the classics. Upon a solid base of traditional Iron Maiden theatrics and melody, they build a complex of modern day metal and rock structures, decorated liberally with colors of Evanescence, System of a Down, and black metal atmospheres.
Now, directly from each band member, here is a peek at some of the main ingredients that helped influence the secret recipe for Meka Nism's sound as we take a look at who they've included in their bucket lists:
Meka
Marilyn Manson – "His theatrics are mind-blowing."
Tool or A Perfect Circle – "I love Maynard."
Nothing More – "Their spiritual power and creative approach moves me."
System of a Down – "They have so much passion."
PJ Harvey – "I love her. Every album is different."
Bobby
Pantera – "Even though it's never going to happen, I wish I would've seen Dimebag play live."
Metallica – "I've seen them already, but I'd never say no to Metallica."
Angel Witch – "They are one of my favorite [New Wave of British Heavy Metal] NWOBHM bands ever."
Emperor – "The best black metal band ever, besides Venom."
Skull Fist – "Another obscure metal band that not a lot of people have heard, but a total favorite for me."
Jarret
Avatar – "Love this band and consider them a huge influence."
Devildriver – "Another influence of mine."
Metallica – "Top musicians in metal and influence of mine."
Nonpoint – "One of my top favorites."
Sevendust – "Another really big influence. They are phenomenal musicians."
Chris
Soilwork – "One of my all-time favorite bands, and Dirk is a monster."
Thrice – "'The Alchemy Index' is a phenomenal album. Plus, as a band they have so much depth."
Textures – "Just 'cause I think they rule. Super brutal, fantastic melody. Amazing drummer."
Metallica – "'Cause who wouldn't want to play/see with Metallica."
Shinedown – "Their drummer was a mentor of mine when I was little and beginning to learn drums."
Jay
Faith No More – "They were a huge influence on me and showed me what a band could do as far as breaking the mold."
The Cure – "I practically know every album they put out, and another huge musical influence."
Metallica – "For the same reason above."
Avatar – "The music, the energy, the show; it's extremely captivating."
Depeche Mode – "Favorite artist of all time."