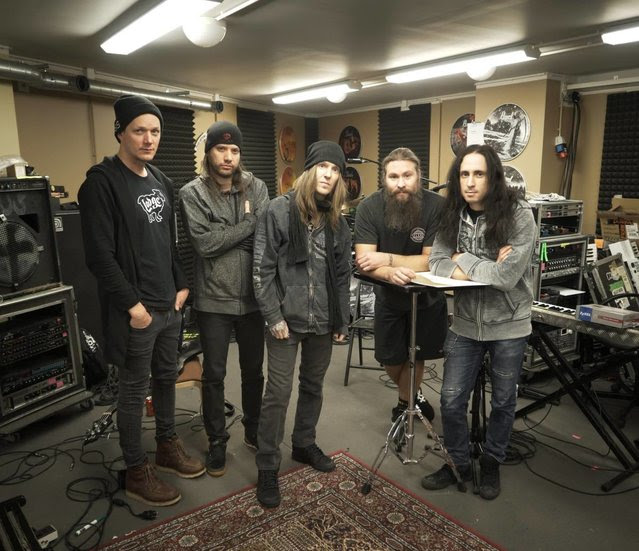 Finland's finest export and homegrown metal stars CHILDREN OF BODOM have good news for all of us. Word is out that the melo-death outfit from Espoo, are currently working on a new album as you read this article. The forthcoming album will be their much anticipated one after 2015's highly acclaimed,'I Worship Chaos'. The guys just entered their own Danger Johnny Studio with producer Mikko Karmila to kick off the recordings of their brand new studio album. The upcoming album marks the continuation of their partnership with Mikko Karmila who worked both on 'I Worship Chaos' and 2013's 'Halo Of Blood'.
The band states:
"Attention Hate Crew!
We're excited to inform you that the recording of COB album no. 10 starts tomorrow with Mikko Karmila at our very own Danger Johnny studios. Frequent updates coming through Instagram https://www.instagram.com/cobhc/ and Facebook so make sure to follow both channels!"
Main man Alexi Laiho in a video which you can see below says he feels "pretty good about it" and promises to keep you posted with studio updates as time passes by. What better way to get you, their fans, engaged in their music than by showcasing their album journey every step of the way? It sure will help them to boost their Instagram and Facebook followers, but of course, services like Nitreo and kicksta can also help to make this possible. If you are interested in growing your own personal Instagram account, then you might want to consider using these services. You can find a review of kicksta by following the link.
It is every band's aim to sell their music to as many people as possible, and if they let you get a first-hand look at how they created their songs, and the inspiration behind them, then you will feel more connected to it. You're also more likely to spread the word, so more people become aware of them. How good would that be? We're pretty much excited about this new album. Are you?!
There are a few EU summer shows lined up for CHILDREN OF BODOM as follows,
COB Live:
07.06. – FIN – Hyvink?? – Rockfest
23.06. – FR – Clisson – Hellfest
06.07. – ROM – Bucharest – Metalhead Meeting
14.07. – SW – G?vle – Gefle Metal Festival
22.07. – FIN – Oopperajuhlat Savonlinna – Savonlinna Opera Festival
27.07. – SLO – Tolmin – MetalDays
02.-04.08. – DE – Wacken – Wacken-Open-Air
08.-11.08. – ES – Villena -Leyendas Del Rock
11.08. – NL – Leeuwarden – Into The Grave Festival
Oh and while you're at it, don't forget to check out and order 2015's 'I Worship Chaos' HERE!