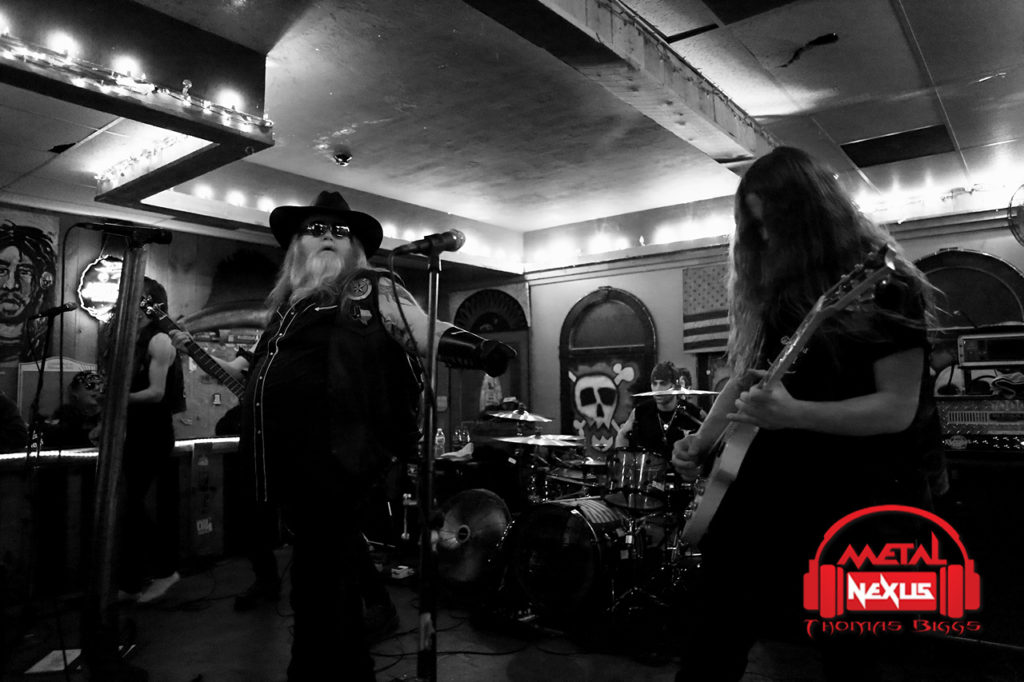 The band of outlaws that is the Texas Hippie Coalition rolled into Johnson City, TN and The Hideaway with their friends Kobra and the Lotus, Brand of Julez, Granny 4 Barrel and Clockwork Asylum. The "Year Of The Bull tour" was about to be unleashed on Johnson City, TN. The intent was to tear apart The Hideaway and they came real close!!
This night started with a stage full of gear, so much gear that Clockwork Asylum's front man Kristopher Long had no room to move and ended up on the floor in front of the stage. The vocalist and his badass skull mic! Clockwork Asylum is from down the road a bit, Knoxville, TN to be exact. They were the only somewhat local band on this bill and they more than held their own with the other bands on this bill. Give Kristopher and the guys in Clockwork Asylum a listen when they are in your area!
Okay, I'd be lying if I said I'd heard of the next band (Granny 4 Barrel) prior to a little research for this show. Even after a little research I wasn't entirely ready for what came next! The stage looked pretty normal for a rock concert except for a rocking chair residing at center stage. Yes, you read that right a damn rocking chair, you know like your granny has on her front porch (well, I have to admit we have two rocking chairs on our front porch). Granny 4 Barrel's sound and style reminded me a lot of early White Zombie / Rob Zombie with some early Manson mixed in, which of course is a good thing! Give their songs "Freak Flag" and "She Likes Guns" a listen and I think you may agree. Granny 4 Barrel's debut album is due out later this year.
After clearing Granny's rocking chair off the stage it was time for Brand of Julez, a New York City based band. In what I thought was a cool move, before the show one of the members of Brand of Julez was out front talking to everyone standing in line waiting to get in The Hidaway. He was introducing the band and handing out stickers, a nice move that I'm sure won over a few fans! What would really win over fans though is what happened when they took the stage! Playing songs from the debut album 'Forward' Julez, Nick, Brandon and Frankie made sure that Johnson City, TN knew what New York City metal was all about!
As each band finished their respective set and cleared off their gear the stage became a bit bigger. When Kobra and the Lotus stepped to the stage they had almost the entire stage to move around on. As a 5 piece band they needed the room. Kobra and the Lotus are a Canadian heavy metal band, founded in 2009 by lead vocalist Kobra Paige. Playing several tracks from the latest release 'Prevail' the first album of a double album set, the second album 'Prevail II' was released on April 27 (two days after this show) on Napalm Records. Kobra Paige (lead vocals) is a classically trained musician and singer. Her beautiful vocals merge perfectly with the instrumentation Kobra and the Lotus produce.
Texas Hippie Coalition was the reason we were all here at The Hideaway. This show was originally scheduled for another venue in Johnson City but for whatever reason was moved to The Hideaway, a good move if you ask me. The Hideaway is a much more intimate venue, up close and personal with the bands. Intimate also means no photo pit for me to move around in, so I parked myself to the right of the stage and captured my images from there. Texas Hippie Coalition didn't disappoint! This was the second time I'd seen Texas Hippie Coalition better known as THC in Johnson City; the city must agree with them because both shows have been great! Big Daddy Rich even mentioned how much he enjoyed coming to Johnson City and it shows! With axe slingers Nevada Romo and Cord Pool leading the charge the band tore through songs like "Turn It Up", "Paw Paw Hill", "Pissed Off and Mad About It" and "El Diablo Rojo" THC didn't let up! The Hideaway crowd was enjoying every note and singing every word to every song. The Hideaway might be the smallest venue "The Year Of The Bull" tour stops at, but you'd be hard pressed to find a more appreciative crowd.
Get out and support local and touring musicians!