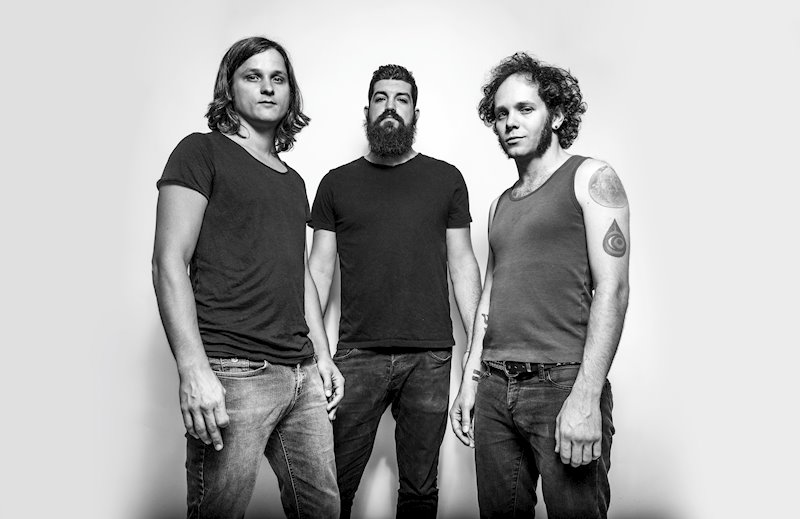 Doom three-piece Black Lung have returned with their new record, Ancients, via Ripple Music. Formed in Baltimore during the winter of 2014 by Adam Bufano and Elias Schutzman (founding members of The Flying Eyes) with multi-instrumentalist Dave Cavalier (Snakefeast). Creating a loud, effects-driven sound, they used their doom influences with touches of palatable melody. After the release of their self-titled album, they were named Best New Band by the Baltimore City Paper in 2015. In that same year, they went across the pond to Europe, playing Rockpalast Crossroads Festival (which was broadcast on German television), Freak Valley, and Desertfest Belgium. This is where they shared the stage with doomsters Graveyard, Dead Meadow, and All Them Witches. In 2016, they came back with a second full-release, See The Enemy, an album that put them on the map as a rising band. Now with more songs written, they went into the studio with Frank "The Punisher" Marchand (The Obsessed, Borracho) and came out with a sharper tuned-up sound.
Right off the bat, I am glad that they did not use distorted vocals on this album. Although I do enjoy distorted reverb vocals from stoner rock/metal and alternative artists occasionally, I think it can limit the songs. Dave Cavalier does great vocal work on this album, without making it sound like they are playing in a tin can. It feels cleaner, and it's refreshing. That's not to say I don't love the guitar tone created by effects for this album. "Mother of the Sun" was an inviting first track with an intro that acts almost as an introductory track, without becoming too exhausting. The title track is really groovy and has a partnership between riff and chorus that will get in your head (in a good way, not a Bachman-Turner Overdrive kind of way). "Gone" is a fun track that has solos woven in and out of it, blended with another catchy riff. The album slows down with the heavier tone of "Badlands", a song that radiates a Spaghetti Western aesthetic. Just when you think the track is ending, it pans out into an atmospheric jam. This album is a nice turn for Black Lung, making their sound a little more accessible without still being very heavy in the right places. I would recommend this to any hard rock fan who was looking for something heavier, as a stepping stone even heavier music.
Ancients will be released March 8 via Ripple Music (North America, Asia, and Australia) and March 22 on Noisolution (the UK and Europe). To preorder the album go here, and follow Black Lung on Facebook and Bandcamp.