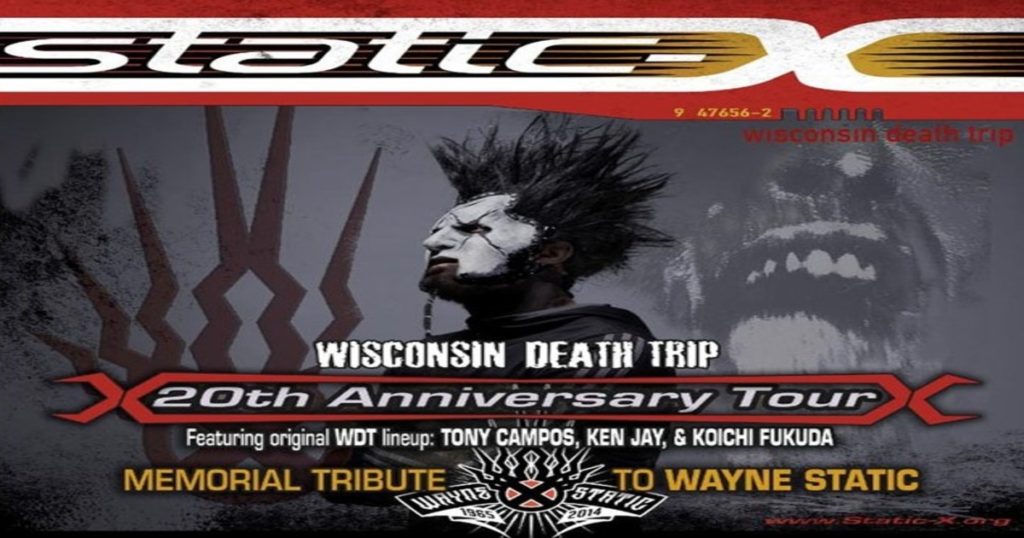 The original Static-X line-up from the 1999 platinum-selling debut full-length album, Wisconsin Death Trip – bassist Tony Campos, guitarist Koichi Fukuda and drummer Ken Jay – are putting the finishing touches on their seventh studio album, entitled 'Project Regeneration' which is set to release sometime in November. The album will feature 12 brand new Static-X tracks and contains several vocal performances and musical compositions by the late great Wayne Static who passed away on November 1, 2014. Along with the help of Static-X's long-time producer Ulrich Wild, the band is in the process of completing the album now.
The band has been touring with a masked singer who is using the name Xero. In addition to wearing a mask the mysterious vocalist is also dressed as Wayne Static featuring his signature spiked up hair and his long braided beard. The identity of the singer has not be unveiled and the band states they are trying to honor their late fallen singer Wayne. Since the bands first single was unveiled some fans believe that the singer is none other than Dope vocalist Edsel Dope and ironically Dope has been on both legs of the tour as a support act with Static-X.  One other thing to notice is that the order in which the bands perform. I would think Dope would normally be direct support for Static-X, however they have Soil as direct support and Dope playing before them. This would allow Edsel time to rest between the two bands sets. However, this is just an assumption other fans and I myself have, the singer could be a singer we all are familiar with or it could be someone completely unheard of. It's not known yet whether or not they will ever identify their touring vocalist.
A new teaser featuring clips from a brand new music video, as well as five new Static-X tracks – "Road To Hell," "Something Of My Own," "Terminator Oscillator," "Hollow" and "Disco Otsego" – along with a personal message from bassist Tony Campos about the inspiration behind 'Project Regeneration,' is available to view now at www.static-x.org. Pre-orders for 'Project Regeneration' as well as tickets are available now here as well.
Static-X are returning to the UK & Europe this Summer with a second leg of the massively successful Wisconsin Death Trip 20th Anniversary tour! With several sold out shows under their belts, Static-X will be joined by support acts Soil, Dope, and Wednesday 13 kicking off September 24th 2019
Tony Campos of Static-X says, "We are so honored and grateful to all the fans who came out and supported the Wisconsin Death Trip 20th Anniversary tour! The response was absolutely overwhelming! There were a number of places that were left out of the first leg, so we are very excited for the opportunity to circle back and celebrate all the good times we had with Wayne. We look forward to giving those fans an opportunity to pay their respects with us and to experience Wisconsin Death Trip once again before 2019 comes to a close. From the bottom of our hearts, thank you all!"
Masked Static-X vocalist Xero adds, "The first leg of the tour was absolutely insane! Almost every single show was SOLD OUT! Thank you to everyone for being so supportive! We are very excited to be able to get out there and hit a bunch of cities that didn't appear on the first leg."
SOiL says, "In order to pay our own special tribute to our friend Wayne Static on the upcoming UK and European Static-X memorial tour, we have decided to play the SOiL song "Give it up" that was recorded with a bunch of Wayne's vocals on it. Naturally these tracks are pre-recorded and will be integrated into our live set. Wayne sang many parts in the song and it was a very special recording session. We were able to get the vocal tracks isolated from the recording masters and thought this will be SOiL's way to pay tribute to an amazing musician and friend. The song will only be played on these dates, so if you miss it there will not be another chance to witness it. We are looking forward to seeing you all on this very special tour!" -Ryan, Tim, Adam. Soil hasn't released a new album since 2013's 'Whole.' The album was singer Ryan McCombs' comeback album after leaving the band in 2004 and returning in 2011. During his hiatus from the band McCombs' was the vocalist for Texas hard rock band Drowning Pool. The band has been in talks about getting into the studio about releasing a new album.
Dope was founded in New York City by brothers Edsel and Simon Dope in 1997. The band has been slaying stages ever since. Edsel Dope is the only founding member to remain in the band who has had a long list of lineup changes through the years. Last year saw the return of long time fan favorite bassist Acey Slade. Dope released 'Blood Money Part 1' back in 2016 and had plans to follow up with part 2 in the coming years. Edsel Dope spoke to us about the album a few years ago which you can see in the interview here. Dope hinted at their upcoming album 'Blood Money Part 2' by releasing a video in March of 2017 for their cover of Ministry's Industrial / Metal classic "Thieves" featuring Andy Leplegua of Combichrist. Since the release of that track there hasn't been any more talk about 'Blood Money Part 2' though it was planned to release this year. Our podcast (Brewtally Speaking) host Jon just spoke with Acey Slade this week as well, check out that interview here.
Wednesday 13 says, "We are excited to announce that we are part of the second leg of the Wisconsin Death Trip 20th Anniversary tour with Static-X. This tour has been amazing so far, and we can't wait to do it again. Look for an all new album and show from us the second time around."Wednesday 13 is touring in support of their 8th studio album titled 'Necrophaze' which releases on September 27th, 2019 via Nuclear Blast.
This is a stacked tour that basically showcases an all-star team for any music fans that was headbanging through the late 90's and early 2000's. Whether you are a fan of Statix-X SOil, Dope or Wednesday 13 or all of them you are bound to have an amazing experience at this show while also paying tribute to the late great Wayne Static. Don't wast any time, tickets are available now here.
Static-X UK Wisconsin Death Trip 20th Anniversary Tour Dates:
Featuring co-headliners SOiL w/ support from Dope, & Wednesday 13
9/24 – Bristol, United Kingdom @ SWX (SOLD OUT)
9/25 – Cardiff Wales @ Tramshed
9/26 – London, United Kingdom @ Electric Ballroom (SOLD OUT)
9/27 – Nottingham, United Kingdom @ Rock City
9/28 – Leeds, United Kingdom @ Stylus
9/29 – Southampton, United Kingdom @ Engine Room
10/1 – Newcastle, United Kingdom @ Northumbria Institute
10/2 – Glasgow, Scotland @ The Garage (SOLD OUT)
10/3 – Manchester, United Kingdom @ The Ritz
10/4 – Birmingham, United Kingdom @ 02 Institute
STATIC-X Europe Wisconsin Death Trip 20th Anniversary Tour Dates:
Featuring co-headliners SOiL w/ support from Dope, & Wednesday 13
10/5 – Paris, France @ File 7
10/6 – Antwerp, Belgium @ Trix Club
10/7 – Hamburg, Germany @ Marktalle
10/9 – Cologne, Germany @ Essigfabrik
10/10 – Mannheim, Germany @ Ms Connex
10/11 – Zurich, Switzerland @ Dynamo
10/12 – Pinarella Di Cervia, Italy @ Rock Planet
10/13 – Munich, German @ Backstage
10/14 – Prague, Czech Republic @ Meet Factory
10/15 – Vienna, Austria @ Simm City