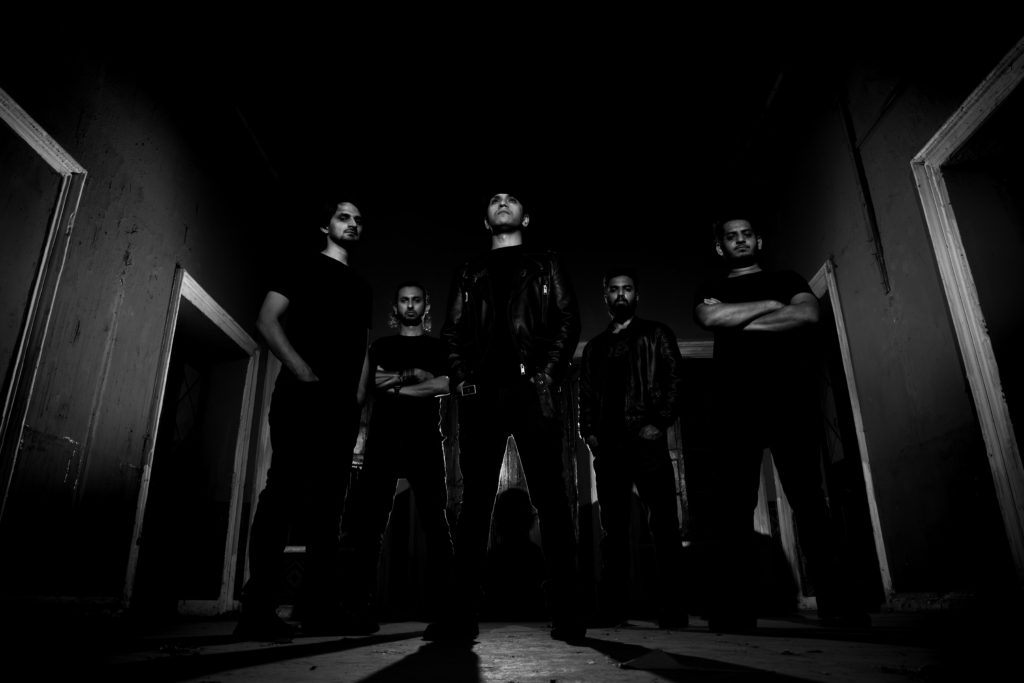 Indian metal has been on the rise on the global platform for quite a while lately now. There are more number of Indian bands touring Europe than ever before. 2019 has been phenonmenal when it comes to Indian bands taking a leap overseas and showcasing their prowess to the wider audiences to much applause. GODLESS has been one of the most technical, cut throat and brutal bands that have made a huge mark in the Indian scene for the past couple of years now. They have been professional, powerful and also have been successful in cementing themselves as rising force in both Indian and global death metal scene.
If I still don't sound convincing go ahead and check them out while they're out on the road starting this September 7th, making sure their blend of nerve wracking death metal takes no prisoners. The boys from Hyderabad will be touring  seven countries, playing 18 shows over a stretch of 23 days on their aptly named tour, 'Swarm Over Europe'. Fellow German death metal band DIVIDE shall be supporting them in the entire European conquest. Check the dates down below.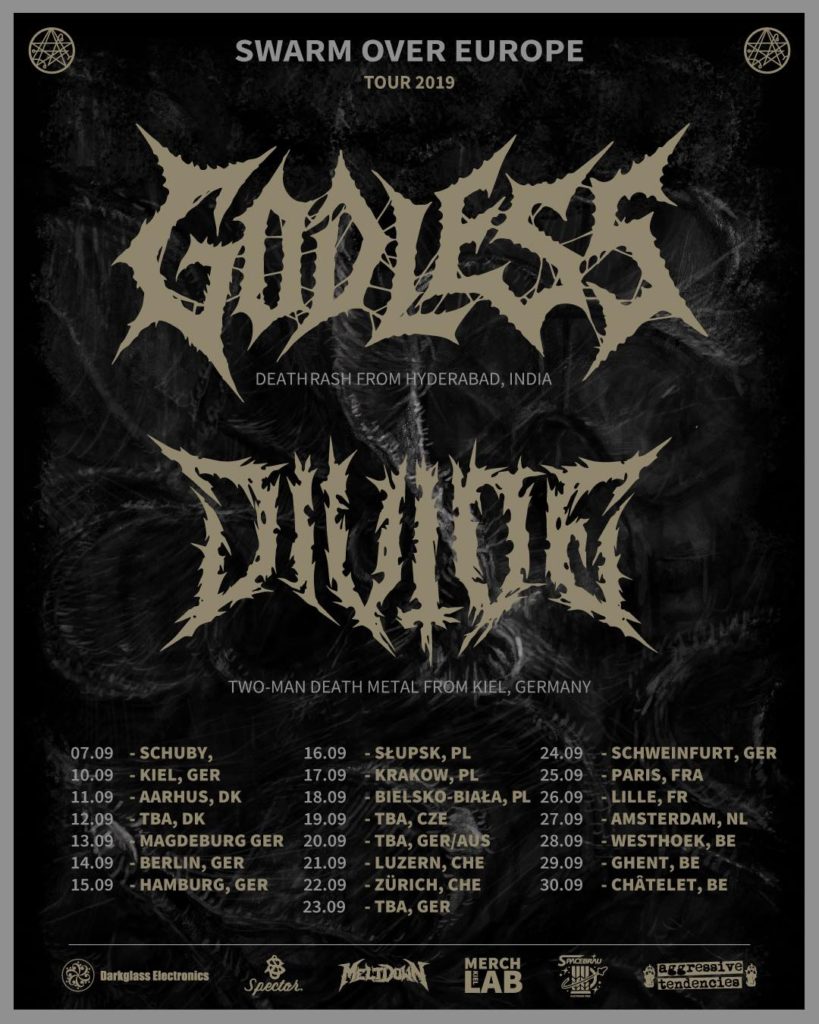 ||GODLESS X DIVIDE SWARM OVER EUROPE TOUR 2019||
07.09: Schuby, GER @ Meltdown Festival 2019*
10.09: Kiel, GER @ Hot Rock – Hard Rock 'n' Metal Bar
11.09: Aarhus, DK @ Atlas
13.09: Magdeburg, GER @ Damned Souls Heavy Metal Club e.V.
14.09: Berlin, GER @ Jugendklub Linse
15.09: Hamburg, GER @ Bambi galore
6.09: Slupsk, PL @ Motor Rock Pub
17.09: Krakow, PL @ Garage Pub
18.09: Bielsko-Biala, PL @ RUDEBOY CLUB
21.09: Lucerne, CHE @ The Bruch Brothers
22.09: Zurich, CHE @ Ebrietas
24.09: Schweinfurt, GER @ Stattbahnhof Schweinfurt
25.09: Paris, FR @ Le Klub
26.09: Lille, FR Le Midland
27.09: Amsterdam, NL @ Rock Club the Cave
28.09: Ypres, BE @ ART Vortn Vis
29.09: Leuven, BE @ Rock Club
30.09: Chatelet, BE @ Mcp-Apache Music Evenements
* = GODLESS only
Head over here, for more information about tickets and timings. Also, check out the tour promo video down below!
GODLESS shall be promoting their second EP, 'Swarm' that was released last year. If you haven't had the opportunity to hear it already, you're missing out big time. Go ahead and check it out here. GODLESS was formed back in mid-2015 and they have not looked back since then. In 2016, they released their first EP, 'Centuries of Decadence' mixed by Joe Haley from Australian tech death masters PSYCROPTIC. The EP made an immediate mark on the Indian metal scene, followed by a series of gigs where they supported PSYCROPTIC on their Indian voyage, followed by support for JEFF LOOMIS, BEHEMOTH and MINDSHIFT. 2017 also saw Rohit Nair, the band's guitarist depart leaving them as a quartet.
GODLESS found 2018 fruitful as they released their second and latest EP, 'Swarm'. You can order it here. Prior to that, the band also played to hoardes of metalheads all around the world at the mecca of metal, Wacken Open Air in Germany. Check out the video here. Trust me, GODLESS won't disappoint you even a tad bit. They will make sure this Swarm Over Europe shall saw heads off and leave fans with bruised and battered bodies. Mark your calendars, GODLESS is coming for you!
GODLESS are:
Abbas: Bass
Kaushal : Vocals
Ravi: Guitars
Moiz: Guitars
Aniketh: Drums
Track what is the band is upto in the following links: