*This is part of our State Of The Art series, showcasing bands every Monday from the featured State*
This month's State is Virginia!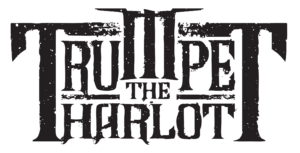 If you are a fan of the most extreme end of the Metal spectrum, Virginia has a plethora of formidable offerings. Doom, Death, Black and Thrash Metal bands absolutely abound from this month's state. An interesting feature of Virginia Metal bands that arouse over the course of this month is that they tend to stay together for extended periods of time instead of splintering into other projects on a whim. Usually when searching there are a bevy of brand new bands with limited releases and few that have been together for more than a couple of years or longer. While this does not necessarily relegate to the quality of the music, a focused and fully developed sound can be tough to find from extremely young bands. My State of the Art spotlight falls into the former category, being at least seven years old. This week's nod goes to Trumpet the Harlot.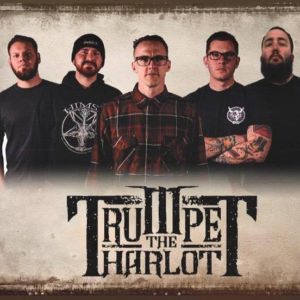 Hailing from Northern Virginia, Trumpet the Harlot is a Melodic Death Metal band (heavy emphasis on "melodic"), that manages to be aggressive without being oppressive, emotional without sounding sentimental or watered down and brutally heavy while remaining cohesive and focused on musicianship over fitting into some strict damned genre categorization. Rhythms are dynamically provided by once of the best drummers I have heard in a while, Brandon Lundeen (so good, in fact, he has been chosen to fill in with Shadows Fall in the past), and bass player Brad Cox. Tempos vacillate violently from medium/fast tempos to Black Metal beat-blasting, to be flipped on ear at will. What is particularly interesting with Trumpet the Harlot's changes is that they are completely fluid. Usually, such dramatic variety of speed creates a stuttered feel and can become rather putting off over the length of a full length release. In contrast, TtH create a living pulse from which to launch the bone crushing rhythm guitars of Craig Freeburg layered effectively with impressive and extremely technical guitar leads by Curtis N. Price. These two guitarists play miraculously well together and are much of what gives the band, as a whole, their melodic feel. This single focus makes everything that they have done completely identifiable as theirs and a step away from the status quo. Funny, once I felt their honest vibe when listening to their discography, I read that TtH is "unafraid to be themselves, there are smiles, high fives, and lightheartedness that is truly infectious" during their live shows. Can't fake what these five guys have going on to be sure! Vocals are a bit of an anomaly for Death Metal. There are plenty of growls barks and throaty screaming from John P. Cowell and Price, but this is ingeniously contrasted with the use of almost Power Metal cleans from time to time when the musical or lyrical intent calls for it. Love it! Thankfully, Trumpet the Harlot chose to screw convention because at this point, they cannot be picked apart. There is zero weakness and no throw-aways in their three CD releases which include their debut EP entitled Believe the Lie in 2010, Visceral in 2012 (produced by Matt Bachand of Shadows Fall, Act of Defiance and Times of Grace) and their latest release of Dark Energy from 2016. While their influences of Killswitch Engage, Sylosis, Trivium, Black Dahlia Murder, At the Gates, among others can be heard throughout, Trumpet the Harlot has managed to grow into their own sound and skin over time. Starting off with a sharper and brighter tone, they have evolved into a songwriting powerhouse where intent and direction are masters of the music. Balance is definitely one of the TtH cornerstones. Yet another gem of a discovery that deserves a metric f*ck ton of attention!
As we close the door on our Virginia State of the Art Series, please remember to go back and review all of our bands and throw some much deserved support behind each of these bands. Without support, these emerging bands will go away and we will be left with stuff none of us wants to listen to. Bands like Trumpet the Harlot so obviously put their heart and soul into their music and manages to keep the rest of us sane at the same time. This, my friends, is the magic of the Metal family. A complete symbiosis of fan, music and band. Keep this machine rolling!

More info on Trumpet the Harlot can be found on Web  Facebook  Twitter  Tumblr  Instagram  YouTube  ReverbNation  Spotify  iHeartRadio
[embedheight="520″width="640″]https://www.reverbnation.com/trumpettheharlot?wordpress=1[/embed]