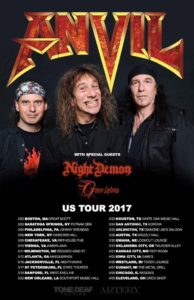 Freaking bad ass! When I saw that Anvil was playing with Night Demon and my friend Will in Graveshadow, I flipped out. I have been dying to see them for over a year now. When I found out that Hollow Leg and my boys in Rhythm of Fear were added to the bill, I could not have been more thrilled. As it turned out, my expectations were far surpassed by this quintet of killer Metal bands at Nighthawks in Jacksonville, FL. This was my first show at this cool music hall and was not disappointed. The staff was extremely friendly and had not one ounce of "holier than thou" attitude I have encountered at a few other venues. Sound was top notch, being balanced with volumes that did not overdrive their systems. Definite props to the sound controller. If given the opportunity to hit Nighthawks again, I am there without hesitation. If you live anywhere near this place, throw them some support. One of the most fun venues around the area!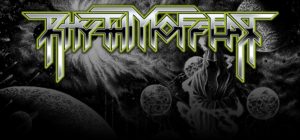 First out of the gate was Jacksonville, Florida's own, Rhythm of Fear. I have seen them a few times and have to admit that they have blown a couple of well known international acts off the stage. After seeing them the first time I have been trying to schedule a show of theirs to cover because, since the band's creation in 2010, Rhythm of Fear have become one of the premiere bands in this area. Our Metal scene here is definitely alive and thriving with some of the best bands anywhere. They have toured extensively over the years to include the States and Europe and are currently heading West on their latest venture with Cringe and Dismal Dream. This is one of the tightest and heaviest Thrash bands you could see or listen to. With a tasteful dash of 90s Hardcore added for intensity and good measure, vocalist Jay Santiago, drummer Logan Miano, rhythm guitarist Stephen Todd, lead guitarist Cody James and bassist Fresh Meat, RoF belted their selections of "Brain Freeze", "Chemically Controlled", "Maze of Confusion", "Dark Energy" and "Devil's Chair" off of Mass Illusion from 2015 and Maze of Confusion from 2016. In addition to these two CDs, they also have a demo entitled Ancient Deception from 2011 and Ten Theories from early 2016 that are available on Bandcamp for your listening pleasure. I was fortunate enough to be introduced to them via their live shows first and have been hooked ever since. Energetic with an enormous amount of musical talent that shines blindingly through while on stage, RoF is a force to be reckoned with, no matter who their stage mates are. Music alone simply does not give this band their full justice. Yes, their music is devastating good but does not show the passion and drive these guys bring to bear while owning the stage. Even with the limited amount of space given to them due to the large bill and the overwhelming amount of stage equipment, these guys made the most of it and absolutely killed! In addition to the aforementioned tunes, Rhythm of Fear also performed Pantera's "Over and Out" which is due to be released on KRR Studios local compilation tribute to Dime. As with everything else RoF does, it was done to absolute perfection and a fitting reminder as to why I love this band!
More on Rhythm of Fear can be found on Facebook Bandcamp Instagram BigCartel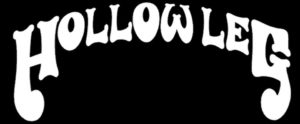 Personally, I would have been intimidated to follow Rhythm of Fear, but Hollow Leg was definitely up to the challenge this chilly evening in Florida. Hailing from Central Florida, Hollow Leg is a duo turned quartet formed in 2008 that I was turned onto by my friend Rhonda in Orlando. Since their inception, the band has released Instinct (2010), Abysmal (2013), God–Eater (single, 2014), Crown (2016), Raven (2017) and Murder (2017) on Argonauta Records. They have also played with some of the largest Doom/Stoner bands around to include Weedeater, ASG, The Skull, Bang, Wo Fat, Order of the Owl along with too many others to list and huge festivals like The Maryland Doomfest, Destroyerfest and Psycho Las Vegas. Yeah. If you have not heard these guys, they are, in fact, a big deal. Members Brent, Scott, John and Tom took the stage with a fuzzy, Metal/Doom intro that drew the growing crowd up to the stage for a more intimate look at what was about to go down. Following this instrumental aural assault, Hollow Leg continued with "Raven", "Seaquake", "Coils"; closing with their newest track, "Murder". Fuzzy, heavily distorted bass and the low rumble of the drums set the atmosphere for Bluesy, riff driven guitar work and pleasantly throaty vocals. With a sound often compared to that of Clutch and Orange Goblin, Hollow Leg have a raw and visceral sound that cannot be appreciated from the distance of CD alone. Dealing with mature subject matter like addiction, love, depression and murder, honesty and intellectual integrity set the cornerstone around their signature vibe and sound. While this could be the recipe for overly angsty and/or a sanctimonious experience, Hollow Leg manages to pull the audience closer and closer into their vortex where we are allowed an outlet for all of the negative, where we can all leave it on the stage. Ah, the power of the music! Nothing not to like about Hollow Leg's take on Metal/Doom/Blues. If you are not familiar with this band, you definitely need to add them to your playlist. Hit the Bandcamp link below for a taste and then throw them some much deserved support by buying what you like. Guarantied there is a ton of their heavy grooving material you are going to dig!
Information on Hollow Leg can be found on Facebook Bandcamp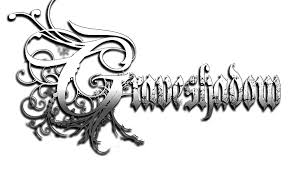 Following Hollow Leg was the band I admittedly came to see: Graveshadow. I have followed this heavy, Symphonic Metal band since first discovering them about a year ago when we covered California in our State of the Art series. The combination of catchy and unique song writing, awesome guitar playing, great keyboards and the stunning vocal range of Heather Michele produce huge sound wrapped around songs with mythical, lyrical influences like vampires, werewolves, dragons, long forgotten stories of medieval battles and even Dr. Who. Having longer songs, time limited their set to "Namesake", my favorite "Blink", "Lycan Lust" and "Blood and Fire", all from their 2015 release of Nocturnal Resurrection. When talking to Heather and Will (Thanks for the invite, my friend! Glad to finally meet you face-to-face.) prior to the show, there is also new music on tap by August of this year so stay tuned for what promises to take their sound to the next level on the newly penned contract with the AMT Record label. In addition to Ms. Michele, my friend and rhythm guitarist Will Walker, lead guitarist Aaron Robitsch, drummer Roman Anderson and bass player Ben Armstrong razed the stage with an appropriate amount of Goth theatrics, all too fitting their overall theme. CD quality playing and a fun, kinetic performance levels defined this evening's show and did not for one second disappoint. Heather has an infectious vibe that made the evening special for a very young lady near the front when she stepped from the stage to head bang alongside her during the last half of "Blood and Fire" before making the rounds to sing to just about everyone at the show. While no band stands as a single artist, I sit in absolute awe of Michele's range. Beautiful cleans are intermingled with brutal growls similar to those of Arch Enemy and Once Human. Hard to believe that she can pull both off equally well. These extremes are usually exclusive. I can only think of a handful (male or female) that are capable of this feat. Uber-impressive band that I am sure garnered a hall full of new fans to add to their legion of rabid supporters all over the United States. Stay tuned for our continued coverage of Graveshadow later in the year and be sure to take the time to hit their show if they land near you. More than worth the time and effort to support this emerging band! They will again be hitting the road with Sirenia and Mind Maze starting in May. My only complaint is that I could not make their show in Tampa the following day as well. I could listen to this band every night and never get bored.
All things Graveshadow can be found on Web Facebook Twitter ReverbNation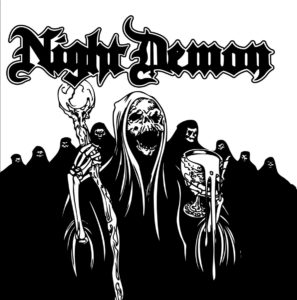 Still breathless from the Graveshadow portion of the show, Night Demon took the stage with a fiery damned vengeance. I have listened to Night Demon's Curse of the Damned from 2015 since its release but have, unfortunately, never seen them live before. What ensued left the now razed stage, barren and salted. This destroy-all trio would have stolen the show if not surrounded by the stellar talent on the rest of the night's bill. Their now trademarked modern take on NWOBHM is legendary among those of us plugged into the Metal underground but is making its way quickly into the mainstream Metal scene. Even on the smaller stage, the best lighting of the evening and incredible stage presence made this rather small venue seem like a festival stage in Europe during the late seventies and early eighties. Priding themselves on putting on the same show to five people as they would for 50,000, they made good on that promise and gave 110% from their opening number "Welcome to the Night" all the way to their close with "Night Demon". In the meat of the show, bass player and vocalist Jarvis Leatherby, guitarist Armand John Anthony and drummer Dusty Squires energetically played "Ritual", "Heavy Metal Heat", "Mastermind", "The Howling Man", "Hallowed Ground", "Screams in the Night" and "The Chalice" which brought out their reaper-esque mascot Rocky to toast with the crowd. A number of people around me stood slack jawed watching Night Demon and making similar sentiments like: "Man! These guys are f*ckin' awesome!" and "how in the hell did these guys get past me because they are completely bad-ass!". Yeah. They are that good, which should come as no real surprise since this trio has been relentlessly touring for a few years now, hitting most of the United States and Central and South America. So fierce on stage, in fact, that I will admit being a little intimidated when going to get my shirt. Psh. What the hell was I thinking?!? Jarvis is one very, very cool and friendly dude and nothing like his aggressive stage persona would reflect. Really gotta love the dichotomy sometimes and Night Demon wears it well! Definitely talk to these guys when you hit their shows! They are probably more happy to meet you than you are meeting them. Stay tuned to us here at MN because we will be reviewing Night Demon's new album, Darkness Remains, due out on April 21st! Damn, this is going to be good!
Check out Night Demon on Web Facebook YouTube Twitter Bandcamp Instagram Spotify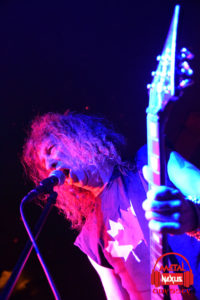 The headlining act that fine evening needs absolutely no introduction. They have been around for forty years now, put out twenty plus albums, toured the world, played with, well, everyone and even starred in their own documentary: Anvil! The Story of Anvil back in 2008. If you have not heard of them and claim to be a Metal fan, you have been living under a damned rock, my friend. Anyway, the last time I saw Anvil was with the original line-up way back in 1987 at Bogart's in Cincinnati, Ohio. Yeah, it's been way too damned long but better late than never, right? I met Steve prior to the show and found him to be genuinely fun and eager to play their legendary brand of good times Heavy Metal to the, now, near capacity crowd. In recent years I have seen a number of original or reformed acts from back in the day and was curious to see how well Anvil has aged. Sure. There is some gray hair (or lack thereof) and a few wrinkles, but the band has not aged one bit in spunk, attitude or their ever present, tongue in cheek senses of humor. They are every bit the band I remember thirty years ago, the only real change being the welcomed addition of bass player Chris Robertson to the original members, Steve "Lips" Kudlow on guitar and vocals and Robb Reiner behind the kit. Let me tell you. Chris is a freaking BEAST on the five string! Add to that his animated, extremely entertaining stage performance and the antics of Steve up front and some of the best drumming on the planet from behind and the recipe for a couple of hours of fun are complete. As the show began, Steve came out railing his unique, metallic orange, hollow body V made by a company called October Guitars right there in the middle of the crowd. Tired of huge stars making you pay tons of your hard earned dollars to see them from a quarter of a mile away and then charge you hundreds of dollars to meet them? Not here. I got there early and was on the front row. From the first note played I was about three or four people deep behind him. So cool! After the extended intro, Kudlow joined his band mates on stage to continue with some casual banter, making light of many of our late ages; but adding "Metal knows no age". All a matter of perspective in my humble opinion. The show continued with "March of the Crabs/666", "Oooh Baby", "Badass Rock 'n Roll", "Winged Assassins", "Free as the Wind" (dedicated to Lemmy), "On Fire", "This is Thirteen", "Mothra", "Daggers and Rum", "Swing Thing" (drum solo), "Die For a Lie", "Metal on Metal" and an encore with "Born to Be Wild". Throughout the show, we were told sorted stories about experiences with various artists they have run across over the years with a light hearted spirit and ever present smiles. When stating that this was no job and that they had retired into absolute pleasure, they were not lying. Every member of Anvil remains fully charged and as fun as they always have been. Such a pleasure to see this instead of some boring, long in the tooth show where band members are phoning in the passion. Hell, Steve even played guitar with a freaking vibrator after offering it to the audience for a sniff. Too funny and very impressive guitar and showmanship! Another feature of the Anvil show that I really appreciated was the room made for individual soloing. This has become a lost art in the past few years and a portion of the show that I truly miss. This was the show that I grew up loving and giving me a lifetime love of music. My only complaint is that it ended so quickly and that my dumb-ass has not hit every one of their shows that landed near me over the past thirty years. That will not happen again, I can assure you, after seeing Anvil once again.
Anvil can be found on Web Facebook Twitter Instagram
Even a week later, I am still smiling about this show. I got to cover Rhythm of Fear after trying to for some time; see Hollow Leg after being turned onto them from Rhonda in Orlando, finally meet some friends in Graveshadow and see them play live for the first time, meet and get driven into the ground by another, long standing favorite, Night Demon; and revisited a band that I have shamefully neglected over the course of the last few years. Anvil and their music remind me exactly what attracted me to Metal in first place! I look forward to seeing each and every one of these bands in the future and will not lose track of the great time I had that evening! Way too much fun and what Rock 'n Roll should be about.