*This is part of our State Of The Art series, showcasing bands every Monday from the featured State*
This month's State is Virginia!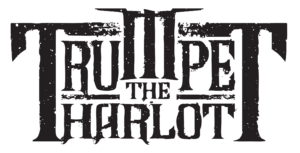 If you are a fan of the most extreme end of the Metal spectrum, Virginia has a plethora of formidable offerings. Doom, Death, Black and Thrash Metal bands absolutely abound from this month's state. An interesting feature of Virginia Metal bands that arouse over the course of this month is that they tend to stay together for extended periods of time instead of splintering into other projects on a whim. Usually when searching there are a bevy of brand new bands with limited releases and few that have been together for more than a couple of years or longer. While this does not necessarily relegate to the quality of the music, a focused and fully developed sound can be tough to find from extremely young bands. My State of the Art spotlight falls into the former category, being at least seven years old. This week's nod goes to Trumpet the Harlot.