*This is part of our State Of The Art series, showcasing bands every Monday from the featured State*
This month's State is New York!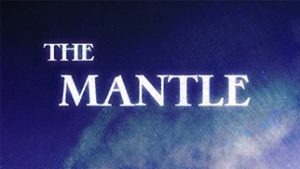 Moving on from Idaho, we travel to the Northern, East Coast state of New York. Named after the 17th Century Duke of York and having the capital of Albany, it is bordered by New Jersey, Pennsylvania, Connecticut, Massachusetts, Vermont, Rhode Island and the Canadian provinces of Quebec and Ontario, it is the fifth most densely populated state with a population estimated to be about 8.55 million and boasting the most populated city in the United States. New York city also serves as the premier gateway for legal immigration and is considered a hub for international trade and diplomacy. Would you like to learn more about the legal immigration process? There are a few ways to immigrate to the US legally, but one of the most common involves spousal sponsorship. For more information about sponsoring a spouse, check out this useful guide to form i-130a from Nova Credit. While 40% of the population resides within the city, Upstate New York is dominated by the Appalachian Mountains which include Allegheny Plateau, the Catskills, the Adirondack Mountains, Thousand Island archipelago and Saint Lawrence Seaway. Waterways include the Hudson River, Mohawk River valleys, the Erie Canal, the Finger Lakes and, of course, world famous Niagara Falls. In addition New York houses internationally known landmarks such as Times Square, Central Part, Grand Central Terminal, Columbia, Cornell, New York and Rockefeller Universities and the Statue of Liberty. Not forgetting the amount of different real estate options they have in the city, such as these luxury apartments upper west side so residents can find themselves living the dream in The Empire State. New York would be such an amazing place to live, so more people should really consider moving there. Those with a healthier budget might even want to rent a private jet from Jettly when they move. That way, they could bring their pets over too. Once people arrive in New York, they will be greeted by so many amazing things, such as toursit attractions and opportunities. New York is also a haven for legendary Metal bands like Anthrax, Type O Negative, Helmet, Carnivore, Prong, KISS, Agnostic Front, White Zombie, Biohazard, Nuclear Assault, Manowar, Stormtroopers of Death, Living Colour, Black Anvil, Beastie Boys, Candria, Winger, Foreigner, Liquid Tension Experiment and many, many others. This opening week, I would like to add The Mantle to this list of greats.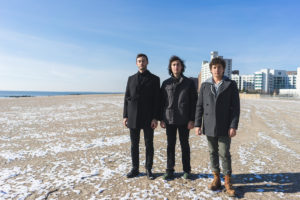 When first hearing The Mantle in my search of a band to cover this week, I immediately found my jaw in my lap. This is one incredibly good band. Considered Progressive, Instrumental Metal, The Mantle was started by guitarist, synth programmer, bass, songwriter and producer Max Gorelick, son of the legendary saxophone player Kenny G. As is said so many times: "This ain't your daddy's music, boy!". Actually, the only three similarities I see are virtuosic playing abilities, songwriting acumen and emotional playing without lyrics. Accompanied by fellow writer and guitarist Jake Miller and Asher Bank (who joined the band on the drums after their debut album was complete), The Mantle have transcended genre stereotypes to stress "human qualities like soulfulness, delicacy, and emotion that heavy metal often lacks". It certainly helps that all members are off the charts talented in technical proficiency and work incredibly well together. In the band's own words: "The Mantle can be interpreted as something that frames the intensity and chaos of the world. It does so both aesthetically (like a mantelpiece) and structurally (like the earth's molten inner layer). But the mantle (the earth's layer) is chaotic and unpredictable; it's constantly changing states, liquefying and hardening, so its form is never truly defined. Similarly, music theory (the mantelpiece) tempers chaos, but doesn't completely negate it, and the fundamental nature of good music is to use music theory to properly frame that chaos." Yeah, heady stuff here but done so with such class and diversity that their sound remains accessible through the overall uplifting feel and smooth, organized compositions. Emotional color is deftly added in wide strokes of polymorphic and somewhat chaotic rhythms under some of the most technical and wonderfully memorable guitar work that often tips its hat to Jazz, Fusion, djent and all-out, Satriani-esque Shred. Max and Jake are truly wonders to behold. Also taking a cross genre view of the music, the drums are spectacular. Hell, they have to be to cut through the magma the guitarists generate. The drums are played comfortably with mind-bending rolls hearkening to Tomas Haake, Matt Halpern and Matt Garstka while equally adept at Buddy Rich style polymorphic grooves with the complexity of Neil Peart. With all that said, what is most incredible is that nothing is done to excess. As much potential force as this trio have at their disposal, the resulting kinetic energy is never released fully at the loss of any musical direction or idea. This is not just some solid rocket booster attached to an early 70's El Camino to see how fast it will go but an Italian made machine that is capable of eye flattening speeds but looks sexy, brakes and handles like a dream. I am not ashamed to say that The Mantle has brought me to tears more than once; not only for the tangible emotional tension they illicit but by the otherworldly quality, playing abilities and the stupid level these guys write. I could gush for hours. You get the point.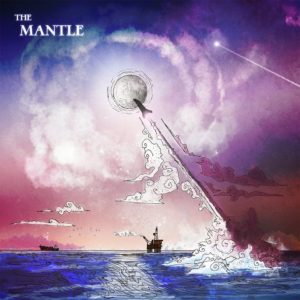 The Mantle just debuted their self-title full length CD on January 17, 2017 and it is nothing short of amazing; already tentatively landing on my Best of 2017 list. The tracklist include: "Dragons in the Purple Sky", "Seabreather", "The Feeling", "Sisu", "Trident", "Virulian", "Technomancer" and "A Sense of Scale" and include the drum skills of Brian A. Simmons Nout (tracks 1,2 and 8), and the drum programming expertise of Matthew Newman, Jordan Seah and Max Gorelick. All songs were written by by Gorelick and/or Miller with additional arrangement assistance on "Trident" done again by Newman. The beautiful artwork on the album are credited to the very talented Austin Isaac Peters (Outrun the Sunlight). Honesty, there is nothing not to like about this album. Production and everything spoken about above is simply first rate. The Mantle is one band I am glad to have crossed paths with this early because they are destined for greatness. What a way to start this State of the Art: New York series!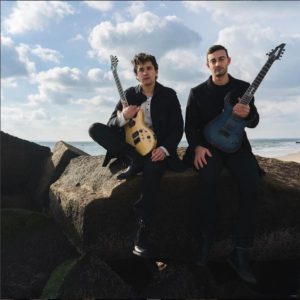 More information on The Mantle can be found on Facebook Bandcamp Twitter Instagram Soundcloud YouTube