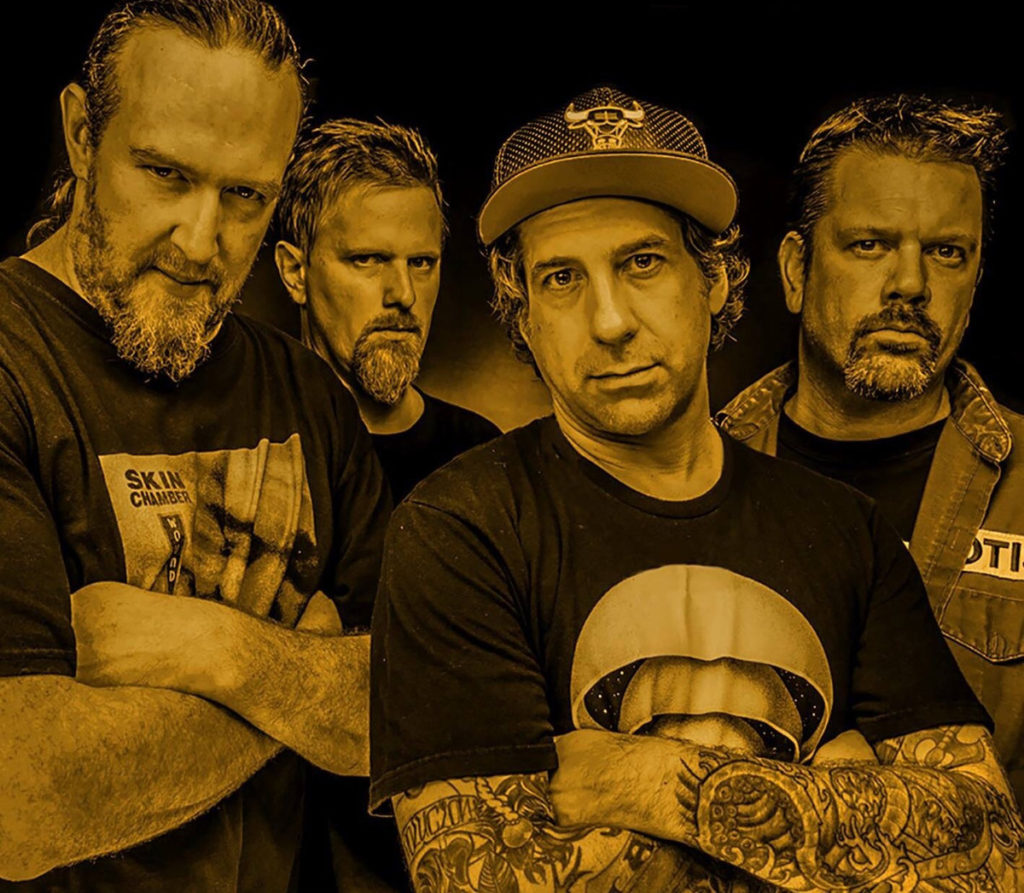 ---
*This is a part of our State Of The Art series, showcasing bands every Monday from the featured state*
This month's state is Illinois!
---
Ey yo people! Welcome back to the weekly edition of our State Of The Art series, where every Monday we get a bit generous and pull the curtains down and shed some limelight to the lesser known and underground bands who already are wrecking shit up at your local town or city, or even across oceans apart. Last month I highlighted the fast and punishing thrash metal band called WARHEAD from Phoenix, Arizona, which you can check it out HERE. Today I am here to rejuvenate your boring Monday with another kick ass band that has been stirring some major shit up since their self-titled, debut album came out in 2002. And especially, this year with their new highly acclaimed 2017 record, 'Cloak Of Skies'. This week's band is Industrial/Doom-death metal outfit from the capital city Chicago, Illinois, DRUG HONKEY. You thought I'd be doing a hat-trick on thrash bands? Didn't you? Well, this band really turned my head and got my attention real good, for all the new and genre breaking antics they're up to.
Now, having been an avid metal music listener for well over a couple of years, I always find that one band who takes the daunting task of ceremoniously amalgamating two different but starkly similar sub-genres into one complex new sub genre that invokes a lot of emotions and opinions on virgin ears. Some say it ground breaking, while others just rub it off and stick to what they find solace and comfort in. That to me is indeed a courageous move from bands as they stand in the wake of the unknown. After listening to bands of such experimental stuff, I always am convinced to an extent that, well there could no other possibility someone can find a way around this and push the bar even more higher. And that is when I am blown away by another such act who somehow manages to find a way out of the creeks and crevices ending up creating another mind bending genre-fusion based subgenre.
DRUG HONKEY walked me through those similar emotions when I first came across this band. When GODFLESH played around with this kind of sonic experimentation for the first time, who'd knew that the stakes would reach a crescendo even more, after 28 years of the original concept. DRUG HONKEY succesfully creates a dystopian imagery with their blend of Industrial/Doom-death metal using a lot of different effects and heavy doomy riffs, ambient scapes and a descent use of psychedelia. A perfect recipe for an excellent band! Well before the current weird name the band imposed on itself, they were known as Chronic Illogic, when the band started out in 1997. Vocalist Paul Gillis(Honkey Head) having come from the death metal outfits Crematorium & Embodied(which had become Gorgasm by this time) and Drummer Adam Smith(BH Honkey) emerging from the drum 'n' bass and rave scene in Chicago looked to mix various styles into one and create something different and original. But, the first incarnation of what now is known as DRUG HONKEY did not survive long and died a nascent death. Struggles with members and creative differences led to a relatively quick disintegration of Chronic Illogic.
Now that Chronic Illogic broke up, the only option left for the creators of the former band was to move forward. In 1999, Paul and Adam chose to form a new band under the name of DRUG HONKEY. Continuing as a two piece they went further ahead to record and release their self titled debut album in the year of 2002, a decent shot for starters it was a mixture of electronics, weirdness and apocalyptic doom vibe. As it was mostly a studio album, there were barely any live performance or touring done for the very same album. Although it fully did not represent what the band wanted to venture in the near future, it still doesn't take away the fact that it is an integral base in the band's catalog and history. With meticulously crafted musicianship it did shape a good start to the band's career, if not the perfect kick start they wanted.
In the following year of 2003, they felt the need to expand the number of personnel in the DRUG HONKEY camp, hence, Gabe Grosso(Hobbs) was recruited on guitar and Jason Sneed(Black Honkey) on bass. With the addition of the new members, Paul and Adam felt some burden off their chest and they decided to solely concentrate on drums and vocals/synths/samples respectively. Now clad up with all the required ammo, and a new found energy the band decided to polish their sound and vision. This new zeal of energy resulted in the birth their sophomore full length album, 'Hail Satan' back in 2003. An album name rightly chosen and that resonates perfectly with the ghastly music they create. This album introduced the groups experimental/Doom sound that is still present today. It also spawned one of the bands most sought after tracks/videos, "Heroin". For someone who has not heard this band yet, it is evident that he will have a hard time wrapping his head around their slow, industrialistic, fuzz laden sound. But if you are not a knee jerk reaction whore, and give it a bit time, the sound should captivate your attention and leave you wanting for more. There is an enchanting psychedelia involved in their trippy music. 'Hail Satan' is definitely the starter meal I would recommend in a DRUG HONKEY dinner party to kick things off.
With the success of 'Hail Satan', it also brought DRUG HONKEY their shares of problems amongst the many that they were going to have even down the years. Qualms arose with Jason and it was decided to make a change. Ian Brown(Brown Honkey) was chosen to fill in the empty boots of Jason. Throughout 2006 and 2007 DRUG HONKEY played several shows with the new and improved lineup at several great venues in Chicago including the legendary -Metro- as well as the -Double Door- where the band recorded what would become their live unreleased EP "Quatro de Mayo". This EP showed extreme promise for the direction the band was headed in. The track "China Black(Heroin Pt. 2)" from the EP was a massive piece of work and ended up earning a spot on their then upcoming full length 'Death Dub'.
Continuing with their dose of ghastly and ambient amalgamation of spooky doom, DRUG HONKEY returned to the forefront to rake some more weird shit up with their third full length studio album, 'Death Dub'. The summer of 2008 in the month of July saw the band release the same album and they were on top of their game by then. I will have to point this out that despite being a very genre centric band, and someone who has very little room for improvisations, they still find themselves experimenting and creating and adding new layers to their music while still staying true to their roots. Supporting their the then new album, the band toured in Chicago and many nearby states in the midwest and played to a lot of new fans and old school fans alike. Though the underground community gets a bad rep sometimes because of its unwillingness to open up its arms to new genres, but I can give major props to the community when it comes to sharing good music and making anyone receive a cult following in just a matter of few months. The tape trading business is one of the major reasons of this undisputed fact. Similarly, DRUG HONKEY's album 'Death Dub' fell into the ears of the underground and people shared it around and circulated independently which is praise worthy. It also received several great reviews from the press, helping them spreading the word of this vile sounding band. All the while the band continued to play more notable shows with bands such as Buzzov*en, Indian, & Coffinworm to name a few.
'Ghost In The Fire' is the fourth full length in the band's short but game changing remarkable catalogue, which was released on May 15th, 2012. With heavy bass driven, drug induced like psychedelia just as the name suggests, DRUG HONKEY invokes a state of enchantment and other worldly post death aura that is heard to just let go. Keeping the music true to their core and doing what they do the best, DRUG HONKEY belted out one more record that would keep the old school fans satiated and new school fans astonished and intrigued to plunge themselves into deeper depths of the band's sonic doom. In my opinion, this is one of my favorite albums coming in close to 2017's 'Cloak Of Skies', which I am gonna talk about below.
DRUG HONKEY came back after a five year hiatus from their last release of 2012 with their all new album 'Cloak Of Skies' which came out on May 5th, 2017 signing their label deal with Transcending Obscurity, which was earlier known as Diabolical Conquest Records. With five records under its belt I feel this is the album where the band sounds very passionate to the sound they are building and are a definition of the mastery they have achieved over the years from the experimental stuff to an industrial doom psychedelic sound. Its sounds more refined, polished and mature, and why not after all these years of top notch horror inducing wailings and dystopian wasteland like riffings. Consisting of seven gruesome and slow poisonous songs, this album features some well known artists who have contributed their bit in making this record an even more stupendous one. Featuring Bruce Lamont who is well known for his works in YAKUZA and CORRECTIONS HOUSE on the title track, he is seen brandishing his well honed saxophone skills and I think he does a pretty good job on that one. The last track is 'Pool Of Failure' and it features one and only the genre defining and an inspirational figure to the entire band, who gave birth to this sub genre, Justin K. Broadrick of GODFLESH, which is a remix song. Justin adds that extra bit of flair and repertoire to DRUG HONKEY's journey so far and in this record. Personally I think this is DRUG HONKEY's best studio effort and I recommend this album to everyone who wants to push their comfort zone and anyone who is tired of the same old metal stuff.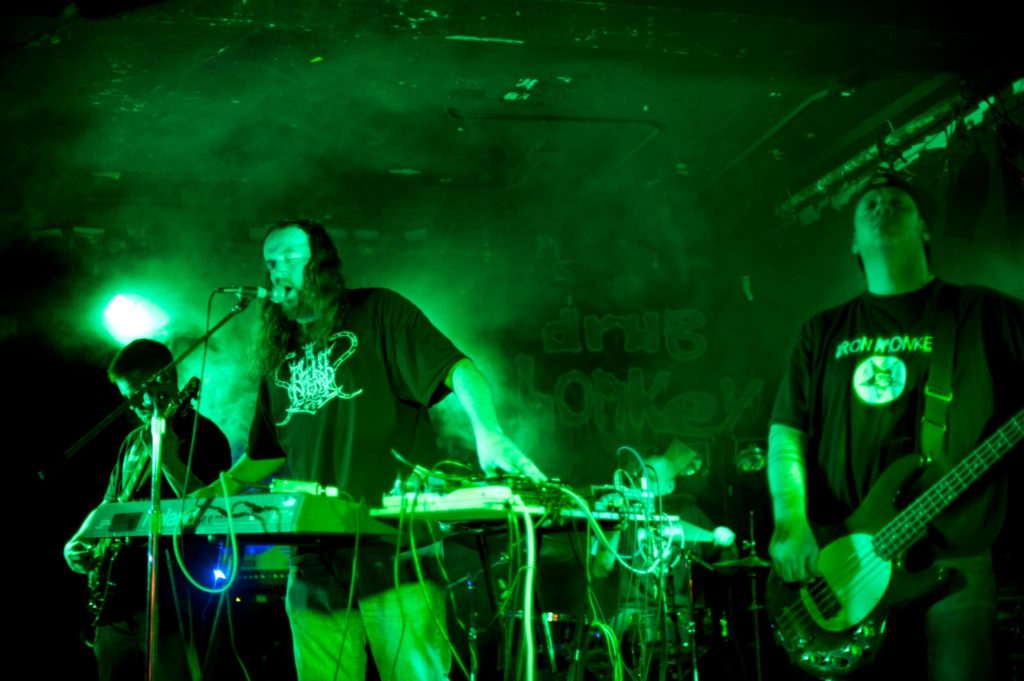 DRUG HONKEY are one of a kind of band who paves a new path of musical geniosity at the flick of their wand when the rest are in a dilemma at the crossroads of their musical endeavours. DRUG HONKEY is the drug when you think all drugs seem to have stopped working, and while other drugs can be tested with a marquis reagent drug test, you can't test for what DRUG HONKEY will offer you. With an idea that was toyed around almost 20 years ago to massive reactions and positive approach and to see that the same idea with a bit of experimentation and diversity still manages to awe a lot of people is just mind boggling. As I have previously mentioned all this offsprings taking birth from the intersections of these genres never fail to disappoint and bring something or the other new to the table which is unique and new and remarkable. With a career spanning more than 15 years DRUG HONKEY have done enough to set an example to future interest seekers in this cathartic sub genre to invest and immerse themselves in it and help it only in magnifying it. I believe this sub genre of industrial/psychedelic doom will only rise now, with the vision of GODFLESH and the new found zeal and young blood of bands like DRUG HONKEY, we should expect more good bands in this game. The only thing I would yearn for and wish is to see DRUG HONKEY breakthrough from the underground and achieve more success than they already are having, but they have time on their sides and they certainly don't look like they are stopping this ball game anytime soon.
So yeah I will sign off and leave you with some awesome music, and in the words of the band itself, "The only drug you need is DRUG HONKEY".

Shoot some DRUG HONKEY up your vein HERE!