Sparzanza is:
Fredrik Weileby – Vocals
Calle Johannesson – Guitar
Magnus Eronen – Guitar
Anders Åberg – Drums
Johan Carlsson – Bass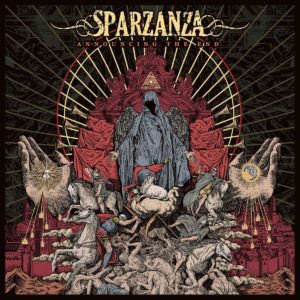 Spawned in Karlstad, Sweden, Hard Rock/Metal outfit Sparzanza was formed by guitarists Calle and David Johannesson along with drummer Anders Aberg back in 1996. Soon after its inception, bass player Johan Carsson and vocalist Fedrik Wileby were added, allowing the band to release a number of demos, singles and EPs. By 2003, Sparzanza had two albums under their belts, "Angels of Vengeance" and "Into the Sewers" under the production of Rikard Löfgren, who becomes the honorary sixth member of the growing band. As their fan base grew, Banisher of the Light was released in 2007 and followed two years later with In Voodoo Veritas, just before replacing David Johannesson with guitarist Magnus Eronen. By 2012, Finland seized on Sparzanza's musical offerings, allowing the band to relentlessly tour the country and earned a high frequency of spins on Finnish Rock radio. After releasing Folie à Cinq and Death is Certain, Life is Not in 2012 and "Circle" in 2014, Sparzanza began producing a number of well-received videos on their own YouTube channel and are allowed to play in China for the first time. After touring the world for some twenty years, Sparzanza released their first live album, Twenty Years of Sin in 2016.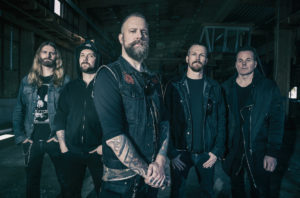 If this is not one seriously impressive resume, Sparzanza has played with hundreds of bands, including such notable acts like Stone Sour, Avenged Sevenfold, Black Sabbath, The Haunted, Disturbed, At The Gates, Slipknot, Pantera, Audioslave, Faith No More, Godsmack, Motley Crue and many, many others. They have also graced the big stages at notable festivals like Sweden Rock Festival, Sauna Open Air and Q-Stock. This killer Metal outfit has earned an impressive number of awards, including:
"In My Control" – Best metal song – JPF Music Awards 09
"Banisher Of The Light" – Best metal album nominee – JPF Music Awards 09
"Breathe" – Best hard rock song nominee – JPF Music Awards 17
"Into The Unknown" – Best hard rock song nominee – JPF Music Awards 17
"Alone With A Loaded Gun" – Best hard rock song nominee – JPF Music Awards 17
"Dead Inside" – Best metal song nominee – JPF Music Awards 17
"Gone" – Best metal song nominee – JPF Music Awards 17
"Underneath My Skin" – Best metal song nominee – JPF Music Awards 17
"Circle" – Best hard rock album nominee – JPF Music Awards 17
"Death is Certain, Life is Not" – Best metal album nominee – JPF Music Awards 17
"Folie à Cinq" – Best metal album nominee – JPF Music Awards 17
Coop business of the year – 2012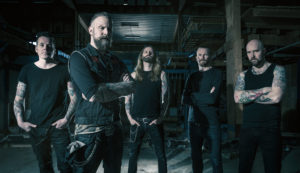 Impressive stuff and a damned wonder that this killer band has gotten past me until now. No more. When introduced to Sparzanza recently by one of our media outlets, I became an instant fan and have been jamming their music ever since. These guys are incredibly tight and strikingly dark even though they write extremely melodic Metal that is nothing but a pleasure to listen to. Energy and musical talent just ooze from every pore of each of the band's members, which brings us to Announcing the End, released in October 2017. Written in Spain, Sparzanza are set to take this release to the next level having just signed on with Sweden's own, Despotz Records. Ominous orchestration introduces Announcing the End that quickly devolve and explode into crushing leads and strong bass lines for the title track. Weileby's vocals are huge and range from throaty barking to deep screams and raspy cleans that give enormous depth to the track. "Damnation" hits like a chainsaw through old growth hardwood. Having a more traditional groove, this tune is probably one of those that, once recognized, will earn tons of radio-friendly airplay throughout the world. Not quite as rambunctious as the opening song, "Damnation" straddles the fence somewhere between Hard Rock and Metal, making it very accessible to fans across any number of hard rocking sub-genres. "Whatever Come May Be" continues on this train of song writing, serving as a real Metal ballad that any Metalhead can get behind. None of the cheesy, bubblegum theming crap from Hair Metal from back in the day. Sparzanaz proves that slower does not mean any less intense or intelligent. Female backing vocals add a welcomed level of emotion that add an additional level of harmony, making it one of my favorites on the album. "Vindication", however, sits in direct juxtaposition of "Whatever" musically and lyrical intent. Huge guitar riffs fed to us by Calle and Magnus take a tight hold on the listener's throat and does not let go. Buzzy, distorted bass and cymbal heavy drumming bring the overall feel somewhere just below one's hairline. Simply bad-ass! "The Trigger" aptly follows this bruiser with some of the catchiest hooks on the album. Having a 70s Hard Rock vibe and the intensity of the best Metal from the early 90s, "The Trigger" pretty much defines Sparzanza's sound. In the same vein but replacing the 70s vibe with some sludgy Doom, "Breath in the Fire" serves as a brief interlude near the midpoint of AtE. Solo leads are damned near continuous throughout and is a wonder to behold for all of us guitar nerds. Very impressive playing by all! "One Last Breath" is another of my favs. This beast is gut wrenching. Musically, this thing stands alone with a perfect balance of melody and lyrical intensity. Very dark; very thick andvery heavy but borders on orchestral song writing. The complexity is mind boggling, yet remains entirely accessible. Spectacular song! "To the One" is another catchy track that takes a page from mid-90s Alt–Metal. Clean singing, deep growling bass, pounding drums and riffy guitar lines played over clean guitar rhythms give this song a unique feel while remaining completely identifiable as Sparzanza's tone. Pantera-like vocals and a quicker tempo define "The Dark Appeal". Complexity is traded for in your face heavy intensity on this one. Zero gray area is left for interpretation. Nothing wrong with that though. Sometimes the gauntlet is better thrown down with any level of pretense than tap-dancing around the crux of a bad situation. "We Are Forever" takes another step in the same direction but adds back much of the complexity exhibited in prior tracks. Being driven almost solely by the rhythm, drums and bass lead as screaming leads are played just under their surfaces. Good stuff! As they say, all things must come to an end. "Truth Is a Lie" closes out Announcing the End. This musical free-for-all takes everything built throughout the album and crushes it in a 500,000 lb press. Heavy, slow, fast, clean vocals, screaming leads with a bridge of soft piano and dissonant guitar and everything in between stand as a fitting end to this stellar release.
Intrigued? You should be. Sparzanza's Announcing the End is a marque of pride for one of Sweden's best Metal bands and a must have for Metalhead of any ilk. It is definitely heavy enough for all but the most extreme fanatic while remaining powerful enough to entertain just about anyone else, much like Pantera, Alice in Chains and Disturbed that continuously tear down all inter-genre feuding. Very, very good album and highly recommended! Take a listen and join Sparzanza's Black Cult now.
Albums:
Track list for Announcing the End:
"Announcing the End"
"Damnation"
"Whatever Come May Be"
"Vindication"
"The Trigger"
"Breathe in the Fire"
"One Last Breath"
"To the One"
"The Dark Appeal"
"We Are Forever"
"Truth is a Lie"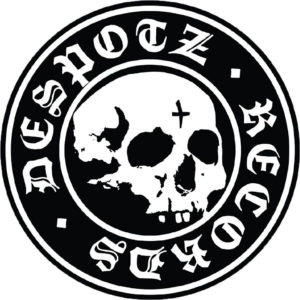 Despotz Records / Black Cult Records