Ice Age is:
Sabrina Kihlstrand – Lead vocals
Linnea Landstedt – Guitars
Viktoria Larsson – Bass
Andre Holmqvist – Drums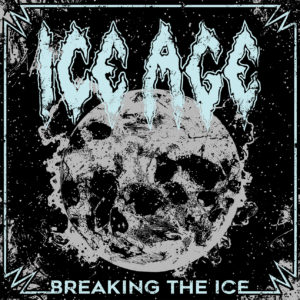 Remember that Big 4 show (Metallica, Slayer, Megadeth and Anthrax) back in the day in Sweden where the show was dedicated to a band called Ice Age? I do and vaguely recall looking the band up, only to find a few songs floating around with a few demo bootlegs available. I dug them, but didn't expend too much more effort once I heard the limited amount of what was available here in the US. Since then, the name has come up in passing a few times in the "whatever happened to…" context and I always wondered myself. Surprise! They're back, and with a damned vengeance…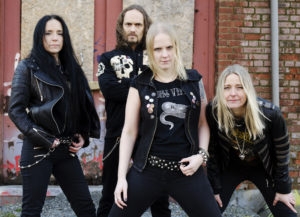 Weren't around back in 1985? Have no idea what I'm talking about? Well, let's get you caught up right quick. Rock Solid, the short-lived original band name, was formed in January of 1985 by vocalist Sabrina Kihlstrand and guitarist Pia Nyström after meeting through an ad in a local music store in Gothenburg, Sweden. Once adding Sabrina's sister, Helena on bass and Tina Strömberg on drums, the band hit the ground running. Shortly after forming this Power Metal project, the band released their first, self-titled demo and then quickly changed the name to Ice Age which was based on the brutal winters of Scandinavia. By the end of 1986, Viktoria Larsson replaced Helena on bass and their music began its evolution away from the Power Metal and into the rougher, new Thrash style popularized by Metallica and Megadeth. Once developing their own technical sound, two demos, General Alert and an unnamed one were released in 1987 and 1988, respectively. With growing popularity and a fully engaged fan base established, Ice Age was able to tour extensively throughout many countries and at many festivals such as Open Air in Lamone, Switzerland and at the legendary Marquee Club in London, England. Once releasing their next demo, Instant Justice in 1989, Ice Age's provenance exploded, making them a veritable household name among Metalheads throughout Scandinavia and Europe. As with so many bands of the time, what goes up, must eventually come down. After irreconcilable differences with the band's manager came to a head, founder and vocalist Sabrina left the band. With shoes as big as Kihlstrand's to fill, she was replaced by Italian guitarist Isabella Fronzoni and American vocalist Debbie Gunn. Continued difficulties with the band manager again became untenable and by 1990, Ice Age was, unfortunately, no more.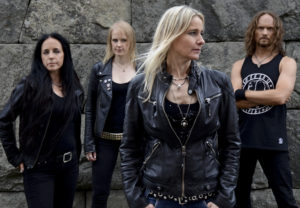 Over the course of the next 25 years, Ice Age remained a powerful force on the Thrash scene as die hard fans continued to spin their old tapes and wonder what ever happened to this killer group. Well, in 2014 the band reformed around original members Sabrina Kihlstrand and Victoria Larsson with the addition of lead guitarist Linnea Landstedt, formerly of Tyranex and Maninal drummer André Holmqvist and immediately hit the stage of the Gothenburg Sound Festival to a rabid audience. Ice Age was back and taking scalps! The dream was reinvigorated and very much alive once again. What had been a huge underground cult sensation was now ready to finally release their debut album after some 30 years, entitled Breaking the Ice, which was cut loose on the world late in October 2017 on the Nuclear Blast Record label. Containing equal parts, re-recorded songs from their 80s demos and completely new tracks, Breaking the Ice is incredibly powerful and well worth the long wait.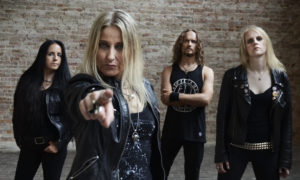 We are greeted with softly played dissonant guitars on "Fleet Street" before being thrown down a very deep and dark hole of swirling guitar work and skull crushing riffs. Once Sabrina's vocals hit, I immediately remembered what I liked so much about Ice Age way back when. Intense, raspy and pitch perfect, her voice pays proper homage to the very roots of Thrash the band helped lay so many years ago. Because of this heritage, Ice Age has that original feel when Metal could remain complex, intelligent, musical and be no less heavy than much of the modern mediocrity available today. Next up is "Hell or Nothing". Kuhlstrand takes this song very personally since it about the old band manager whom she describes as "an evil manipulative person who managed to ruin the band in such a short period of time," smashing the hopes and dreams of all those involved. Yeah, it is palpable musically and lyrically. It has "Jagged Little Pill" intensity and vitriol to the sounds of the apocalypse. Good stuff! Continuing down the same path of betrayal, "Clever" similarly pulls no punches. Sabrina states "I've felt very hurt and let down by a good friend of mine. It was nothing that happened overnight but it built up gradually to a point where I finally had enough of this person's behavior towards me. This song is about the betrayal of a friend and this person in particular." I can't help but flash back to the times of Peace Sells…, Master of Puppets and South of Heaven on this one. A perfectly preserved time capsule without one ounce of staleness. Alarms sound and black helicopters fly as "General Alert" chugs forward. Great hooks and a slightly pushed sound create a very real sense of urgency throughout. Being one of their original break through songs, "Instant Justice" stands as my favorite among the re-recorded tracks and one that I remember catching my attention when first hearing of Ice Age back in the day. Maybe I am being reminiscent, but this song is so bad ass! Here is where we make the smooth transition into the modern iteration of Ice Age with the title track. Kihlstrand says that "it makes a statement that it's never too late to do what you really want to do. As for me… that was to start playing and enjoying music again after 25 years!". Being true to their trademarked sound, this newly written track fits perfectly among the stable of vintage music produced 25 to 30 years ago. "Total Collapse" is probably my favorite among the new songs. Again, using the pushed tempo, catchy riffs are accompanied by wicked leads and solos, dissonant bridges and a bit more growl in the vocal range. Just a great combination of everything Ice Age has developed over the years and recently rediscovered. With a bit more of their early Power Metal influence, "Mental Disorder" takes us on a very precise, rhythmic journey lead by chugging drums and bass and higher, more defined guitar work and songwriting style not prevalent anywhere else on the album. It definitely fits but sits just outside of the pure Thrash Ice Age has been known for. "No Need to Bleed" is a bit more progressive like Annihilator, Doro/Warlock and Sanctuary, which all remain my go-to music even today. Dramatically melodic with ever-changing tempos and directions define this track as my overall favorite on the album. After waiting almost 30 years for their debut, it is amazing that the album is already over when "A Case of Cerebral Death" takes hold to close out Breaking the Ice. Having a retro vibe that could have fit easily on the first half of the album, we are left with the culmination of what made Ice Age great back in the day and still defines them as a force to be reckoned with that remains relevant today.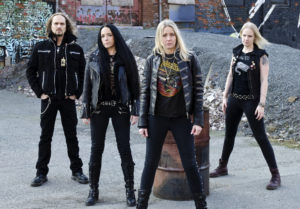 Old stuff, new stuff, it makes zero difference when it comes to classic bands dating to when Thrash when in its infancy. Just as Metallica, Megadeth, Slayer, Anthrax, Metal Church, Annihilator, Flotsam & Jetsam and so many others have made a re-insurgency into the world of modern Metal, Ice Age now have a high stake in the game that is better than anything they have done in the past. One thing that better not happen is having to wait another extended period of time for more from this classic, Swedish Thrash outfit. Ice Age certainly prove that they have lost nothing in the last 25 years with Breaking the Ice.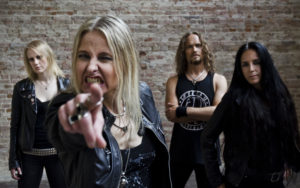 Track List for Breaking the Ice:
"Fleet Street"
"Hell or Nothing"
"Clever"
"General Alert"
"Instant Justice"
"Breaking the Ice"
"Total Collapse"
"Mental Disorder"
"No Need to Bleed"
"A Case of Cerebral Death"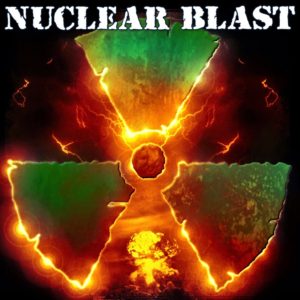 More on Ice Age can be found on their Website and on their official Facebook Page