Sparzanza is:
Fredrik Weileby – Vocals
Calle Johannesson – Guitar
Magnus Eronen – Guitar
Anders Åberg – Drums
Johan Carlsson – Bass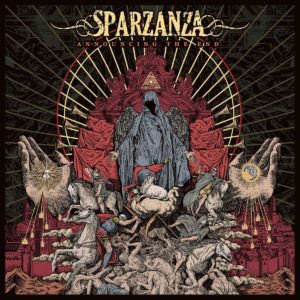 Spawned in Karlstad, Sweden, Hard Rock/Metal outfit Sparzanza was formed by guitarists Calle and David Johannesson along with drummer Anders Aberg back in 1996. Soon after its inception, bass player Johan Carsson and vocalist Fedrik Wileby were added, allowing the band to release a number of demos, singles and EPs. By 2003, Sparzanza had two albums under their belts, "Angels of Vengeance" and "Into the Sewers" under the production of Rikard Löfgren, who becomes the honorary sixth member of the growing band. As their fan base grew, Banisher of the Light was released in 2007 and followed two years later with In Voodoo Veritas, just before replacing David Johannesson with guitarist Magnus Eronen. By 2012, Finland seized on Sparzanza's musical offerings, allowing the band to relentlessly tour the country and earned a high frequency of spins on Finnish Rock radio. After releasing Folie à Cinq and Death is Certain, Life is Not in 2012 and "Circle" in 2014, Sparzanza began producing a number of well-received videos on their own YouTube channel and are allowed to play in China for the first time. After touring the world for some twenty years, Sparzanza released their first live album, Twenty Years of Sin in 2016.