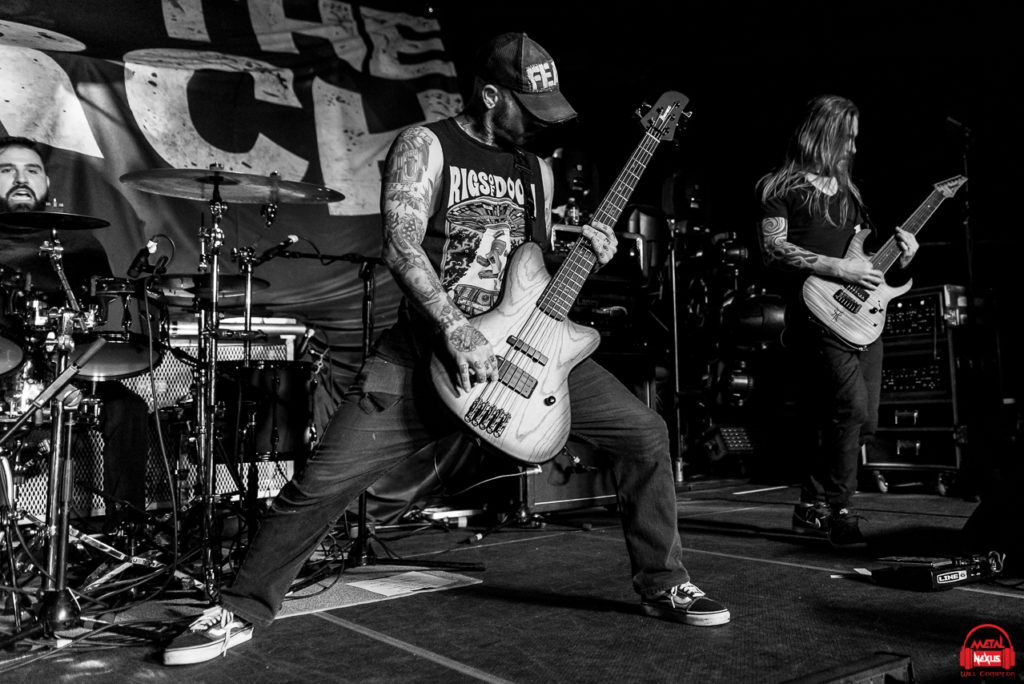 In 2012 Howard Jones left Killswitch Engage to gain control of his diabetes, which had been hard to control while on tour. There wasn't much time off for him as he almost immediately formed Devil You Know. The original lineup of the band was Howard on vocals, Francesco Artusato (All Shall Perish, Hiss of Atrocities) – guitars, Ryan Wombacher  who has been with Bleeding Through since 2002 – bass, backing vocals, Roy Lev-Ari (Hiss of Atrocities) – guitars and John Sankey (Divine Heresy, Fear Factory)– drums. Since then Roy Lev-Ari and John Sankey have left the band. The current drummer of the band is Mike Sciulara (Extinction A.D.). I was fortunate enough to see the band a couple times while on tour with Coal Chamber and on stage they put on an amazing show. Devil You Know released two albums 'The Beauty of Destruction' (2014) and 'They Bleed Red'  (2015). The on July 26, 2017, the band announced via social media that they have changed their name to Light the Torch. The band in a way wanted a fresh start, and I believe the name has a better ring to it. The band is now set to release their debut under the name Light The Torch with 'Revival' which released on March 30, 2018. 
Formed in 1999, Bleeding Through have run the gamut of countries, labels, genre stylings and immense, genre-defining releases, influencing several generations of artists since their inception. This crushing Californian metal act seamlessly combine hardcore, symphonic and death metal in a maelstrom of magnificent aggression, weaving melody and mayhem together into a chaotic quilt. Dedicated to their craft in a way that has cast countless acts to shame, Bleeding Through are a band that many fans of extreme music may cite as one of their first truly "heavy" bands—and all these years later, they hold up just as strong, if not more so. While the band has been on a self imposed hiatus since 2104, reuniting in 2016 for a benefit show for The Ghost Inside following the bands horrific accident. As such the heavy metal landscape has changed a lot over the handful of years since the band called it a day. Metalcore has fallen out of favor with the mainstream, and theres been a sort of changing of the guard with "newer" bands like Bring Me The Horizon and A Day to Remember dominating the scene and heading in a more poppier direction. (Written By: Jon Beatty)
Ryan "Womby" Wombacher of Bleeding Through and Light the Torch is the guest on this episode of  BREWtally Speaking!! Podcast hosts Dan and Jon chat with Ryan about the past year that both Bleeding Through and Light the Torch had. How it's been juggling the two bands, including having to miss his first Bleeding Through show due to being on tour with Light The Torch. Womby also talks about the early years of being on tour and sleeping in some shady places and also adding ""I slept on fuckin kitty litter." The guys get into a bit of the hardships Light The Torch went through with a name change in the midst of building their new band in the first place. Old tour stories from the formative years of Bleeding Through and much more.