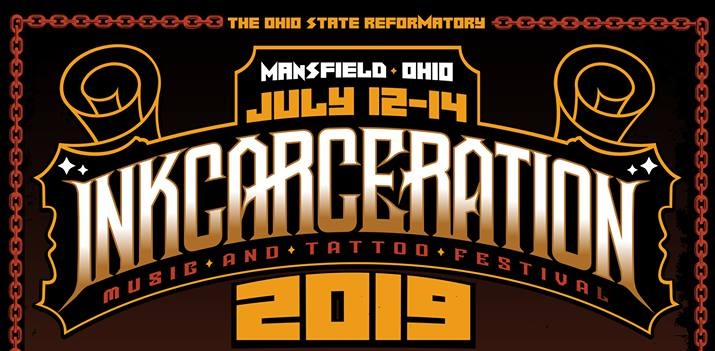 The wait is over! The INKCARCERATION Music and Tattoo Festival has announced the massive line-up scheduled to perform at its second annual event, set to feature colossal rock headliners. Quickly becoming one of the nation's premier rock festivals, INKCARCERATION – taking place this year on July 12, 13 and 14 at the historic Ohio State Reformatory, a.k.a. Shawshank Prison, in Mansfield, OH – will feature over 30 bands on two outdoor stages, 70 tattoo artists, reformatory tours, gourmet food trucks, the best drinks and for the first time, the haunted house attraction, Escape from Blood Prison!This years lineup revs up the engines adding some huge headliners and a packed house of amazing bands. The top headliners are Five Finger Death Punch, Shinedown, Live, Godsmack, Taking Back Sunday, Seether and Skillet. All of which put on an amazing show that is worthy of admission costs on their own… But wait there's more…
Some fans like myself find the bands just below the headliners all that much more interesting which usually includes some up and coming bands as well as some veterans acts that have fell slightly out of the spotlight but still put on amazing shows. The next level of bands are I Prevail, Starset, Red Sun Rising, Motionless In White, Fozzy led by Chris Jericho, Buckcherry who you would think would have been billed higher on this lineup, but it also shows how stacked the lineup is, The Red Jumpsuit Apparatus and you can't get a party started without Andrew W.K.
Then you have your bands that have just formed, making a comeback or are fresh blood to the metal world. P.O.D., Stabbing Westward who was huge and is making a big comeback, Howard Jones' band Light The Torch which we interviewed their bassist recently (see interview here), From Ashes To New, veteran nostalgic act Smile Empty Soul, Raven Black who has been named one of the must see bands and best up and coming bands of the year and several more.
Weekend Field, VIP, Hotel packages and Camping ON SALE NOW Here
July 12 – 14 at The Ohio State Reformatory in Mansfield, OH. Festival features over 30 bands, 70 tattoo artists, reformatory tours, haunted house attraction, gourmet food trucks and more.