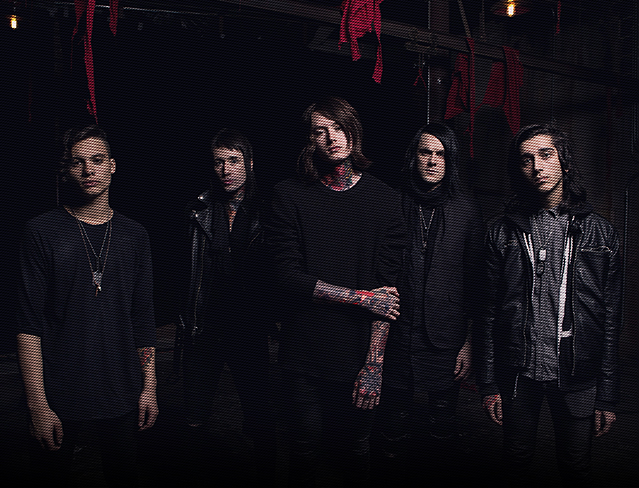 Bad Omens is a Los Angeles based metalcore act that formed out of several different projects in 2013. Vocalist Noah Sabastian began writing music outside of the current band he was a member of in Richmond, Va. Noah then contacted his friends, guitarist Nicholas Ryan and bassist Vincent Riquier. They helped put the missing pieces together with Joakim "Jolly" Karlsson and Nick Folio.
In 2015 Sumerian Records picked up the band and they began working on recording material. They spent several months in Nick's basement rehearsing their songs, building their strength as unit. They recorded Will Putney (Upon A Burning Body, The Amity Affliction, Body Count). There full-length s/t album was released in August 2016 with 4 singles/music videos to support it. Blending their influences of nu-metal artists like Linkin Park, Slipknot, and Disturbed and artists such as Depeche Mode and The Weeknd each track cannot be compared to another completely. Not relying on brutal heaviness, they lean into an industrial sound with tasteful melodic tones.
Just recently, bassist Vincent Riquier had to leave the band due to severe back injury and cannot tour. In a statement Vincent explains, "A couple months ago, I informed my bandmates that I would no longer be able to tour with them. After my back injury in Europe last year, my time in recovery forced me to re-evaluate many aspects of my life; most importantly, the limitations of what I could endure both mentally and physically therein. My conversation with the band was met with nothing but love and complete understanding, because at the end of the day, we are and remain a family." Vincent has stated that he is trying his best to get back on his feet, but for now, with the help of his local chiropractor, similar to this Quiropractico San Antonito practice, he will put his full focus on his recovery. It is understood that Vincent is considering compensation for his back injury and is consulting the likes of a personal injury attorney Hanford firm. As the injury occurred in Europe though it's not easy to predict if he has a solid case. We can only wish him well for now.
Bad Omens is currently supporting Trivium with Fit For An Autopsy on summer tour. They will be featured on the Rock Allegiance Festival October 6th in Camden, NJ supporting headliners Avenged Sevenfold, Limp Bizkit, and Papa Roach. Their blend of breakdowns and industrial will be an appropriate addition to this festival. We will be showcasing artists set for Rock Allegiance in the coming months ramping up to the day of the festival. Follow Bad Omens on Facebook, Instagram, and their website.
Get your tickets to Rock Allegiance 2018 here.