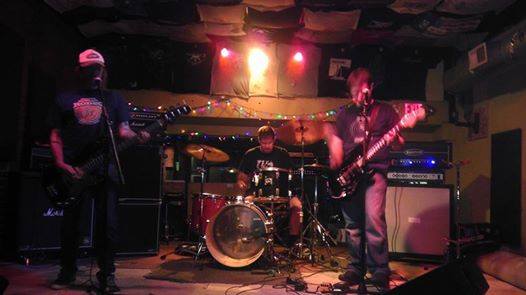 T-Tops hails from the great city of Pittsburgh. The city that gave us the iconic sandwiches at Primanti Brothers has now given us something else amazing to consume, only this time with our ears. The group is made up of ex members of The Fitt, Don Caballero, and Wormrigg. Lead vocalist and guitarist Patrick Waters and bassist/backing vocalist Jason Orr (also current member of the band Holy Rivals) founded the band and after searching for a drummer for an extended amount of time welcomed drummer Jason Jouver to the fold. They certainly have experience in other bands and you can hear that within their music. T-Tops have 5 releases in their discography, 2 of which were dropped in 2016. Their new 7″ 'Face Of Depression' dropped in November and was produced by drummer Jason Jouver at Plus Minus (+/-) Recording Studio. It's the follow up to their April 2016 10″ split 'Cyrus Gold'. The cover art for that previous release even pays homage to their hometown team the Pittsburgh Pirates. Jouver, who played on the album in addition to producing it, has since left the band due to fading interest/work schedule/and a bad arm injury. The band has since added Mike Koch as the new drummer for the band. While other bands struggle to put out one release every few years this band has issued 4 releases in the past two years. T-Tops is not only a band proud of their hometown but they also proudly deliver some amazing rock music with varying elements that gives them a uniqueness. The power trio expels ravaging riffs, gravely vocals, thundering beats and a soundtrack for driving fast to. The band is now scheduling a tour and we will let you know when and where to catch this amazing band once they hit the road. At times their style is somewhat retro but with a modern twist. So roll down your windows and let your mullet flow in the wind, this band is about to take you from 0 to 60 one track at a time.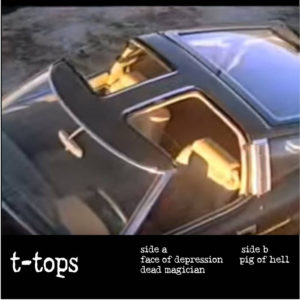 'Face Of Depression' begins with the title track where the guitar riffs throughout the song roar like the engine of an American made muscle car. The vocals come across with a grunge-like style that meshes well with their more garage rock instrumentation. The song gallops along with singer/guitarist Patrick Waters's riffs really setting the pace. "Dead Magician" showcases more of a punk style sound, and the riffs again are the star of the show. In both tracks the band ends each of the songs in an abrupt matter that takes great precision. "Pig Of Hell" gives us a more slowed down tempo from the band. It's by no means slow per se, but for T-Tops its certainly a tempo change. The drumming on this track along with some guitar solos propels the album to a higher level. The chorus is bellowed in a gravely tone by vocalist Patrick Waters and is reminiscent of some 80's era hard rock. T-Tops push the limits of their sound and the result is a stellar album. The individual talents of each member are distinguished, but combining them together makes for a tremendously cohesive band that will continue to achieve success. 'Face Of Depression' is a double helping of garage rock best listened to at extremely loud volumes. The great thing about the digital download for this release is that you get two bonus tracks that aren't on the 7". The first bonus track "Girl Who" has a crust punk vibe. The track comes in at less than 2 minutes and is full of chugging riffs and a constant beat of the snare drum. The harsh vocals just add to the appeal of the song and reinforce the bands ability to create a raw sound that most of the over produced and polished music we hear today. The final song and bonus track is "March". While in this song we still hear some punk influence, they have mixed things up a bit and we get a little more of a garage rock vibe prevalent here. The song is just the cherry on top to end the release on a high note. If you are a fan of straight up rock n roll or a fan of anything punk you will absolutely love this album. Buckle up, turn it on, and turn it up, T-Tops will rock your world.
Follow T-Tops on Facebook here, and go buy 'Face Of Depression' on Bandcamp.