Meade Ave. is:
Aaron "FURBY 2chainz" Paoletta: Founder/Drummer
Matthew "BISCUT" Paoletta: Bass Guitar
George "GHOLE" Rodenas: Lead Vocals
Greg "SPEEDY" Scopinich (UOM): Lead Guitar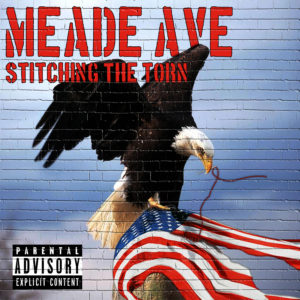 So, what happens when one of our favorite, established bands, voted the #1 Unsigned Band in Las Vegas, switches up vocalists, heads into the desert at the guest house at The Goddess Temple in Indian Springs, NV in December 2016 to record an album utilizing The Cave Recording Studio mobile rig and then uproots themselves to migrate back East to Pennsylvania? This kind of chaos has wrecked havoc on many a band over the years; shredding lesser groups and scattering members into other projects or simply giving up on an already "hard row to hoe" line in the music business. If anything, this has strengthened my boys in Meade Ave. and is brilliantly reflected in their upcoming release of Stitching the Torn, which we have been honored to hear first from founder, drummer and recording wizard, Aaron Paoletta. I had my grubby paws on the masters the minute Aaron got them back and have been enjoying this beast ever since. A huge "Thank you!" for the opportunity, my friend! Love you guys!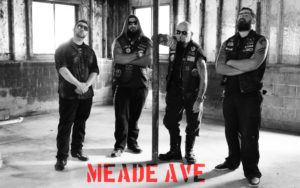 Before getting to Stitching the Torn, let's step back a bit for those that have not been initiated into the Meade Ave. Militia. After running the Bad Sue Record label since 2009, Aaron ran the band idea by bass player Seth Peavler, who helped him run the label, and Meade Ave. was born. Named after the seedy street in Las Vegas Bad Sue resided on, Meade Ave. grew to include Jeff Bowling on vocals, long-time friend, Blake Wolden on guitar and Matthew Paoletta inheriting the bass player spot. After releasing their overwhelmingly popular single, "Born Again", the band released their first LP "From the Ashes" on Aaron's independent, Bad Sue record label in 2015. After touring relentlessly in support of the album, Meade Ave. has become one of the most popular underground gems all over the United States, supporting local music scenes and making friends everywhere they go. This is one stand-up group of musicians and some of the most down-to-earth and hard working guys you could ever meet. Truly honored to call these guys friends now.
Steeped in the sounds of traditional Hard Rock from the 70's and early 80's, Meade Ave. has always had impassioned, brutally honest lyrical themes that sets them apart from the characteristic "cheese" associated with the era and, yet, adroitly fills a hole in the Hard Rock/Metal scene today. This is music that stirs the soul and challenges the intellect without being condescending or leading the listener to a point of unchallenged adversity. Musically, the band takes influences from greats like Tool, Disturbed, Nirvana, The Black Dahlia Murder, Pink Floyd, Led Zeppelin, Def Leppard, Aerosmith and the like, so it is hard to pin down pin down their unique sound, but also allows fans of all types of Rock, Hard Rock and Metal to access their wickedly good music. With an obvious love for what they do, members of Meade Ave. are just as comfortable playing some smoke-filled bar in the sticks of the good 'ole US of A as they are playing the legendary stages of Vinyl, The Hard Rock Cafes, Fox 5 Gibson Showroom, Houses of Blues, The Rail Club, Dirty Dog Bar and Whiskey a Go–Go on the Sunset Strip in Hollywood, California! They just want to play, and it shows before, during and after any of their shows. They have also played with notable, touring acts like: Otep, American Head Charge, Tantric, Smile Empty Soul, Philm, Powerman 5000 (who also have specifically asked to have Meade Ave. play with them whenever they are near one of their shows), Head PE and many other famous bands throughout the United States.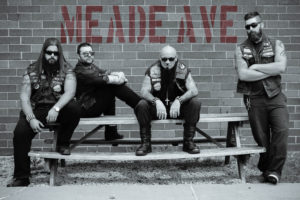 Being long-time supporters of this wicked upstart, we were allowed to first premiere "Taking Back Tomorrow" back in February. The addition of new vocalist, George Rodenas really brings Meade Ave. into their true light. This has to be the vision that Aaron had back in the day! Also noted in the review of the new single was that the recording quality has come to a professional level, fully suiting the polish of an already killer band. I also stated that "we are likely witnessing the 'One' that propels this band to the next level". Now that I have had the opportunity to wear this thing out, I can now say with absolute confidence, this is absolutely the "One". I have not one nit to pick with Stitching the Torn other than it was supposed to be released in the spring and have had to wait this long to hear it. Patience for new music from my favorite bands is not something I have been gifted with, but completely understand, knowing what has been going on behind the scenes. First off, the album cover for Stitching the Torn is a perfect reflection of what the band represents. Heavily supporting our troops, police, firefighters and overtly appreciative of the freedoms the United States allows, the members of Meade Ave. could not have chosen a more appropriate and cool album cover. However, an awesome cover a good album does not make. Fortunate for us, the music is even better! Right out of the gates, "Stitching the Torn" gives us a taste what Meade Ave. has in store for the rest of the album. With the theme of personal doubt and conflict masquerading as everyone's problem instead of relying on one's personal support system backed by a rich background of crushing riffs and a heavier sound we have come to expect from the band. The introduction of Rodenas' accurately pitched voice and growl strongly accentuates the evolving Meade Ave. sound. "Breaking Point" follows. This catchy, heavy and angry song gives a hopeful view that hate and vitriol is counterproductive; a new perspective needed to productively unite differing points of view in the future. "Survivors", however, tempers this point of view by aggressively suggesting that one should never bend or change a passionate stance in favor of a status quo line of thinking. Carrying an extremely heavy, retro-cool sort of vibe, "Stand Tall" continues as a kind of "I told you so" to those that have been discouraging and/or having the expectation of walking any other line than your own. Great message, killer song! Utilizing the bass more extensively than in past releases, "Fate" is an extremely balanced tune that borders on the heavier side of 90's Alt Metal. Also being the most passionate song on the LP, "Fate" leads directly to "Time Heals All Wounds". This short, spoken word track tells a story of three lost horseman met by a cloaked savior lurking in the shadows. Once multiple victories have been achieved towards a common goal, the shrouded one falls and is unmasked as something he was not. This leaves the remaining horseman to pursue their course, knowing that time heals all wounds. For a fan of Meade Ave., I think I know what is going on, but will leave that for another day. Continuing this line of thought, "Undivided" explains the value of pulling ones' self up by their own bootstraps through brotherhood and undying friendship. Interesting and unusual vocal metering shows Meade Ave.'s willingness to successfully try new things musically as their sound evolves. Flexing his singing prowess during the intro and verses, "The Sacrifice" explodes during the chorus' and breakdowns to drive home their point. Being almost oppressively heavy, "War Cries" has a great groove that is aggressive as hell while remaining positive in the face of all adversity. Aaron is an absolute beast here, making it my favorite track on Stitching the Torn. Closing this band-defining album, the original single, "Taking Back Tomorrow" will likely have the highest appeal to the largest group of fans. Summing up the overall themes of the album, this thing serves as an appropriate closer.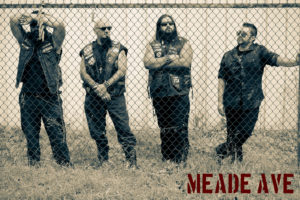 Along with many other fans, critics and music magazines, Stitching the Torn has been a long time coming but has been worth the wait. Music this good takes time, energy, talent and drive to produce and is well worth your time and attention. Great music from a great group of fine musicians! This is one band that you need to catch onto, now, as their star rises. Promise you won't regret it!
Tracklist for Stitching the Torn:
"Stitching the Torn"
"Breaking Point"
"Survivors"
"Stand Tall"
"Fate"
"Time Heals All Wounds"
"Undivided"
"The Sacrifice"
"War Cries"
"Taking Back Tomorrow"
All Music written and Produced by Meade Ave.
Recorded, Edited and Mixed by Aaron Paoletta – Cave Recording Studios – "Mobile"
Photography by Jackie Paoletta
Video by Alexa Paoletta
Graphics by Matthew Paoletta
Mastering by: Audio Genius Mastering
JOIN THE MILITIA: