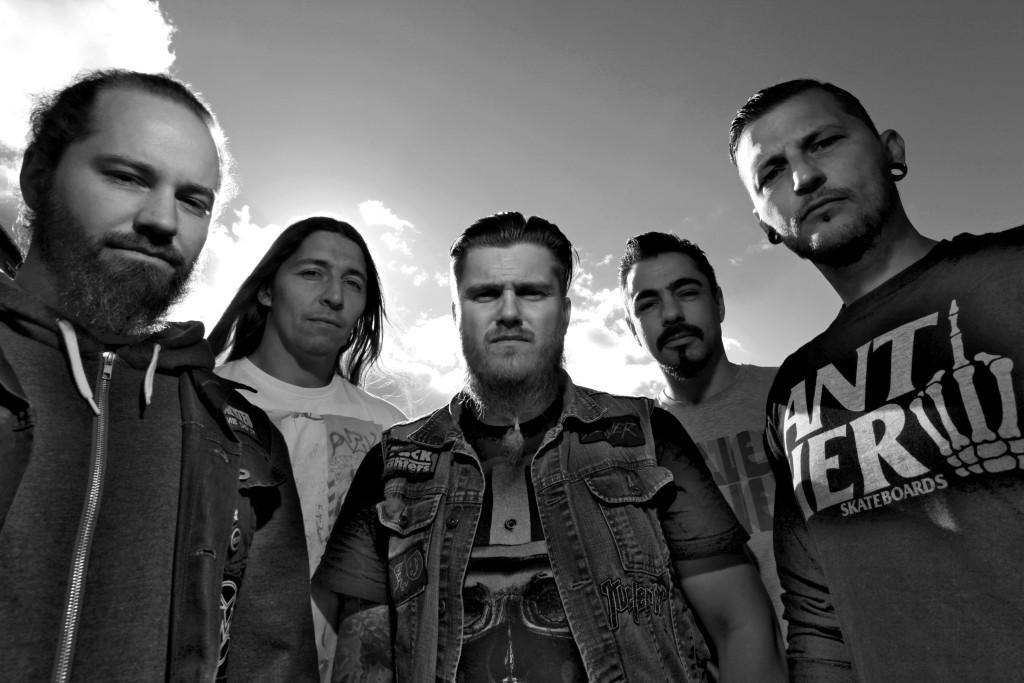 The Danish band Hatesphere has been an unstoppable thrash machine since 2000. Yes, that's 15 years of domination they have amassed. The band is just a day away from releasing their 9th album titled "New Hell" via Massacre Records on November 20th. These guys have an aggressive sound that has taken Europe by storm. Dominating performances at Wacken Open Air, With Full Force, and Hellfest Festivals really helped them double and maybe even triple their fan base. The band has toured with some of the best bands around and continue to turn heads over and over. The album was produced by Tue Madsen at Antfarm Studio. He has produced albums for The Haunted, Sick Of It All, and Dark Tranquillity in the past. It's been about 2 years since their last release "Murderlust" and my ears are more than ready to consume some new Hatesphere.
The album doesn't beat around the bush. When the first track "The Executioner" starts its right to the business and the business is pure adrenaline and aggression. The vocals flow so well with the song it just seems like a natural progression as the song plays through. Esse's vocals are fast paced and relentless. One of my favorite tracks on the album is by far "Head on a Spike". Not only is the song just amazing and non-stop soul thrashing, but the lyrical content just kicks ass. "Push further and you've pushed too far. I call it murder, you call it an act of God. Push further and you've pushed too far. Don't you know how dead you are?" The style changes up a bit on this song as it slows down and speeds up at times. Also there is an echo vocal effect during one stanza on the song which creates a really kick ass harmony effect. As always on any thrash album the guitar work is top notch. Short guitar solos ring out from the fingertips of guitarists Jakob and Pepe. They also get another chance to shine on the track "On the Shores of Hell". The instrumental song really showcases the talent that this band contains. It's a beautiful 2 minutes of bliss. Hatesphere is continuously putting out phenomenal releases, so this album is no surprise to me. The title track "New Hell" carries with it this amazing groove. The bass line helps define that groove and just assists the guitar riffs to stand out. The song works its way through that groove and has some sludgy low down tuned parts that are just beyond heavy. The band overall has a thrash sound, but they bring these other elements into their music that helps them be more than just one flavor. There is moments of sludge, speed, and death metal. The album started and ends on a high note with the final song "The Grey Matter". The hardest part about this album is trying to pick a stand out track and while I do have a favorite track each song really is amazing in its own way. The Big 4 better beware, Hatesphere is coming for your crown.
TRACK LIST
1. The Executioner
2. Lines Crossed Lives Lost
3. Head On A Spike
4. The Longest Haul
5. Your Sad Existence
6. On The Shores Of Hell
7. New Hell
8. Master Of Betrayal
9. Human Cesspool
10. The Grey Mass
Digipak Bonus Tracks
11. Resurrect With A Vengeance (Live)
12. New Hell (Dynamic Mix)
Enjoy the first video from "New Hell"!!!