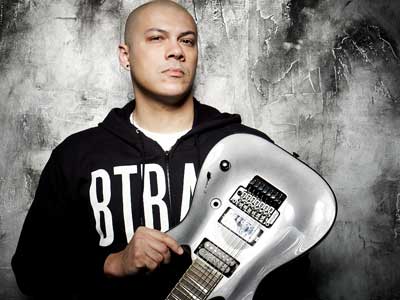 Former God Forbid guitarist Doc Coyle has started a new project entitled Vagus Nerve. This is Doc's first creative output since leaving God Forbid.  The band has launched a Kickstarter campaign to help introduce them to the world. The campaign will help fund the final mix of the EP which is entitled "Visceral". The album is being mixed by renowned producer and mixer Forrester Savell (Twelve Foot Ninja, Animals As Leaders, Karnivool). Right now the Kickstarter campaign has reached 95% of their goal, but it's all for nothing if they don't hit the goal. Not only is this a way for the band to help finance the final mix of their EP but it also let's the fans get some extra goodies in the process. Depending on your donation about you could receive some Doc Coyle signature guitar picks, physical copy of the EP once it's complete, drummer Moe Watson's signature Vagus Nerve drum sticks, tshirts, posters, guitar lessons from Doc, and possibly even Ravi doing guest vocals on your bands album and much much more. The band has released one song to help showcase the talents and style of the band. Rather than describe their sound they let the music stand for itself and you won't be disappointed. We were fortunate enough to speak to Doc about the new project and how the Kickstarter project is going. 
Metal Nexus: You are back in your first project since 2013, was you looking to start a project or was you inspired to start it when you first found/heard Ravi Orr (lead vocals)on YouTube?

Doc Coyle: I was already playing in another original project that had ended. I had a bunch of leftover material from that project that was more in a"rock" style that didn't fit for God Forbid. I was looking to use it with something, and it just so happened that I was made aware of Ravi's existence within a few days of leaving the other project. A drummer friend of mine named Donny told me about him and wanted to start a cover band, and sent me to his YouTube page. I was completely blown away by Ravi's vocal timbre. I was ok with doing covers, but I was more interested in getting Ravi on some of these tunes I wrote. I wasn't sure if it would work because he was coming for a less heavy background. I didn't even know if he would like my material. But we did a song together, and it was pretty undeniable out of the gate. Everything from there happened very slowly. We wrote the songs, and then put a band together. Everything, has been one step at a time without looking too far down the road.

Metal Nexus: The band seems to have amazing chemistry which you can tell in both the music and when you describe each other. Do you think this is a great contributor to the bands overall sound?

Doc Coyle: Of course. We tried to capture how the band sounds together in a room as much as possible on the recording. I didn't want it to be the "Doc and Ravi Show". We also really took our time finding the right band members, so that there would be a great chemistry. Everyone brought some creative flair to end product even if Ravi and I wrote the core of the songs. The first time the band all got together in one room, it was pretty magical. We had assembled an extremely impressive collection of talent. I felt we could have played a show that week, and sounded great, because of the high level of ability and chemistry. I've played with lots of different bands, so I know how rare it is.

Metal Nexus: Vagus Nerve has a fresh original sound. When the project was started did you have an idea in your head for the type of sound you wanted or did it just progress naturally?

Doc Coyle: I had somewhat of an idea of what I was looking for. For a musical piece to work for Vagus Nerve it first has to sound epic and ambitious. There has to be an edge to it where it's simple enough, but also displays that there has been some thought and composition behind the piece. The metal scene I came from has this thing where players are constantly overplaying to impress other musicians, and I am just really bored with that. I just think rock music needs a spark of something that's not formulaic and has some heart. Although the kernel of the songs came from me, Ravi's voice, lyrics and melodies makes it something really special and unique, because his background is so much different than mine. The other guys are so talented, that it's important to give them space to compose within the compositions. The next group of songs I want to be as collaborative as possible. Presenting a fresh and unique vision is something that is really important to me.

Metal Nexus: Once the album is complete is there any plans for a large scale tour?

Doc Coyle: There have been some discussions, but we really are taking things one step at a time. First, fund the Kickstarter. Get the album finished. Fulfill the rewards. Shop the record to labels. Work on new songs, and consider some live performances. Because we have members on both coasts, doing live shows will take careful planning. And finishing more songs is imperative, because we have to finish at least 3 more tunes before we can book any shows. Making smart financial decisions will factor into how the band proceeds forward.

Metal Nexus: Kickstarter has become not only a great way for bands to help finance an album but also a way for fans to feel a personal investment in the album. Other than achieving your financial goal what do you feel like the advantages are of going this route?

Doc Coyle: The money is really the smallest benefit of doing a Kickstarter or any crowdfunding campaign. Because this was a brand new band, and lots of people who may have been fans of God Forbid or my writing may not know about my new music, it forces us to really hustle to spread the word. The campaign itself became something to galvanize people around. The support has been incredible because it builds momentum over the course of the campaign. It gets the band in the habit of working for itself, and not sitting around waiting for outside forces to come to the rescue. Like you said, crowdfunding is really a fan-building tool in that contributors get a fly-on-the-wall view of this process, and they become invested because they can see the passion. They can see the hard work, and they will be the first to hear the album, get the merchandise and see the promises become a reality and tangible in their hands. None of this is instant or easy. If you do every step with care, and the right way, it will pay off down the line. One great thing too is it has allowed me to personally reach out and connect with old fans of God Forbid, and re-establish a relationship. The music may be different, but the connections can still hold up. It's exciting to be involved in an original band, because there is a respect you get from that that doesn't exist playing in someone else's band or a cover band. It has been extremely tough, but I am glad we did it.
Get in on the ground level. Listen to the first song on the EP, see the Kickstarter campaign, and make a donation.
Follow the band on Facebook here and go to the Kickstarter to check out everything it has to offer here.