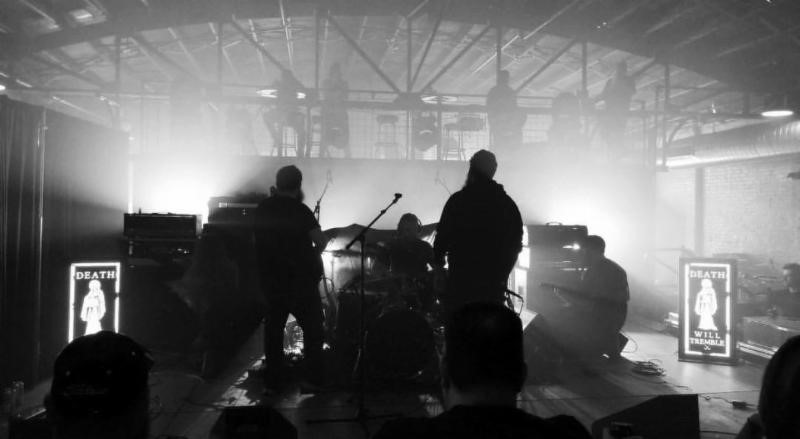 Two years ago in 2016 we welcomed Death Will Tremble's debut album 'Mona', the album was a burning torch of artistry in comparison to the dumpster fires of genre chasing bands we often encounter. The Austin, Texas based group makes music that feels like it is fresh off their fingertips and unadulterated by over production and over editing. In a world of music where genres and sub-genres have run rampant, Death Will Tremble has stood their ground with the sound they have crafted, and it's beauty shouldn't be labeled. They are a band that melds together a handful of elements from various genres. Though you will hear subtle influences within their music from time to time it's impossible really to wrangle them into one specific category or two for that matter. I simply like to refer to their style as creative. The band has taken some time and have now cultivated their newest release. 'Depature' is an EP which contains one single 14 minute long track. As they did with 'Mona', Death Will Tremble utilized longtime producer Tim Gerron (Deadhorse/MOD) to record 'Departures'. The EP will release on June 29th.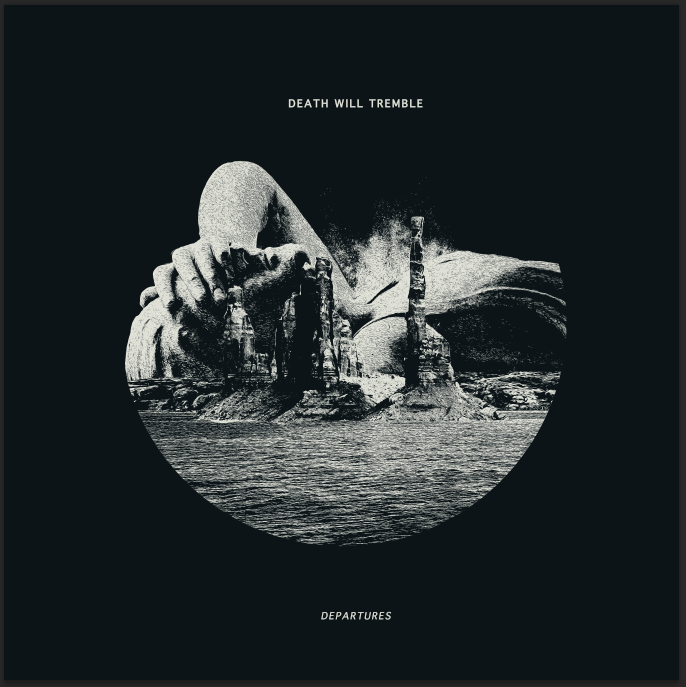 The EP is one single track titled "Departures".  Creating an epic 14 minutes track is a feat within itself to amass something that doesn't lose the listeners interested halfway through. Death Will Tremble make it impossible to stop listening. The sludgy doom filled sounds bounce off the walls painted with passion. Hunter Townsend's vocals have this tormenting emotion within them that allows you to hear the pain within his soul. "Departures" takes you on turns changing from in your face screaming and heavy bottom end doom to a delicate minimalist melancholy. Jake Archer's bass lines and the synchronicity of Peter Murray's drumming create a heartbeat that keeps everything alive. Townsend repeatedly screams "Pull yourself together" inciting you to listen closely, then delves into an almost spoken word sermon like tone directly to the listener. It's hard to pinpoint stand out elements in the song because they all blend together so well and complete one another. "Departure" is a domino effect in a sense, as one element or instrument becomes more muted another falls in it's place and becomes the star; it's a continuous cycle that keeps the track evolving and traversing new territory. As the song continues more and more complexity is welcomed into the fold. By the 11 minute mark you have a tribal like drum beat and a mesmerizing set of guitar tones and riffs by Jason Powell on rhythm guitar and Chase Townsend on lead guitar. There are transition points within the song where it could have easily broke away to be a separate track, but Death Will Tremble choose to take the road untraveled and allow their complex sound to uncoil itself in an organic way. After listening to the song and taking it all in you feel the creativity within the song. The band sets no boundaries and they travel wherever their music takes them. Releasing an EP consisting of one 14 minute track is far from the norm in the music industry and can be harder to market to a broad audience, however; the band composes music they are fulled invested in and that's easy to hear. They are able to introduce elements of doom, sludge, progressive, hardcore and various others seamlessly. "Departure" is able to keep your interest without becoming chaotic and all the while still leaving some empty spaces within the music allowing it to breath and not over populating the song with vocals.
Death Will Tremble's debut album 'Mona' was a show stopper of an album and with the level of creativity on that album I knew it would be difficult to compete with. However, they have once again exited the studio with a masterpiece in hand. Songs of this magnitude are extremely difficult to reign in when it becomes epic length. Heavy metal legends of years past aspired to create long free flowing tracks. Death Will Tremble has come along tore the heavy metal instruction manual to shreds and engineered one single track that exemplifies they are the new innovative heroes of modern metal. 'Departure' as it's so perfectly titled is indeed a departure from the mainstream normalcy of the music world, Death Will Tremble have taken risks with the EP and its format but in my honest opinion it has paid off. Pick up 'Depature' on June 29th and follow the band below to stay connected with everything else they have in store including a cinematic video for the EP.