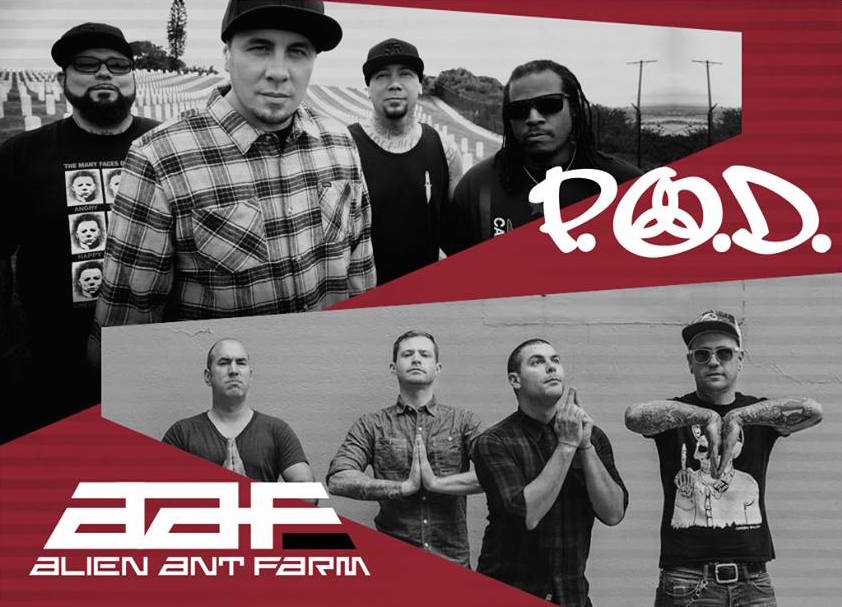 San Diego rock quartet P.O.D. prepare to embark on the European tour, starting this month log tour that kicks off on October 23rd. The tour is in support of their recently released album 'Circles' via Mascot Records. Alternative rock veterans Alien Ant Farm will be joining them along with special guests Dead Girls Academy. The tour will make stops in 18 different countries. 
Since originally forming in 1992, P.O.D. has become a widely influential name in the world of nu-metal and alternative rock, having received three Grammy Award nominations and selling over 12 million records worldwide during their extensive career. In recent years, the group consisting of Sonny Sandoval (vocals), Wuv Bernardo (drums), Traa Daniels (bass), and Marcos Curiel (guitar) have performed at some of the biggest annual music festivals including Download Festival, Hellfest, Rock on the Range, River City  Rockfest,  Carolina Rebellion, and Aftershock Festival. They've also recently shared the stage with such heavy-hitters as In This Moment, Prophets of Rage, Shinedown, and Five Finger Death Punch.
If you lived through any portion of the early 2000's it's likely you've heard and sang along to Alien Ant Farm's cover of the classic Micheal Jackson hit "Smooth Criminal" or their original track "Movies" both from the album 'ANThology' which sold over 1 million copies. The band has released 3 albums since their major hit record including 'Truant' in 2003, 'Up In The Attic' in 2006, and their most recent 'Always And Forever' in 2015. We spoke with guitarist Terry Corso a while back about the golden years of alt metal and MTV's TRL, check that interview out here.
In 2016, when the curtains closed on Vampires Everywhere, Michael Orlando sought out other avenues for his new musical vision. "I've had the name DEAD GIRLS ACADEMY on the tip of my tongue for a few years" admits Orlando. He then formed the post-hardcore/alternative/pop punk metal outfit with the name that had been on the tip of his tongue for years; Dead Girls Academy. He removed the spooky occult shock-rock themes and look that Vampires Everywhere! was known for, and his new band leaned closer to the post-hardcore, punk side of the spectrum, while retaining Orlando's dark and dramatic aesthetic. 
This is a nostalgic tour with P.O.D. and Alien Ant Farm along with some new blood with Dead Girls Academy. This is a tour you won't want to miss and it's touching down almost everywhere in Europe, don't miss this opportunity.