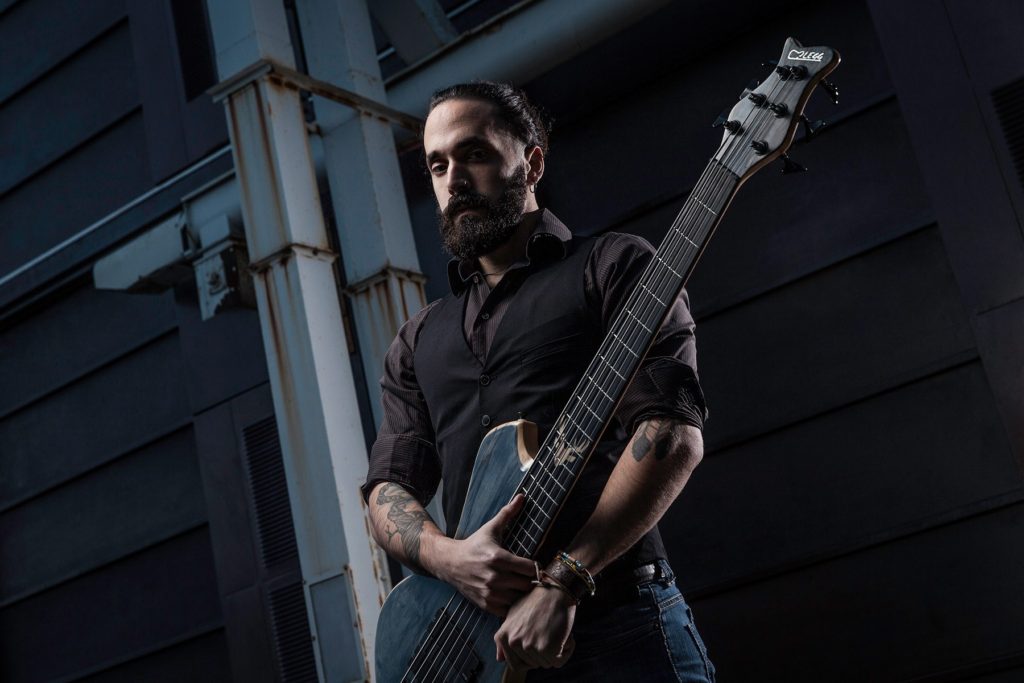 Australian progressive metal masters are riding high on their recent success of the all new album 'Urn' which was released last October. It was my number one album if I had to make a list of best albums of 2017. Anyways, what else is new in the NeO camp? Well, NE OBLIVISCARIS has welcomed a new recruit to the fold, Martino Garattoni, who will fill in as the new bassist, after the band slammed the door on their former bassist Brendan "Cygnus" Brown, over allegations of domestic violence, last year.
Martino Garattoni has already been touring with NE OBLIVISCARIS and those who must have seen them on the recent runs of North America and Australia/NZ, would be familiar with the face. The band in a recent Facebook post made the announcement and said that Martino "fit right in, both on stage and off, from day one, finding an instant chemistry.." with the band that has made this an easy one for the band to decide on. Starting this 25th, the band will embark on their headlining EU/UK tour with ALLEGAEON and VIRVUM. The tour also seems to be the very first one for Martino as the new and permanent bassist of the band.
Here's what the new recruit has to say,
"I made a huge blind jump into this band, as they did with me. What I found after was something fascinating: a mixture of different people and unbelievably good musicians that write so much cool stuff I can definitely call them one of my favorite bands ever, and now friends, and I really couldn't ask for something better than this. I feel honoured to start this journey and am looking forward to sharing as much time as possible doing what we love, and share it with you all".
Let's do a background check on Martino Garattoni. Martino is an Italian, born in Rimini, on July 23rd 1990. At the tender age of 13 he started his lessons on bass. As time went by, he later went on to study with some great Italian bass players such as Giorgio Terenziani, Gianni Serino, Cico Cicognani and Stefano Travaglini. In 2006, he joined the composer & keyboard player Daniele Mazza in his Power-Symphonic Metal project called ANCIENT BARDS, with which he supported bands like XANDRIA, LT's RHAPSODY, ARCH ENEMY, TURISAS, OVER THE RAINBOW, ELUVEITIE and many more. Martino featured in both the albums of ANCIENT BARDS back to back in 2010 and 2011. In October 2012, Martino also tried his hands in teaching bass at the Riccione's branch of the Modern Music Institute. He is also the full time bassist of THE CHRONICLES PROJECT since 2013. Martino's talent is diverse and hence he can also be seen featuring in O.P.S. on an Afrosamba, Brazilian music album named, 'Energia Positiva' in 2015. February 2015, 2016 and early 2018 saw him endorse for Legg Guitars, GRBass Amplification and GalliStrings bass strings, respectively.
NE OBLIVISCARIS will be out promoting their all new record, 'Urn' and will tour on a headlining run of UK/EU starting this 25th and leading up to the 2nd of May. 'Urn' has done exceptionally well and has been prevalent on many year end top albums listings. The bass duties in the new album was handed over to Robin Zielhorst, former member of CYNIC and EXIVIOUS, as he was recruited as their session bassist for the album. Brendan "Cygnus" Brown prior to this had to quit NE OBLIVISCARIS, due to domestic violence allegations as stated above. 'Urn' would go onto be the first album without Brendan, after staying with the band for a whopping 13 years. Anyways, trust me, the album is really good. Go check out my review of the same HERE!
Here's a video of Martino killing it with the bass on the new song, "Libera" off the recent 'Urn'.