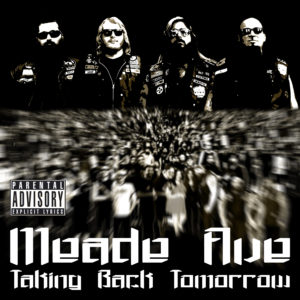 Long time readers know our affinity for Sin City's, Meade Ave.  We have been behind the Militia for quite a while now after showcasing the band and reviewing their killer live show over the course of the last year or so.  Their sound is a modern take on old-school Hard Rock often bordering on Traditional Heavy Metal that deserves a very high spot on any playlist.  Having a broad spectrum of accessible and honest music puts them in a sweet spot that attracts fans across many genres.  On top of their undeniable musical talents, the band is extremely hard working and driven to support their fan base as much as we support their band.  They have to be one of the coolest groups of people you could ever meet, happy to engage everyone that graces their presence.  Zero attitude zone around the entire band.  This carries over to contemporary bands as well.  Drummer/Producer/Editor and all-around great guy, Aaron Paoletta runs The Cave Recording Studio and has developed a mobile platform, allowing them to record anywhere they land on their extensive tour schedule which can then be mixed and mastered at home base in Las Vegas, NV.  He offers this advanced service to others at a very reasonable cost in an effort to promote his entire scene, not just Meade Ave.  I don't one thin dime from this statement and don't intend this as an advertisement.  This is truly how this man roles.  Big kudos for his ongoing support of the entire music scene!  Think about it.  If it were not for fans and bands willing to put skin in the entire game, the music dies.  Aaron gives us all a high bar to live up to wherever we live!
This brings us to the new album Stitching the Torn to be released sometime in the Spring and the premiere of their first single "Taking Back Tomorrow" we are thrilled to introduce below! Recorded in late December at the guest house of the Goddess Temple in Indian Springs, NV using The Cave Recording Studio mobile rig; Aaron, along with Blake Wolden on guitars, Matthew Paoletta on bass and brand new singer George Rodenas have headed off on a slightly different path than we have become accustomed to from Meade Ave.  Based on what we have heard so far, they have gotten a bit heavier while retaining their brutally honest branding that have been one of their most defining characteristics and made them what they are today.  George Rodenas' vocals simply add a new level of polish and passion that has existed in the rest of the band since day one.  I may even go as far to say that he is the missing piece the rest of the band has striven to find.  Also striking and notable is the recording and engineering prowess and maturity of Aaron Paoletta.  After extensively listening to prior releases, this album promises to fully meet the high standard of musicianship shown in the past and should garner the attention of fans, critics and labels alike.  By every measure, Stitching the Torn is the realization of Meade Ave's direction brought to fruition with undying drive, hard work, patience and the aforementioned unquestionable work ethic.  We are likely witnessing the "One" that propels this band to the next level.  Exciting times!  We would like to thank Meade Ave for this wonderful opportunity to introduce their new single!  Stay tuned because you know we will keep you up on the latest from this killer band!  Can't wait to cut my teeth on the full album and get my review to our loyal readers as soon as perfection has been reached.  Until then, enjoy the stream below and be sure to pick up the single when it drops on their website February 24th!
Tracklist for Stitching the Torn:
"Stitching the Torn"
"Breaking Point"
"Survivors"
"Stand Tall"
"Fate"
"Time Heals All"
"Undivided"
"The Sacrifice"
"War Cry"
"Taking Back Tomorrow"
"Taking Back Tomorrow" will exclusely be available on February 24th, 2017 at Meade Ave!
All Music written and Produced by Meade Ave
Recorded, Edited, Mixed and Mastered by Aaron Paoletta-Cave Recording Studios/"Mobile"
Photography by Jackie Paoletta
Graphics by Matthew Paoletta
More on Meade Ave can be found on Web  YouTube  Facebook  Twitter  Instagram